Archived Arts & Entertainment
This must be the place: Some say you might go crazy, but then again it might make you go sane
Tuesday, February 25, 2020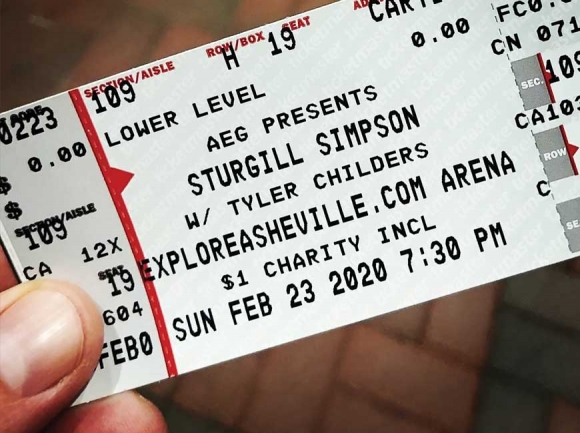 Walking up to the Civic Center (aka: Harrah's Cherokee Center Asheville) this past Sunday evening, the building was buzzing wildly from a sold-out crowd of thousands eager to see Sturgill Simpson and Tyler Childers take the stage.
It's crazy to think — though not surprising — that Simpson was playing venues the size of The Grey Eagle (400+ capacity) not that long ago, with Childers completely under the radar just a few years back playing clubs with more people onstage than in the audience.
Both Kentucky singer-songwriters came up through the same dive bar and café live music circuit, now holding court in huge arenas, backed by rollicking honky-tonk bands. Simpson also had a hand in breaking Childers into the mainstream by producing his acclaimed albums "Purgatory" and "Country Squire."
Truth-be-told, Simpson and Childers are part of this latest generation of country singers — more so outlaws and outsiders — who are now considered the real deal nitty gritty rock stars of this current generation of music freaks and lovers. With other names like Colter Wall, Nikki Lane, Whitey Morgan, Margo Price, Corb Lund and so on, these performers are kicking down the doors of the Nashville music industry.
And yet, the more attention put on Simpson and Childers, the more elusive they've become. The venues continue to sellout, but few, if any, interviews are given to the media. Heck, neither is really even played on the radio, at least not on corporate-owned mainstream radio that is.
While sugary pop country (or "bro country") still dominates the charts, there's a swift undercurrent of "something new, something else" just beneath those calm waters currently navigated by the likes of Luke Bryan, Florida Georgia Line and Jason Aldean.
But, notice there were no female acts mentioned in the previous paragraph. That itself is a huge elephant in the room of Nashville music executives and DJs, where female country acts are given measly scraps compared to their male counterparts feasting on the radio waves. It's even been said behind closed doors (and in public forums) about how women are purposely kept out of radio station playlists.
Case-in-point, this outlaw brigade of melodic pirates sails the high seas in an effort to make change — something tangible, with a flare of positivity and compassion. Amid a "take no prisoners" attitude, Simpson and Childers are leading a charge that was initially sparked by Jason Isbell several years ago (whose wife Amanda Shires fronts groundbreaking country super group The Highwomen featuring Brandi Carlile, Maren Morris and Natalie Hemby).
All of this banter and change circles back to the Simpson and Childers two-night run in Asheville. Sure, Childers might come across with an "aw, shucks" kind of sentiment in front of the microphone. But, don't let that fool you. This is a musician chiseled from the hardscrabble ancient mountains of Southern Appalachia.
Childers is a Trojan horse in the music world, one aimed at shaking up the scene and making sure the spotlight isn't on him so much as it should be on the urgent — often tragic — political and society issues at hand in his native Kentucky and beyond. It's about using your artistic platform for good, and not greed.
And the same torpedo launch could be said about Simpson. Though Childers has somewhat maintained his signature look of an old baseball cap, plaid shirt and jeans, Simpson is conquering the big stage for all its worth.
Shirtless in a custom-tailored black suit with all sorts of embroidered cosmic cowboy images, Simpson strapped on his electric guitar and threw the audience into a fevered sense of self akin to the name of his latest album, "Sound & Fury." For Simpson, it was a bare-knuckle brawl with the listener, his six-string Gibson snarling through the amplifiers on the verge of exploding.
What was witnessed within the Civic Center was not some sappy country showcase — it was a rock performance, through and through. The essence of rock-n-roll has always been about rebellion, the attitude that you can't tell me what to do — I'm just going to what I want sonically, come hell or high water.
Rock-n-roll is about giving the middle finger to authority and those holding something above you, just out of reach. And Simpson and Childers are holding up both middle fingers through poignant melodies that at their core are warm and embracing, but prickly and sharp at the edges.
Leaving the Civic Center, the stunned masses exited into the night with a sense of wonder and awe only found in the depths of sincere and meteoric performers. They say all great art is meant to create dialogue. Well, Simpson and Childers sure have a lot of folks talking.
Well done, fellas. Kudos. See y'all down that unforgiving road we continue to wander along, pushing ahead into the unknown day with our dreams held close, our love radiating into the heavens for all to immerse themselves in.
Life is beautiful, grasp for it, y'all.
Hot picks
1 The 19-piece John Brown Big Band will perform at 7:30 p.m. Thursday, March 5, at the Bardo Arts Center on the campus of Western Carolina University.
2 Popular rock act The Captain Midnight Band will perform at 8:30 p.m. Thursday, March 5, in The Gem downstairs taproom at Boojum Brewing in Waynesville.
3 Lazy Hiker Brewing (Sylva) will host The Maggie Valley Band (Americana/indie) at 8 p.m. Saturday, Feb. 29.
4 Western Carolina University's Mountain Heritage Center will host The Berea Bluegrass Ensemble at 7 p.m. Monday, March 2, and fiddler Andrew Finn Magill at 7 p.m. Thursday, March 5.
5 Frog Level Brewing (Waynesville) will host Heidi Holton (blues/folk) at 7 p.m. Friday, Feb. 28.