Archived News
Cherokee, Sylva pass food truck ordinances
Tuesday, February 18, 2020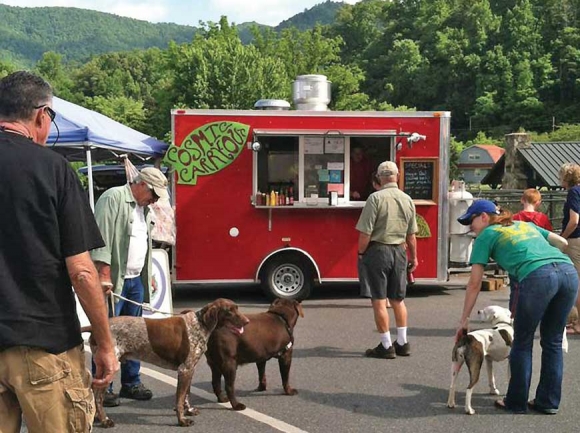 The landscape got a bit brighter for food truck owners following a pair of decisions in Cherokee and Sylva this month.
Restrictions lifted in Cherokee
During Tribal Council Feb. 6, members voted unanimously to pass an ordinance change that lifted an unintentional ban on food trucks operating within the Qualla Boundary. Currently, tribal law prevents the sale of meat and seafood products from "any nonpermanent structure," but food trucks were not the target of that prohibition when the law was originally written.
"You guys may recall that many years ago there were situations where there were these individuals driving up and down the road selling frozen meats out of the back of a truck," said Terri Henry, executive director of the Tribal Employment Rights Office. "That I think is what the intent of this ordinance was designed for, and we support that."
However, she said, several people have approached TERO wanting the chance to get into the food truck business, prompting the organization to propose a change to the existing law. The newly passed version of the ordinance maintains the ban on the sale of meats and seafood from nonpermanent structures but offers three exemptions.
The first exemption — delivery units transferring products between approved processors and markets — was in the original law, but two new exemptions mean the ban will not apply to mobile food units and pushcarts, provided they possess all permits and licenses required by the state and the tribe.
"What we're trying to do is recognize that 20, 30 years later we've got a situation where we're currently in a food desert, because most of the restaurants are closed," said Henry. "But besides that we'd like to open up opportunity for some of our tribal members to become entrepreneurs, to have mobile food trucks or trailers that they could actually be TERO-certified to be able to conduct that kind of business."
There is currently a pathway for food trucks to operate on the Qualla Boundary, the result of a memorandum of understanding that allows vendors to receive a business license from the tribe provided they first receive a permit from the county, Henry said. But this change would make licensing possible through tribal channels alone and also open up the opportunity for vendors to become TERO-certified.
"I think this is just an added luxury for people who come up and work around the casino, and for tribal members as well," said Birdtown Representative Boyd Owle. "We don't have any places to eat here except for fast food, so I think this is an added asset to the Qualla Boundary, to the tribe, for visitors and workers and tribal members alike."
Council members were generally supportive of the proposal but questioned whether the change would allow food trucks operating within the area affected by the Blue Ridge Law to sell alcohol as well.
"I think we need to have a conversation with the [Alcohol Law Enforcement] or [Alcohol Beverage Control Commission]," said Chairman Adam Wachacha. "If it's going to qualify for the Blue Ridge, I'd rather see it in a permanent structure and not some mobile unit that's driving around town."
The Blue Ridge Law is a state law that says tourism establishments — including hotels and restaurants — located within 1.5 miles of a Blue Ridge Parkway on-ramp can receive alcohol permits without a local referendum vote. In recent years, it's allowed for several restaurants located on the Qualla Boundary but off casino property to begin offering alcohol, a development that's proven quite controversial. Cherokee citizens have traditionally been staunchly opposed to alcohol sales on their land; the casino was dry for the first decade of its existence until a referendum allowing alcohol sales on casino property — and only on casino property — passed in 2009.
Henry told Tribal Council that TERO had only food in mind when drafting the food truck ordinance, not alcohol. Randall Crowe, an attorney for TERO, assured Tribal Council that much more than the proposed change would be required to allow alcohol sales from food trucks.
"We'd have to make an ordinance change before we could even think about it," Crowe said. "As someone who has tried to do something in the alcohol industry, it's not that easy to sell alcohol in Cherokee. It would be a long, drawn-out process."
Sylva amends food truck ordinance
Food trucks are already allowed in Sylva, but on Feb. 13 town commissioners passed an ordinance change updating the original food truck rules passed in 2017. Back then, commissioners had noted a desire to circle back after the rules had been implemented to look at what is and is not working.
Many of the changes had to do with giving food trucks the chance to vend from public parking spaces, a practice that had previously been banned. The amended ordinance allows the board of commissioners or its designee to give a food truck permission to locate on a specific parking space in city limits.
Under the amended ordinances, food trucks would pay a daily fee of $25 to use town-owned parking spaces. Different fees, already contained in the existing fee schedule, would apply for special events like Greening Up The Mountains and Concerts on the Creek.
One other change speaks to a concern expressed by food cart vendor Curt Collins during an October discussion on the ordinance. Collins was concerned that the existing ordinance could be interpreted as prohibiting food truck customers from using public trash cans, a restriction he said was unfair. The amended ordinance makes it clear that food truck vendors are prohibited from placing trash in town receptacles and must remove their own garbage and recycling. However, it does not place restrictions on food truck customers.
The ordinance amendments passed unanimously following a public hearing in which nobody gave public comment.