Archived News
Haywood commissioners face Primary Election opponents
Tuesday, February 18, 2020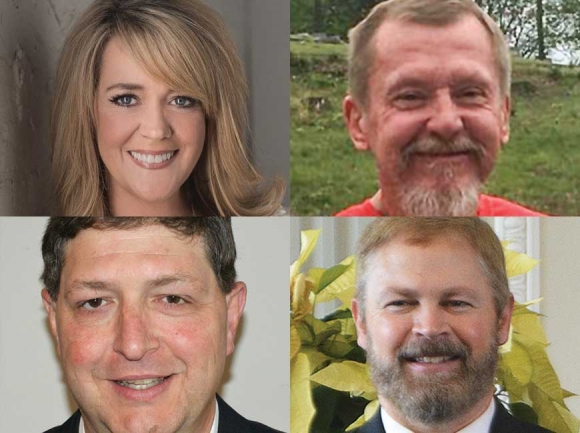 Clockwise from top, left: Jennifer Best, Terry Ramey, Brandon Rogers and Kevin Ensley.
Two years ago, voters in Haywood County made some decisions at the polls that were at odds with not only the contemporary political climate in Western North Carolina, but also with almost two centuries of tradition.
Across the nation Democrats made big gains, largely in response to disapproval of President Donald Trump's first two years. Across the state, it was the same thing — Democrats broke the Republican supermajority in the General Assembly and returned a Democrat to one of Haywood's two House seats.
The Haywood County Board of Commissioners, however, saw the opposite happen.
The election of Republicans Tommy Long and Mark Pless placed the board in GOP control for probably the first time in history. Longtime Commissioner Kevin Ensley was elevated to chairman, and first-term Commissioner Brandon Rogers to vice-chairman.
Ensley and Rogers are up for re-election this year, but they won't be getting a free pass to the Nov. 3 General Election. Two other Republicans, Jennifer Best and Terry Ramey, are looking to knock out one or both of them in the March 3 Primary Election because they think the board isn't quite conservative enough, despite the 4-to-1 Republican majority.
"Republicans and the true conservatives in the community feel like they're not getting what they voted for," said Jennifer Best, an insurance agent who's hoping to be one of two Republicans who will face two Democrats in November. "I feel like there are concerns about where we're headed."
Best's concerns include spending and transparency, in addition to the problems that most communities across the United States share — homelessness, drugs, housing and education, to name just a few.
Many of those concerns ultimately circle back to money, and the county's willingness or ability to spend it in furtherance of addressing those problems. Haywood County's probably never been in a stronger position financially, and has spent years rebuilding a healthy fund balance on one of the lowest tax rates in the state.
"We do have some debt. It's not terrible," said Best. "They've worked to kind of get rid of some of that, but we have some more that we could be getting paid off a little quicker than not."
But finances aren't her main concern — Best takes issue with the way she says the board has managed the changes that are coming to the county.
"The board has become reactive instead of proactive and I like to approach things a little differently," Best said. "We have to know that one decision will instigate another decision to come."
A prime example of that is the redevelopment of the old hospital into affordable housing for veterans and the elderly, which will displace Haywood County Schools' central administration; they have to be out this year, and there's still no word on where they're headed.
"Haywood County has grown greater than Madison County and Henderson County as sisters to Buncombe County. We've seen more growth than those other two counties have, and with that growth comes a lot of change," she said. "If we're not 'hands on the plow' about what our future is gonna look like and we're not driving in the direction we want to go, then I don't know if the outcome will be what we're all hoping for."
While we're all hoping for an end to the opioid crisis, Best says there's still more that can be done on a county level. A member of the "Just say no" generation, she believes more education is one of those things, but she also thinks that it's going to take better coordination among law enforcement, the judicial system and county agencies.
One step commissioners have taken may have been a misstep, according to Best.
"I'm not particularly comfortable with a needle exchange program," she said. "For the majority of people either they don't understand that it's there, [and] when they hear about it, it's very frightening to them. When they understand all of the things that that program offers someone with an addiction issue, I don't know that it's proven itself to be effective. I think their numbers are not convincing."
Instead, Best points to a Philadelphia program that offers patients who have overdosed immediate entry into a treatment facility and would like to see something similar implemented here.
Homelessness is a similar problem in that there's no one easy fix; Best's not eager to rush off proposing solutions before understanding more about the problem.
"I would like to know who our homeless population is," she said. "Is it a mental health issue? Is it an employment issue? Is it a substance abuse issue? To give you a broad answer to say, 'We don't have affordable housing' or 'We don't have good mental health solutions,' I think that's too broad of a statement. I personally would need to know why we have homeless, who they are, and then I think we can start to approach that with a little different take on how we handle it."
Board Chairman Kevin Ensley was recently appointed to the Town of Waynesville's Homelessness Task Force as a representative of county government. In the event he's not in office in November, Best said she'd be happy to serve there.
A strong Second Amendment supporter, Best said she was "bothered" by how Haywood County handled citizen calls for a Second Amendment sanctuary resolution. On Jan. 7 hundreds packed the courthouse demanding one, and on Jan. 22, the board passed a "Constitution protecting" resolution that some view as too little, some view as too much and some view as totally unnecessary.
"Any county resolution would not hold weight or stand firm against state and federal laws. It would be just a resolution, but the flip side of that is I think it's very important to be very direct about what we're interested in and what our beliefs are and where we stand on that," she said. "So yes, I believe it could have been stronger. A resolution that says we support the Constitution is just a resolution. Like I said, it doesn't hold against state or federal laws. So I think it would have been OK to say we strongly support the Second Amendment."
Given that some of the top issues in this year's race weren't even really issues at all four years ago, Best said it's hard to forecast what the board might have to deal with if she's elected to a four-year term.
"It's been very interesting to me how quickly the topics change," she said. "For us locally, depending on what happens at a national level if our president changes or if our elected officials at the state level change, we could come back to discussions about Second Amendment again. If not, then I really believe that we could be having conversations that involve growth and prosperity."
Like Best, Terry Ramey said he's frustrated with what he calls the current board's lack of conservatism.
"Based on just what I've heard and what I've seen, I think people are a little bit disappointed in some of the stuff that they've voted on that people wasn't aware of, and some of the way they've spent some money, stuff that they thought the Republicans might be more conservative about," said Ramey, who's run unsuccessfully for commissioner a few times now. In 2016, he ran on the Democratic ticket.
Chief among those concerns is the Second Amendment sanctuary resolution Haywood County didn't pass. Ramey thinks the "Constitution protecting" resolution the county did pass didn't go nearly far enough.
"No, I do not. I think when they took that oath to get that job, I think that's all they did in that resolution that they passed is reaffirmed that oath, and to me that makes it sound like — the reason I wouldn't have voted for that — it makes me think they weren't serious about their oath to start with if they have to reaffirm it," he said. "If you look at it, it has no teeth. Any resolution that they put out there, wouldn't have no teeth, but it would send a strong message that we we're not going to spend our money to defend an unconstitutional law."
Ramey also thinks the county needs to send a strong message that prison is no way to deal with the opioid epidemic.
"We need to get with different officials at the state level, and judges, and try to get some more rehabs. I know by law right now that the judges can't make them go to rehab," he said. "They can give them prison time, but they can't make them go to rehab. I think what we need to get some kind of law passed to where they can give them mandatory rehabilitation. I think prison isn't going to help them, other than give them time to sit around and figure out how not to get caught next time."
Funding such an effort is something Ramey said he'd support, but the county's other key social issue — homelessness — doesn't seem to come with such a simple solution; other states, Ramey said, seem to be having some success and he'd like to know more about that they're doing.
Eliminating the problem would enhance the quality of life not only for the homeless themselves, but also for the county's commercial enterprises that often bear the brunt of the impact.
"We'd be saving business people money by them not getting broke into," he said. "Mostly these are drug addicts wanting to do that but the homeless, they're going to eat."
Other major issues mentioned by Ramey are the county's shuttered Francis Farm landfill, which costs money to maintain and monitor. To a larger extent, that relates to what the county does with the land that it owns.
A frequent target of criticism has been a large plot of land located just off Jonathan Creek Road purchased back before the Great Recession. Intended as a sporting complex, most agree that ship has sailed, so the county has been shopping the parcel to developers with little luck, even after spending thousands of dollars on a botched dirt-spreading project intended to maximize the amount of usable land on the site.
A similar issue is the old hospital — most agree that its conversion to affordable housing is a good thing, however, finding a new home for the school administrators that currently use it will have to happen this year.
Building something new would be expensive and renovating an existing space will be time—consuming; Ramey thinks the county should have jumped all over the Russ Avenue Kmart that recently closed.
"Where else are we going to find a place that big with that close proximity to the bypass, with every bit of property they need to combine all of their stuff in one place?" he asked.
Unlike other commissioners, Ramey is retired and said that's a good reason why he should be top on the list of Republican Primary voters March 3.
"I've got all the time in the world. People can get in contact with me anytime," he said. "You know and everybody knows that I'll stand up for the people and do what's right for the people. I believe that we can get a lot of this stuff paid down and have smaller debts so we could eventually maybe reduce taxes."
Jennifer Best and Terry Ramey certainly have some ideas on how to make Haywood County a better place, but Commissioner Brandon Rogers should probably tell them that learning what's possible, and what's not, takes time.
"Starting out, there's a learning curve," said Rogers, who's currently finishing up his first term. "Probably one of the big first surprises was how little control that the commissioners have of our budget."
More than 75 percent of Haywood's yearly budget spending is mandated by the state or federal government, leaving surprisingly little wiggle room for commissioners' wish lists. Still, Rogers believes that his board has delivered on the hefty expectations heaped upon this Republican-controlled board.
"I feel that we've done a great job," he said. "We've done a good job reducing our debt, which our debt since I was elected in 2016 has dropped by about 25 percent, which equates to a little over $4 million a year, which is pretty substantial."
The county's fund balance — in essence, a savings account — is also incredibly robust after years of dangerously low levels that would have left the county in dire shape if some sort of disaster were to occur.
"A lot of that has to do with our conservative approach and that's definitely the biggest story of the last four years in my opinion, the financial position in this county," he said. "I mean, our bond rating did increase this past year along with our savings going up and the debt coming down. I want to continue being a conservative board like we are."
Although the county will likely take a few hits on fund balance this year — paying for state-mandated voting machines, and perhaps a new emergency communications system for first responders — a countywide property revaluation currently underway could help increase revenues, as could some much-needed economic development.
"We are getting a whole lot more 'bites,' if you will, from folks that I feel like we would have never have been contacted by if we hadn't done this," Rogers said of the economic development partnership Haywood County entered into with the Asheville Area Chamber of Commerce back in 2018.
Bites, yes — but the county has yet to "reel in" any actual jobs for the $100,000 a year or so it spends with the Asheville chamber to market Haywood's properties. Landing just one, however, would pay for the deal in pretty short order, and then keep paying back in perpetuity through property taxes.
"In my business, I've hired nine folks. So you know, you get some small business that hires 15 or 20 people and then if you get a bunch of them, sometimes that's like getting one big hit," he said. "But we've been talking lately about trying to sweeten the pot a little bit more, to try to get businesses in."
A reserve deputy with the Haywood County Sheriff's Office, Rogers understands the impact that opioids and homelessness have on the office and says he supports the job the office has done on both, but also says more state and federal funding is needed.
"Being a commissioner has actually given me the necessary experience and I've built some good relationships up the chain with Sen. [Jim] Davis and our representatives and even [Congressman Mark] Meadows," he said. "Since being elected as a commissioner I've spent a whole lot more time with all those folks, on the phone and face to face, and that helps you as a commissioner to move the county forward."
Rogers has also been active in the county's effort to address the affordable housing crisis thorough his service on the board of local social service agency Mountain Projects.
"We've got some property that we're getting ready to start some — they're not really calling them tiny homes, but it is a tiny home — and hopefully we're gonna make communities," Rogers said. "As a commissioner, I want to do anything we can to support them. If it's financially, to do whatever we can to get them off and running."
The Second Amendment sanctuary issue has cast a long shadow on this election, probably more for sitting commissioners than for their challengers. While much of the ballot box praise/blame could focus on the board Chairman Kevin Ensley, Rogers was probably the most active and engaged supporter amongst the other commissioners.
Rogers said he felt the county did the right thing by passing the "Constitution protecting" resolution as opposed to an actual "Second Amendment sanctuary" resolution.
"We wanted to cover all of our constitutional rights because what will be next, our freedom of speech?" he asked. "Our freedom of religion?"
While Haywood's resolution does include explicit recognition of the Second Amendment — the only amendment given such status within the document — Rogers said he wished it had more teeth.
"Our resolution says we want to protect all of our constitutional rights, specifically the Second Amendment," he said. "I believe that it is our right to bear arms that protects all of our other rights, and against a tyrannical government."
Some Second Amendment sanctuary resolutions passed in Virginia explicitly state that those jurisdictions would not enforce duly passed laws, something Ensley thinks would be a violation of his oath to support the constitution.
"Personally, I'd like to have done a lot more, but as a commissioner, you can't ask people to violate the Constitution, because we swore an oath to uphold it," he said. "We felt like when we drafted our resolution that we needed to stay within the bounds of not asking people to break the law."
Ensley also referenced so-called "immigrant sanctuary cities" like Asheville, which has refused to cooperate with Immigration and Customs Enforcement in basically the same way some have called for municipalities to refuse to enforce gun laws.
"If we start picking and choosing the laws we obey," he said, "we're probably going to end up in places we shouldn't be."
Instead, Ensley remains focused on the work he and other commissioners have done in bolstering the county's financial position.
"When I got re-elected in 2008, the fund balance was at 9 percent, and I remember we needed a loan for the new DSS building," he said. "I didn't go, but the other four commissioners went to the Local Government Commission in Raleigh and they basically browbeat us about the fund balance being so low."
Fund balance is usually expressed as a percentage of yearly revenue; that 9 percent figure would have been good for about a month's worth of operations if the county experienced some sort of disaster — flooding, or a ransomware attack, for example — that interrupted normal revenue collection and operations.
"We basically were very conservative and we didn't touch the fund balance, and now the fund balance has grown to 37 percent and then our debt, people always screamed about, 'Oh we got all this debt,' and they always throw out these numbers that aren't correct," Ensley said. "But our debt this year is going to be less than it was in 2004. I wish Mark Meadows and President Trump and Congress could say that their debt is less than it was when I took office."
In short, the county's in a much different and much better financial situation today than it was when Ensley first won a seat on the board.
"I'd love to be a new commissioner coming in today," he said, before clarifying that position. "In fact, it would be a little bit overwhelming because you've got to maintain this. I'm not saying it's as good as it can get, but it's pretty dang good, and our tax rate is 25th lowest in the state. So 75 counties are higher."
Keeping fund balance high and debt low is always a challenge and will be again this year with a number of items requiring attention.
The three biggest — opioids, homelessness and affordable housing — are all linked. While Ensley thinks we may be "topping out" on the opioid crisis due to greater awareness and a number of state laws that limit prescriptions, his discussions with the North Carolina Harm Reduction Coalition have led to thoughts of mental health treatment in the county's detention center.
Affordable housing has been a concern of Ensley's for some time, especially given his work as a land surveyor.
"On affordable housing we need to show contractors and developers how the smaller one- and two-bedroom apartments are profitable versus the larger ones," he said. "I think there's a big need for that, because the sheriff was telling me that we have people living in the homeless shelter that are employed full time."
Homelessness, he said, can result from a combination of drug addiction and the lack of affordable housing as well as the county's service-based economy, which often doesn't pay enough to help workers avoid housing cost burden in excess of 30 percent of their monthly incomes.
Better-paying jobs has always been a goal of the county's economic development efforts, and even though the county has yet to see results from the Asheville Chamber partnership, it spends less money on that partnership than it did when economic development was handled in-house.
"I do feel like we're getting a lot of bang for our buck, if you will, so hopefully we'll land something," he said. "I think I calculated the other day between the Beaverdam site and the Walmart — when we bought the old Dayco site and transformed it into Walmart — I think those two sites bring in half a million dollars in revenue a year to the county, and that doesn't include the sales tax."
And in perhaps the rosiest statement on revenue to come out quite some time, Ensley is optimistic about the impending revaluation of county property slated to take effect in 2021.
Every few years, the county recalculates the value of all real estate within it; that number, multiplied by the tax rate, gives a solid estimate of what sort of revenue the county can expect in a given budget year.
The last revaluation, conducted in 2017, was disappointing. After struggling to recover from the Great Recession of 2008, hopes were high that property values had increased but instead, they were largely flat or even negative in some areas. That meant that with a constant tax rate but lower values, revenue would be lower, necessitating a tax increase or major budget cuts to maintain status quo.
As of now, commissioners are optimistic that huge gains in property valuation are coming.
"We're hearing a 20-plus percent increase in value," Ensley said. "Last time it was -2 percent, and the time before that it was -2 percent."
That would put commissioners in a very good position to pay down debt or purchase much-needed equipment. It would also allow commissioners, should they choose, to lower the tax rate because in theory, a 20 percent increase in property values would mean that a 20 percent lower tax rate would generate the same amount of revenue.
"That's just economic reality, you know, it's not like we're making this up," he said "It's based on sales and that's where it will be, so we'll have to lower the rate to remain revenue-neutral, and that's what I'm always committed to."
Haywood County
commissioner

Jennifer Best

• Age: 52

• Residence: Clyde area

• Occupation: Insurance agent

• Political experience: First campaign

Kevin Ensley (i)

• Age: 58

• Residence: Waynesville area

• Occupation: Land surveyor

• Political experience: Four-term Haywood County commissioner

Terry Ramey

• Age: 65

• Residence: Clyde area

• Occupation: Retired from Dayco, small business owner

• Political experience: Several unsuccessful commissioner campaigns

Brandon Rogers (i)

• Age: 48

• Residence: Canton area

• Occupation: Small business owner

• Political experience: First-term Haywood commissioner