Archived Arts & Entertainment
That path is for your steps alone: A conversation with Jay Blakesberg
Tuesday, February 18, 2020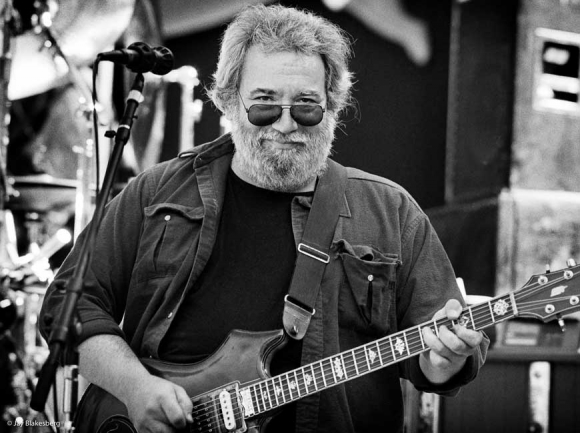 Jerry Garcia of The Grateful Dead (photo credit: Jay Blakesberg)
If a picture is worth a thousand words, then the images of Jay Blakesberg are worth a thousand notes.
Initially following and photographing the melodic cosmic force that was The Grateful Dead from the late 1970s onward, Blakesberg has traveled the country and the world over, always in search of these serendipitous blink-of-an-eye encounters and interactions that define not only a scene and a generation, but also a culture and the essence of the humanity — love, compassion, rhythm.
At 58, Blakesberg has remained one of the most highly sought-after photographers in the industry for several decades, with subjects ranging from B.B. King to Tom Waits, The Rolling Stones to Dave Matthews Band, David Byrne to John Lee Hooker.
And yet, he's still in the trenches at music festivals large and small, chasing after the "next big thing" or standing within reach of musical royalty — ready to capture the moment for all to see.
Smoky Mountain News: With your photography showcase, it really circles back to why all of us are so attracted to live music, and especially with The Grateful Dead itself — capturing these moments in this magic that you'll remember for the rest of your life.
Jay Blakesberg: Absolutely. Any of these bands that are in the jam world, no two shows will be exactly the same, right? So, these people [in the audience] push those limits, those musicians [onstage] push those limits — [everyone taking] these risks in hopes of creating these more profound, magical moments.
[With music], you are kind of reliving your youth and you're like, "Oh my God, this song brings back so many memories." And that's what live music does — it brings you to these places and these times in your life.
[Like when] you're listening to the radio and a song comes on. I remember hearing [The Beatles] "Hey Jude" come on the radio, and it brings me back to being in my brother's car in 1970 and hearing it on AM radio in New York [while] driving down to the Jersey Shore.
The hair stands up on the back of your neck and you get goosebumps — music transports us to all these places.
Jay Blakesberg.
SMN: Which the same can be said about your photography, too.
JB: And [with] my photographs, I want them to do the same thing. Take us back to those moments where the hair stands up on the back of your neck and you get goosebumps because you're like, "Holy shit, this was my experience also. [And] I've never been able to put it into words."
[And I'm up there] talking about this thing that we all did together and showing these photographs, [where] it brings [them] right back to that moment when [they were] 20 or 25 or 30 or 35 or whatever it was — having this experience that is now this experience that has brought [them] to who [they are in their] life today.
SMN: Why was photography the creative medium by which you can express yourself most accurately, passionately and artistically?
JB: It's just what I chose to do. When I first started taking pictures, I really liked it. It really turned me on and made me feel good. It made me connected. It gave me a purpose. It gave me something to do. It connected me to a scene and connected me to an experience.
You know, [back in the day] I'd go in my basement and make 8x10 black and white prints. I'd give them to my friends and they would put them on their bedroom walls with thumbtacks, and it connected us. We have these experiences and we have these photographs to remember those experiences.
And as time went on, it became more important for me to document these experiences. At a certain point, I realized that I was documenting a really important segment of pop culture history. [I was a] visual anthropologist and I should keep doing this because it was good for everybody.
Eventually, it turned it into a career and a profession where here I am now — traveling around the country, talking about my experience and showing my photographs.
Editor's Note: If you would like to listen to the audio stream of this conversation, go to YouTube and search: "Jay Blakesberg Garret K. Woodward."
If you would like to view Blakesberg's work for purchase, visit www.blakesberg.com.