Archived Arts & Entertainment
Big moves for Nantahala Brewing
Wednesday, February 26, 2020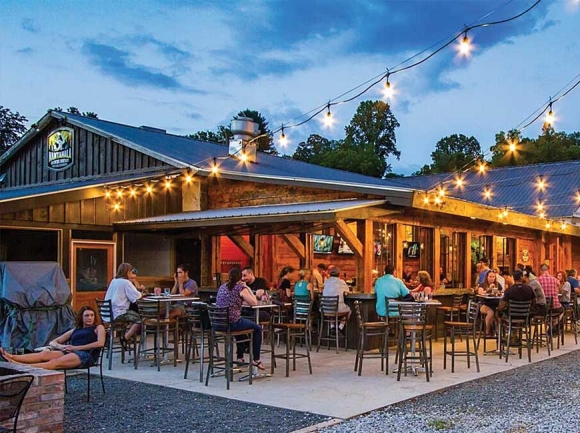 The Burger Bar on Ramseur Street.
Normally, when one hears the sounds of hammers and saws at 61 Depot Street in Bryson City, it signaled an expansion of the Nantahala Brewing's original taproom and production facility. But, with an announcement last week, those sounds are of big change for the craft beer company.
"After nearly nine years of operating our taproom and production brewery on Depot Street in Bryson City, we have outgrown it," Rowland said in a post on the brewery's Facebook page on Feb. 17.
Nantahala will temporarily close its taproom while they prepare to consolidate all operations with the Burger Bar in the historic RC Cola Bottling Plant on nearby Ramseur Street. As well, there will be a "Leap Year Taproom Throwdown" on Saturday, Feb. 29, at the original brewery before it is permanently closed and operations head to the Burger Bar property.
"We expect you all to have lots of questions and we want everyone to know that this was a tough, but exciting, decision for us, and one that we've been considering over the past year," Rowland went on to say in the Facebook post. "The memories we've made at our original location are too numerous to list, but the opportunity to move into a space where we can consolidate our resources and have plenty of room to grow were too great to ignore."
The consolidation of the Bryson City locations is a direct result of a recent decision by Rowland and his wife, co-owner Jenn Huston, to sell a minority interest in the Nantahala Brewing brand to a Delaware-based private investment group. The couple still retains a controlling interest in the brewery, with the latest investment now a catalyst for future growth of the business.
"We've checked a lot of boxes and built a solid brand over the years that brought us to this moment," Rowland said. "In a way, the changes we're making and the new partners we've secured are going to help us return to our roots, while also growing our brand without the risks associated with continuing to build a large production facility in an area that doesn't have all the resources to sustain it."
The investment group also owns and operates several other brewing facilities around the United States, with Nantahala Brewing able to utilize those facilities to supply its existing distributors within the continued growth of the brand. Production of Nantahala Brewing's craft beverages onsite in Bryson City will continue, but now within the historic RC Cola Bottling Plant (of which, the Burger Bar is attached to).
"I'm looking forward to sharing my knowledge and experience with the other brands in the investment group. These are brands that better represent some of the concepts we've explored at Nantahala," Rowland said. "As a result of this new partnership, I've also been helping Rock Brothers Brewing in Tampa, Florida. It's been exciting building new brands and collaboration beers between us and Rock Brothers with bands like The Infamous Stringdusters, all while finding ways to support some of Rock Brothers' existing relationships with 311 and Umphrey's McGee."
Aside from the Burger Bar, Nantahala Brewing also owns and operates an outpost taproom and restaurant in downtown Sylva, a relatively new location that has now become a social hub in the community.
But, for now, Rowland and Huston are busy taking down a decade's worth of memories in the Depot Street location — from craft beer medals to old concert posters, taproom barstools to stage equipment. All of which signals the end of one bountiful chapter and the beginning of an unknown, yet bright, transition in the unfolding story of this beloved mountain brewery.
"In the early days, I worked at the Nantahala Outdoor Center, while Joe packaged, sold and delivered beer, and we'd took turns bartending and managing the taproom at night — it's just what we had to do to get this business off the ground," Huston reminisced. "Back then, we got to know lots of people in the community and built relationships with families that visit year-after-year. We miss those simpler times and look forward to taking a step back so we can be more involved in the aspects of the business we love."
In regard to the Depot Street location, the extensively renovated World War II-era building and property are currently up for sale. As of press time, CJ's Grille, which resides independent of the brewery on the far end of the building, will still be open for business.
"We're going to miss everything about this building. This has been our home for over 10 years. We raised a family in here and made a lot of friends, too, and now we've moving on," Rowland said, gazing around the old taproom on Depot Street. "We're excited for what the future holds, and also what Nantahala Brewing's brand will mean for Bryson City as we expand further and farther out."