Archived News
Waynesville names homelessness task force members
Thursday, February 13, 2020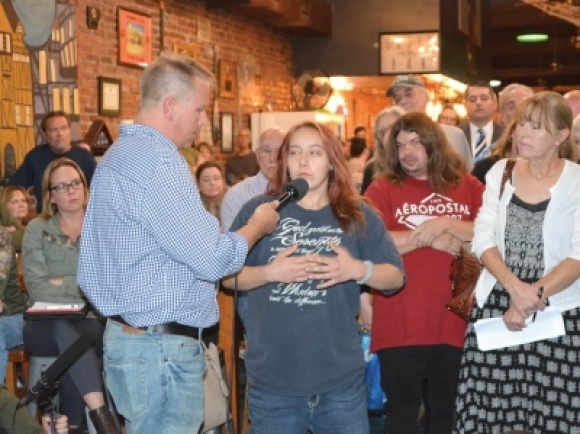 Although there was more than a little wrangling over logistics, the Town of Waynesville has finally announced the membership of its newly created homelessness task force.
The idea of forming a task force to address issue of homelessness first emerged during elections for the town board and mayor last fall, after business owners in the historic Frog Level district complained about what appeared to be an increase in the local transient population.
The issue quickly took over the campaign, and a forum held at Frog Level Brewing drew dozens of citizens eager to voice their concerns. After evaluating more than 30 applications, each member of the board of aldermen made three selections to compliment the nine institutional selections made by Mayor Gary Caldwell.
Caldwell appointed Alderman Anthony Sutton, Waynesville's new Police Chief David Adams (or his designee), Haywood County Sheriff Greg Christopher (or his designee), Bill Guy of The Open Door, Mandy Haithcox of Pathways, Patsy Davis of Mountain Projects, Brandon Wilson of Veterans Services, Teresa Pierce of Frog Level's Panacea and Haywood County Commission Chairman Kevin Ensley.
Alderman Chuck Dickson appointed Bob Cummings, Dale Burris and Amy Murphy-Nugen, who will serve as interim chair.
Alderman Jon Feichter selected former DEA agent and recent alderman candidate Joey Reece, Juleah Berliner and Nathan Cartwright.
Alderman Anthony Sutton chose Joslyn Schaefer, Laura Howell and Keri Guidry.
Alderman and Mayor Pro Tem Julia Freeman picked Linda Nulsen, Jon Lynn McDermott and Neese Morris.
The work of the task force will soon begin, but even during the time it's taken to populate the board, the landscape of homelessness has changed.
A few weeks ago it was learned that the lease of The Open Door, a food ministry located in Frog Level, would not be renewed this coming summer. The organization is currently looking for new digs, but hasn't yet announced where or when they'll move.
Many have blamed the availability of services at The Open Door for the proliferation of crime and vandalism in Frog Level, but it remains to be seen whether The Open Door is serving a population that exists in the area, is drawing that population from other areas, or a little bit of both.
What also remains to be seen is if The Open Door's new location will be welcomed with open arms by neighbors and neighboring businesses.