Archived News
Cause of WCU evacuation undetermined, but classes will resume
Thursday, February 06, 2020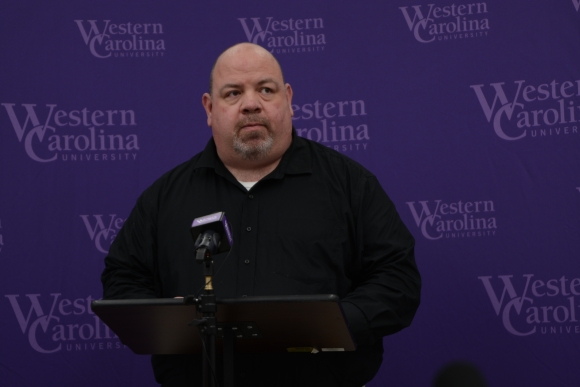 The Health and Human Sciences Building at Western Carolina University will reopen on Monday, Feb. 10 after a Feb. 6 hazardous materials incident caused an evacuation and sent multiple people to the hospital.
Response teams conducted thorough, room-by-room investigations and monitoring of the building throughout the day Feb. 6, with WCU Safety and Risk Management continuing air testing Feb. 7. Those efforts revealed no definitive cause for the incident, in which several occupants of the building complained of light-headedness and other symptoms.
However, the North Carolina Department of Public Health, Jackson County Department of Public Health and University Safety and Risk Management have determined that there are no ongoing public safety issues and that it is safe for students and faculty to return to the building. The various health clinics located in WCU's Health and Human Science Building also are also scheduled to reopen on Monday.
The response teams conducted multiple air-quality tests to detect unusual levels of oxygen, combustible gases, solvent vapors, carbon monoxide, hydrogen sulfide, hydrocarbons, formaldehyde, carbon dioxide and volatile organic compounds. They also checked for atypical temperatures and humidity.
University Safety and Risk Management will continue to monitor air quality and will conduct walk-throughs every hour on the hour when the building reopens on Monday.
"At Western Carolina University our primary objective is always the safety of our students, faculty and staff," said Chancellor Kelli Brown during a news conference held Feb. 6. "I am so grateful for the quick response from Western personnel and the quick response from our partners in our county and region."
At 8:56 a.m. Feb. 6 WCU received a medical call from the Health and Human Sciences Building when multiple students in different areas of the building began complaining of lightheadedness and other symptoms, said Shane Stovall, director of emergency services for the university. Classes were in full swing at the time, with an undetermined number of faculty, student and staff present.
By shortly after 9 a.m., the building had been evacuated and locked down, with all day and evening classes at the Health and Human Sciences building suspended for the rest of the day. Classes and events on the main campus, at the Biltmore Park site in Asheville and online will continue as scheduled.
WCU Emergency Medical Services, Harris EMS, the WCU Police Department, Jackson County Emergency Management, the Cullowhee Fire Department, WCU Facilities Management and the N.C. Rapid Response Team 6 in Asheville all responded to the scene.
Seven people — six students and one faculty member — were transported to local hospitals as a result of the incident, said Stovall.
Several dozen people were evaluated by WCU Health Services as a result of the incident. A "thorough investigation" is being conducted to determine the cause, which is as of yet unknown. It is being treated as a hazardous materials incident, said Stovall. No such incidents have occurred in that building before.
This story will be updated as more information becomes available, with WCU sharing developments at news-prod.wcu.edu/emergency-information.