Archived News
Tribal Council lifts media ban
Wednesday, February 05, 2020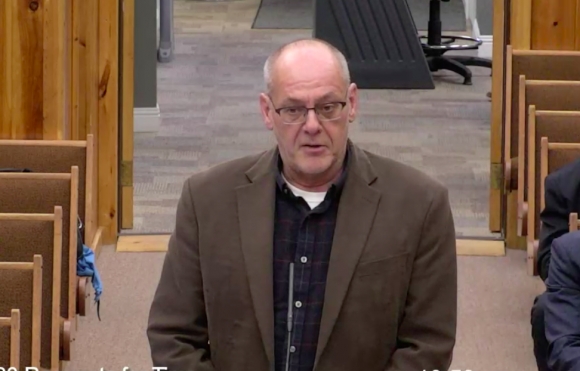 Smoky Mountain News Publisher Scott McLeod addresses Tribal Council about the media ban.
Tribal Council expressed its support of the free press during a thoughtful discussion between its members and Smoky Mountain News Publisher Scott McLeod Wednesday, Feb. 5.
McLeod addressed council as part of the monthly Requests for Time agenda to ask that members consider lifting restrictions instituted in April 2018 on media access to the Tribal Council chambers. Since that time, no media representatives other than those employed by the tribally owned Cherokee One Feather have been permitted in the chambers other than for specific photo opportunities.
In his comments, McLeod spoke to the responsibility governmental and media organizations both have toward community members and to the need for both sectors to do their respective parts toward building the trust that is necessary to serving that population.
"Working together, a responsible media and responsible government can help ensure that community members whose time is rightly dedicated to providing for and spending time with their families have access to the information they need to understand what's happening in their tribal government," McLeod said.
To do that job well, he continued, it's essential that members of the media have the ability to be physically present while discussions are being had and decisions made. He presented letters in support of lifting the ban from several different media outlets, including Blue Ridge Public Radio, The Sylva Herald, The Smoky Mountain Times, The Mountain Xpress, The Raleigh News & Observer and The Charlotte Observer. He also presented a support letter from Travis Long, a tribal member who is a photojournalist for the News & Observer. The Cherokee One Feather has on multiple occasions published editorials opposing the media ban.
The reception from council members was generally positive, with multiple representatives voicing their support for the free press. However, many of them said, it's also of vital importance that members of the media always strive for unbiased accuracy and report positive news stories alongside more controversial or negative ones.
The media ban was enacted on April 5, 2018, when the Tribal Council sitting at the time voted 11-1 to prevent any media representative save for those employed by The One Feather from entering the chambers. The move stemmed from Painttown Representative Tommye Saunooke's assertion that a recent story in The Smoky Mountain News had quoted her inaccurately, a position she reiterated during the Feb. 5 meeting. A review of the meeting footage showed that the quote was accurate.
"We were freshmen councilmen when that came up, and I think without discussing it we voted hastily on it without getting all the facts," said Yellowhill Representative Tom Wahnetah. "I know the press does nowadays catch a lot of rap about being fake news, and I'm sure some of it is. But I do believe in free press."
Birdtown Representative Albert Rose, meanwhile, questioned whether there was any need for members of the media to sit in the chambers, given that the meetings are broadcast online and via local television.
"Can you explain to me, what is the difference sitting right outside the door listening and sitting in the chambers?" asked Rose.
"Think about any kind of digital relationship," McLeod replied. "Think about how that's all our kids do now and how different that is when you get a text from somebody or even listen to a video versus being face-to-face with that person. It's just not the same."
Chairman Adam Wachacha said that, as a military veteran, he has respect for the laws of the United States and the role of the free press but that, as a member of tribal government, he has to balance that view with an understanding of the tribe's status as a sovereign nation.
"Those are things that we have to take full accountability of, being tribal leaders here on the Boundary," he said.
That said, the tribe's Free Press Act could use some strengthening, Wachacha said.
"I think we need to elaborate a little bit more on the Free Press Act so it does include other papers," he said.
By consensus, Tribal Council agreed to allow members of the media to attend future council sessions, provided they ask for and obtain permission before the meeting in question.
This story will be expanded and updated online and in print. Video of the meeting is available at http://bit.ly/2GW65JA.