Archived Outdoors
The rollback administration
Wednesday, February 05, 2020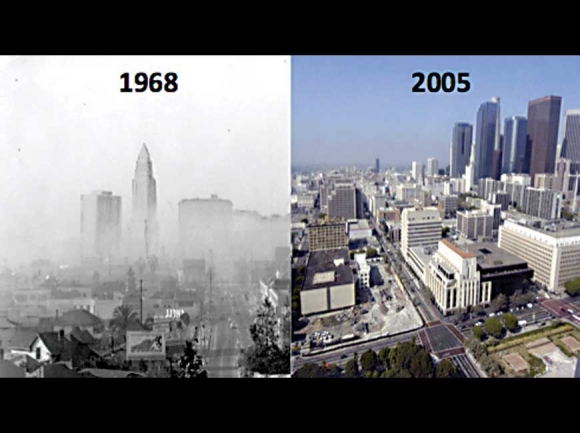 LA smog. wikipedia photo
The present administration is no friend to the environment.
In a New York Times analysis, which was based on data from Harvard Law School, Columbia Law School and other sources, the Times reported more than 90 environmental rules and/or regulations had been or were in the process of being rolled back. According to the report, 58 rollbacks had already occurred and 37 were in process.
The Times grouped these rollbacks thusly: air pollution and emissions, drilling and extraction, infrastructure and planning, animals, toxic substances and safety, water pollution and other.
CNBC put the number of rollbacks at over 80 and listed "… five big changes you may have missed in 2019…." Those five big changes were:
Regulations on methane leaks to be rolled back. CNBC noted, "Methane levels have soared since 2007, with natural gas production as a primary suspect …. By the agency's calculations, the rollback would increase methane emissions by 370,000 tons over roughly five years."
Repealing the Obama-era clean water rule. "The repeal allows polluters to discharge toxic substances into waterways without a permit, which could significantly harm the country's sources of safe drinking water and habitats for wildlife …."
Weakening the Endangered Species Act. "The new rules make it easier to take out protections for threatened animals and plants and allow federal agencies to conduct economic assessments when deciding whether to protect a species from things like construction projects in a critical habitat. The rules also remove tools used by scientists to predict future harm to species from climate change."
Weakening climate plan to help coal plants stay open. "In response, 29 cities and states sued the EPA's replacement of the Obama administration's Clean Power Plan, arguing it extends U.S. dependence on coal power and blocks states from pursuing clean energy production."
Loosening Obama-era rules restricting auto pollution. "Later in September, the administration barred California from setting its own emission standards, which officials said would give people access to cheaper and safer vehicles."
These rol lbacks appear to be concerted, concentrated, directed efforts to roll back any and all environmental/ecological, science-based policy, regulations and /or rules implemented over the last 50 years or so (since the 1970s.)
The Trump Administration could not push these roll backs through without its enablers — the senators and representatives who march in lockstep. Science cannot remedy this, although science offers remedies. Public opinion cannot remedy this, although public opinions falls squarely on the side of clean air, clean water etc.
The ballot box is the only place this can be remedied.
(Don Hendershot is a writer and naturalist. His book, A Year From the Naturalist's Corner, Vol. 1, is available at regional bookstores or by contacting Don at This email address is being protected from spambots. You need JavaScript enabled to view it.)