Archived Opinion
A sports hero who left too early
Wednesday, February 05, 2020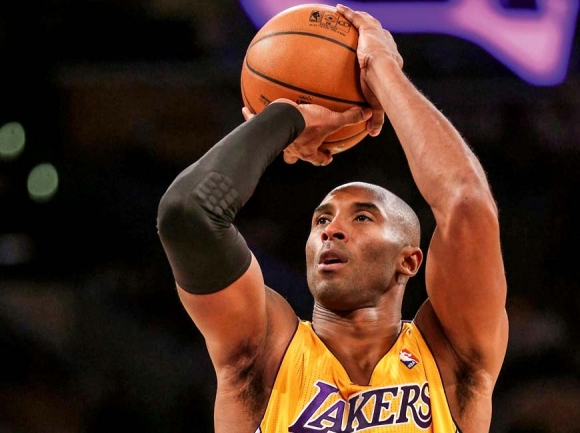 When I came into the bedroom last Sunday afternoon, Tammy had this look on her face.
"What is it?" I said.
"Kobe Bryant's dead," she said.
"No, he's not," I said. "It's a hoax I'm sure. Check the website."
Kobe Bryant does not, cannot, die at 41. He lives to be 100, still sharp, still in shape, redefining what it can mean to be 100. He lives as long as he wants to. He goes out on his terms, the same way he lived his life.
I followed Kobe's career from the beginning — even before the beginning — when he was still a high school student at Lower Marion in Philadelphia and generating a lot of buzz around the league with his incredible athleticism and vast potential.
I've been a Lakers fan since the days of Wilt Chamberlain, and by the time Kobe came along, the era of the Showtime Lakers with Magic Johnson, Kareem Abdul-Jabbar, and James Worthy, was over. In fact, the year before Kobe arrived was Magic's last year in the league. After the 1995-1996 season, he retired for good. The Lakers needed to rebuild. Getting Kobe in the 1996 draft was essential. When Jerry West engineered a trade with the Charlotte Hornets to bring Kobe to Los Angeles, sports history was changed.
Let's be honest. It wasn't always a smooth ride for Kobe. It took a while for his teammates, much less players on other teams, to warm up to him. Unlike so many NBA players, Kobe, the son of NBA player Joe "Jelly Bean" Bryant, was born into wealth and a life of privilege. He was 17-years-old when he was drafted, and he had trouble relating to a lot of players when he came into the league. Even as a teenager, he often came across as imperious, which aggravated the veterans. He could seem aloof, above it all, entitled. This went on for a while.
He could also be petulant, even after ascending to a level of greatness that only Michael Jordan has ever reached. If someone questioned his shot selection one night, he might begin the next game by going an entire quarter or longer without taking a shot — even if he were wide open or the team needed a basket — just to make a point.
Kobe and Shaquille O'Neal combined to lead the Lakers to three consecutive World Championships. They should have won at least five, probably more, but their relationship was often strained, very nearly untenable. Shaq had a class clown demeanor that irritated Kobe, one of the fiercest competitors ever to play the game. Neither of them ever felt respected by the other enough to suit them. But good God, were they ever fun to watch when they could put their egos aside and play the game.
Kobe could do anything he wanted on the court. Anything. He could score at will from any position. He could make threes, he could throw down thunderous dunks, he could get his own shot even against the opposition's best defender. He was a great free throw shooter. When he was hot, he was utterly unstoppable. He scored 81 points in a game once. He scored 60 in his very last game, long past his prime. He was an offensive machine.
He was also a lock-down defender, long, athletic, physical, and determined. And he was clutch. Nobody, not even Jordan, relished the big moment more than Kobe Bryant did. He always wanted to take the big shot or guard the guy who was going to.
I would not say Kobe ever mellowed out, but he did seem to relax a little once Shaq moved on. He seemed more comfortable in his own skin, more tolerant of his teammates' weaknesses, more big-brotherly to younger players. He knew exactly how to get the most out of the moody, but talented, Pau Gasol when the Lakers won back-to-back championships in 2009-2010. He seemed to enjoy the game more somehow. He was able to enjoy his success, rather than feeling he had to prove it all the time.
There is no way to talk about Kobe's contributions to the game and the culture without mention of the alleged rape — eventually settled out of court — of a 19-year-old young woman in a Colorado hotel room in 2003. If you don't know the details of these allegations, you can read all about it on Google. It's a sickening story and, at the very least, complicates Kobe's legacy.
Complicated heroes are nothing new. It seems we are regularly faced with the dilemma of whether to watch the films of Woody Allen and Roman Polanski, support the comedy of Louis CK, or listen to the music of artists who do or say something that we find reprehensible. In the end, we have to make our own choice, based on limited information, and admit that while we may admire the work and the artistry of some people, we do not really know them. In a celebrity-worshipping culture, that's a hard line to draw. I was distressed by the allegations against Kobe, as well as his fumbling response to the charges. But I chose to continue following his career and cheering him on, just as I still watch Woody Allen and Roman Polanski movies. For me, it's complicated. For you, it may not be. I respect that.
I have probably read 20 different stories over the past week about Kobe's death, just trying to grasp and accept it. I loved him as much as you can love someone you don't know. I still cannot believe he is really dead. It doesn't seem possible. He never seemed mortal, really, especially on those nights on the hardwood when he made the impossible possible before our very eyes.
Maybe the waves of adulation in the wake of his tragic death don't add up to redemption, but I like to think 18-year-old Kobe would be pleased not only with the sterling career he would have, but by how, in the end, he was so widely embraced and dearly loved.
(Chris Cox is a teacher and writer. This email address is being protected from spambots. You need JavaScript enabled to view it.)