Archived News
Symposium seeks input on Cherokee language preservation
Wednesday, February 05, 2020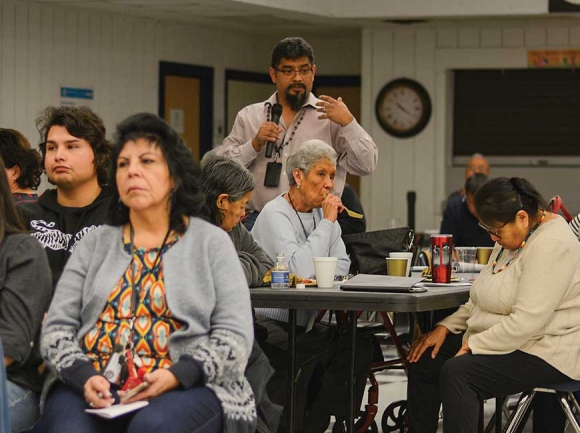 Bo Lossiah voices his thoughts on language preservation at the EBCI Language Symposium Jan. 31. Holly Kays photo
How do you create new fluent speakers in a language that's no longer the common tongue of its community?
That's the difficult question about 75 members of the Eastern Band of Cherokee Indians faced on Friday, Jan. 31, the second day of a two-day symposium focused on saving the Cherokee language.
"From the outset, right from my inauguration speech that I gave back in October, I reaffirmed my commitment and the commitment of Tribal Council and the Vice Chief that we were going to make Cherokee language — not just preservation, but proliferation of the language — a priority," said Principal Chief Richard Sneed to open the meeting. "We all recognize that we are in a state of emergency, and from the outset I gave a directive to Secretary (James) Bradley to start organizing the symposium."
Observations on current efforts
The tribe hired Chief Strategy Group, a company owned by former Principal Chief Michell Hicks, to lead the process, and brought in a trio of consultants. During a three-day process that included two days of meetings, they observed the current state of language preservation efforts in Cherokee toward the goal of drafting a plan to bolster their effectiveness going forward. The panelists presented their findings in detail Jan. 30 and then gave a higher-level review Jan. 31 to set the stage for public input.
"Without exception — every program we went to, every group we met with — people were invested," said Wyman Kirk, one of the consultants. A member of the Cherokee Nation of Oklahoma, Kirk is a faculty member in Northeastern State University's Department of Cherokee and Indigenous Studies Program. "They cared. There was a deep, deep identification with what they were doing, how this was happening. One of the strengths is that there's a passion for this. People care. The question is how do we funnel this energy into doing what people want done?"
The consultants visited classrooms at New Kituwah Academy, Cherokee Central Schools and Western Carolina University's Cherokee program. They observed an online Cherokee class through University of North Carolina Asheville and went to the Robbinsville after-school program. They observed teaching in the Mothertown Healing Project, visited the Cherokee Adult Language Learners and sat in on a meeting of the Cherokee Speakers Council.
Whenever possible, said consultant Benjamin Frey — a member of the EBCI who holds a doctorate and teaches Cherokee at UNC Chapel Hill — they interacted with the teachers and worked to understand what teaching ideas and methods were being used.
A lot of what they observed was encouraging. The tribe has the money to fund language programs, the people to carry them out and the resources to learn from. However, the fact remains that none of those efforts has so far resulted in the creation of a single fluent speaker. Time is of the essence. The number of fluent speakers now hovers around 200 with an average age of 67. About 19 pass away each year.
There are things the tribe could do, said Jason Lambert of Chief Strategy, to better allocate resources, share knowledge, strategically align various initiatives, improve methodology and categorize the types of work to be done.
For example, to achieve the larger goals of language preservation and proliferation, it's important to make sure each person involved is working at a task that best suits their unique talents and abilities. If somebody is gifted as a teacher, he should spend his time teaching, not creating video and audio files. If somebody is a fluent speaker, she should spend her time passing that skill down to the next generation rather than handling busywork that a less skilled speaker could accomplish.
'Use what you have'
Creating a comfortable and supportive environment for both speakers and language learners will be key to creating fluency.
"The comfort issue is extremely crucial around language learning," said Frey. "People have to be comfortable, otherwise they're not going to learn anything."
So the question is, how can the tribe create spaces where people feel free to try, and free of embarrassment if the words come out wrong? Whether it's Cherokee, Spanish or Swahili, communicating in a second language often feels awkward and unnatural. But for tribal members learning Cherokee, there's the added pressure of knowing that this is the language of their parents, or of their grandparents, or certainly of their great-grandparents — but that it's not yet theirs. Butchering the language in front of a Cherokee-speaking elder can be extremely embarrassing.
But for the initiative to succeed, it's important for language learning to not just be something that happens in a classroom. Language is more than an object of academic curiosity, said Frey — it's meant to achieve a function. Perhaps function is a good way to break up the learning, he said. Acquire the words you need to go cash a check at the bank, and then to check out at the grocery store, or to order a coffee. Then go on from there.
To that end, the consultants recommended a "Teach what you know, use what you have" initiative to encourage people to put their knowledge to use, even if it's presently limited.
Getting language learning out of the classroom could also improve participation from fluent speakers, said Bo Lossiah during the public comment portion of the agenda.
"I have a lot of speakers that want to do things, but they don't necessarily want to be in a classroom," he said. "They're uncomfortable."
Maybe that's where the Kituwah Preservation Education Program model could be improved, he said. That model was predicated on finding speakers willing to go into the classroom and teach, but for many that's not the right fit.
Instead of asking speakers to visit the classroom, the consultants said, language learners and educators should visit the speakers. That could take the form of a field trip where, for example, students meet a Cherokee-speaking potter and are required to use the language to ask questions about the craft. Or it could be employees who visit the speakers, asking them questions about their lives and culture while recording a video that can then be transcribed and used to create lessons.
Another major recommendation revolved around creating a database in which all language-related resources could be gathered. This could include documents, videos, photographs and audio files, as well as curriculum materials. Consultant Sheri Tatch advocated for such a tool multiple times during the Jan. 31 meeting — one of the issues with the current situation, she said, is that while the tribe has a great many resources that could be used for language learning, they're stored in different places by different people. Creating one central repository for all that information would make everybody's job easier.
Desire for immersion
During the public comment portion of the agenda, 22 people spoke up to provide their input as to how the tribe could better support the survival of its language. Many of those people spoke to the need to find better ways for language learners to continuously and organically practice their skills.
"Speaking to fluent speakers can sometimes be a little bit intimidating," said Shayla Jackson, an early childhood language specialist at New Kituwah. "They come by our classrooms a lot, and they'll ask, 'What do you guys want to know?' It's not always easy to be put on the spot like that. You kind of go blank. So I think just sitting down with a speaker, bringing a book or something you're interested in and being able to talk to them takes some of the pressure off of them, and off of you as well."
Sara Hopkins, director of WCU's language program, said that while immersion teaching is great, it's important to train language learners to remain in an immersive setting when they leave the classroom, and to support their continued education.
"There are already tons of second language learners who have dedicated their lives to working in a language setting," she said. "However, they often get in a situation where their language learning is stunted."
When you're working all day to teach basic Cherokee, it's hard to find time to advance your own understanding.
"On paper, it looks like I'm attending classes, because I am signed up for classes," said Elvia Walkingstick, a teacher at New Kituwah. "But because of different scheduling things I have not been able to attend one yet. I don't take it as an insult when people say the teachers need help, because it's true."
There are countless small ways in which each individual person and each individual institution can ritualize and normalize use of the Cherokee language. Arnold Wachacha suggested that teachers at Cherokee Central Schools make it a point to greet children in the language each morning as they enter the building. Kaitlin Roberts, a second-grade teacher at New Kituwah, said she practices daily by talking to her dogs in Cherokee. Jonah Lossiah, a reporter for The Cherokee One Feather, said the paper could include the language more often if there were a more streamlined way to verify translations with fluent speakers while still meeting newspaper deadlines.
Some pointed to the need for designated Cherokee-only zones within the tribe, places that people could come and know they'd be expected to communicate only in the native language.
Others said that's not going far enough.
"We have second language learners and we have speakers that are willing and dedicated to do this, but what is the end result?" asked Walkingstick. "We're talking about carving out Cherokee-speaking spaces when this whole boundary should be carved out for that."
To that point, several of the comments were delivered wholly in Cherokee. Both J.C. Wachacha and Marie Junaluska spoke for several minutes, with every word in Cherokee. At the beginning of the day the majority of the people in the room raised their hands to say they were either fluent or learning the language — it was a testament to that gathering that most of those present seemed to be tracking with what Wachacha and Junaluska said. Myrtle Driver Johnson also spoke in Cherokee, though she eventually switched to English.
As Wachacha finished his thoughts, Zena Rattler followed up to praise his decision to speak in Cherokee. That's something that should happen more often, she said.
"Speakers, quit speaking English and make us learn," she said. "Put us in that immersion."
There's been a lot of talk lately about the need to save the language, with a resolution passed in October 2019 setting aside $15 million for the effort.
Action is coming soon, said Lambert. By Feb. 7, Chief Strategies will issue a preliminary report to the tribe's existing language programs, whose leaders will have one week to review it. The final plan will be publicly available on Feb. 14. It won't just contain generalities, he said. It will include specific goals and potential actions, with short-term objectives to be completed within 30, 60 and 90 days and long-term objectives to be finished in one, three or five years.
"The Creator gave us this beautiful language, and I believe he wants us to teach it," said Johnson. "And if we don't teach it to our children and adults, then we're being disobedient."
Watch the video
Both the Jan. 30 and Jan. 31 meetings were videotaped and are available for viewing at livestream.com/accounts/10717024/events/8980446.