Archived News
Three Democrats face off in Swain primary
Wednesday, February 05, 2020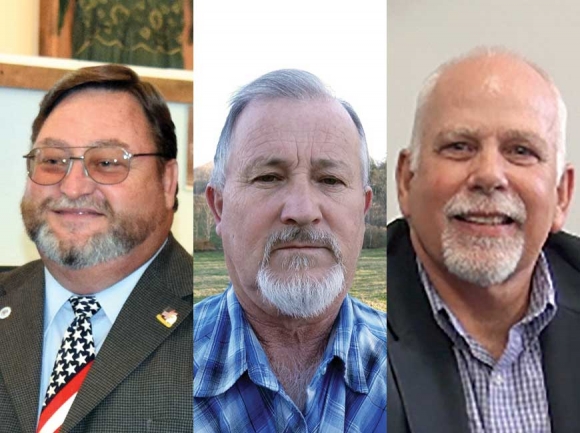 Phil Carson, Mitchell A. Jenkins and Roger Parsons
Three Democrats running for county commissioner will appear on the primary election ballot in Swain County this year, and voters will determine which two will move on to the general election in November.
While the two Republicans signed up to run for county commissioner — Kenneth Parton and H. Robert Lowe — will move directly to the November election, the three Democrat candidates — Phillip Carson, Mitchell Jenkins and Roger Parsons — will have to be pared down to two during the primary. Then the two candidates who receive the most votes in November will claim the two open seats on the board regardless of party.
Incumbents Parton and Parsons are both completing their first terms on the board and running for a second term. Carson served one term as a county commissioner and two terms as the commission chairman. He ran for a third term as chairman in 2018 but lost to fellow Democratic commissioner Ben Bushyhead during the primary. With only 18 percent of voters casting a ballot in the primary, Bushyhead received 59 percent to Carson's 41 percent.
Mitchell Jenkins, a former Swain County maintenance director, is officially running for his first term as commissioner but he also ran a write-in campaign during the 2018 general election against Bushyhead. He received about 800 votes, but Bushyhead still claimed the seat with 79 percent of the votes for chairman.
Parsons was appointed to fill the unexpired term for Commissioner David Monteith, who passed away in early 2017 — not long after being elected to another four-year term on the board. Parsons then had to run in 2018 to keep the seat for another two years. He won the seat with 57 percent of the vote, and now he's running for another term.
After being off the board for a couple of years, Carson said the call to serve the community was still strong and people were still asking him to run.
"I feel like it's important and that I need to be serving my community and representing the people of our county," he said. "And I feel like I can do that better than some of the sitting members."
As a former county employee and a lifelong resident of Swain County, Jenkins said he'd like the chance to make a difference.
"I'd like to see if I can make a difference — I don't know if I can or not. I want to see us have plenty of work and I have experience working with budgets as the maintenance director," he said. "I'd like to see someone go into the ConMet building out there and try to help businesses. It's a booming economy right now so it's the best time to target someone and I'm willing to look at that."
Parsons said he's proud of the accomplishments the board has made in the last four years and wants to continue down that path. He's proud to see the county have good working relationships with the school system and the town of Bryson City. He said commissioners formed a personnel committee trying to work on developing an updated pay scale plan to be able to better recruit and retain county employees, which is important to him, and he's pleased the county is looking to improving services for residents at the rec center.
"I continue to be very excited about the future of Swain County. My only discouragement may be that I'm used to being able to work at a faster pace than government works," he said. "It seems painfully slow, but we keep churning in the right direction and you feel good about it."
Animal control
There are several issues the board is working through that have been hot topics for years but have never been resolved. The commissioners batted around the idea of adopting an animal control ordinance for years, but it never came to a vote under Carson's tenure as chairman. The board recently approved an ordinance but will now have to figure out how to set up a department and fund it.
"We have an animal ordinance now and I'm not sure if they've figured out how to fund that or where the money will come from but that's going to be an important program for the community," Carson said.
Parsons said the animal control ordinance was needed and wanted in the community for a long time and now that it's passed, commissioners are looking for ways to fund and develop it further. Not wanting to speak for the entire board, Parsons said he sees the infrastructure plan for animal control happening in the near future and not years down the road.
"We do a lot of talking about funding of all kinds, but basically our money is spent on the mandated stuff. That comes first and then we can work on discretionary funds. We want input from the community though. I want to hear from them," he said.
New library
Finding the funds for any new program or service in Swain is a real struggle with the county's tight budget and historically low tax base. A number of important projects have had to sit on the backburner, including the construction of a new Marianna Black Library. Land was donated years ago for the sole purpose of building a new library, but commissioners have had a hard time digesting the $7 million price tag for the bigger facility. Recently, the new library committee presented commissioners with a couple of alternative plans — to either do some renovation work on the current library or to purchase the former Fred's space in a shopping center and place the new library in that space.
Jenkins said he doesn't know all the details but wouldn't want the county to miss the opportunity to use the donated land.
"I'm not against having a new library. I haven't looked at it closely, but we have a great opportunity with the land. I just don't know if the money is there to build it," he said.
Parsons said he was open to all three options the library committee put forth and wants to hear feedback from the community, but again, it will all come down to finding ways to fund it.
Carson said he wasn't in favor of the alternative plans but also didn't want to see the county spend $7 million for the original plans presented to the board.
"As a former board member I know it's hard to come up with $7 million, so we're still looking at ideas. I think we could build a less costly building and add on for future growth for less money. We'd still build a new structure with more square footage than we have now," he said. "But I didn't like the other options — the shopping center has more floor space but we need another store to open there to generate revenue. The county and local government don't need to own all the buildings in town.
We want to use the donated land."
Long-range planning
The commissioners are also in the early stages of developing a long-range strategic plan for the county. It will help the county better prioritize its needs and hopefully begin funding a backlog of needs. Many residents think the county is flushed with cash now that the federal government finally paid out the North Shore Road settlement money of $52 million, but the truth is that money sits in a secure account with the N.C. Treasurer and the county can only draw the interest on it each year. The county is working with legislators to change the law to allow Swain to invest the money in a fund that would yield higher returns, but that hasn't come to fruition yet.
"I agree with the board's concept put in place before I left — to take the interest money each year and let it accumulate for a period," Carson said. "We can go through every cent real quick and it only benefits a few, but if we let it accumulate there's money for the future."
Parsons said the strategic planning will get underway along with the county budget process. As for the road money, he said the interest collected each year has helped the county pay down outstanding debts but that he would like to see the money invested in a way that would yield more interest for the county. In the meantime, he hopes the strategic planning process will help the county identify ways to best utilize the money they do receive.
"I tend to be a cautious person when it comes to finances and it's important for us to be careful with taxpayers' money," he said.
Jenkins said he's not yet sure how the road money should be used, but he knows there are many groups of people in the county who would benefit from it.
"I'd like to see it help the people that came from down there (North Shore) if possible," he said. "I'm not against helping the cemetery groups."
Phil Carson
Hometown: Swain County
Age: 57
Professional background: Licensed plumber, 34 years as a rescue squad member, paramedic.
Political experience: One term as a Swain County commissioner, two terms as chairman
Mitchell A. Jenkins
Hometown: Swain County
Age: 53
Professional background: Worked for Swain County maintenance for 12 years; retired last year
Political experience: Ran as a write-in candidate two years ago for Swain Commission Chairman.
Roger Parsons
Hometown: Moved around as a child when his father served in the Marines, but the family settled in Swain when he was in elementary school.
Age: 64
Professional background: Retired from UPS.
Political experience: Swain County School Board for 16 years; one term as county commissioner.