Archived Reading Room
Exuberant English and forgotten riches
Wednesday, February 05, 2020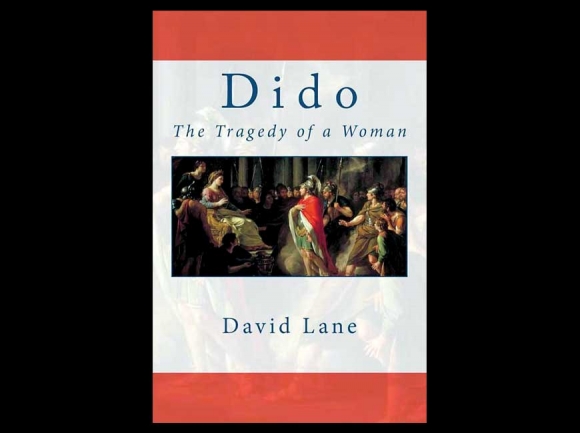 What kind of a nut writes a play about antiquity using blank verse, sentences as convoluted as any in Shakespeare, and words which, outside of Elizabethan theater, have sounded in no human ear in hundreds of years?
Apparently, my kind of nut.
When David Lane asked if I might take a look at two plays in verse he had written — "Tragedy of King Lewis the Sixteenth" and "Dido: The Tragedy of a Woman" — I agreed, little suspecting the bombshell that was about to arrive in my mailbox. When I opened the package, I took one look, shook my head in incredulity that anyone living in the 21st century would spend his time writing in in such an ornate and outmoded style, and put the books aside.
There they sat for a few weeks on the small table beside my desk. At first I ignored them, but they kept knocking at the doorway of my mind like two kids new to the neighborhood: "Come on," they begged. "Come on out and play."
Finally I relented.
I chose "Dido: The Tragedy of a Woman" (David Lane, 2016, 84 pages, $11.95) because it was the thinner of the two and because I had for years taught the "Aeneid" to homeschooling Latin students in Asheville. Disinclined to undertake this task as a man about to climb a mountain in the middle of a snowstorm, I pushed myself into the poetry. At first the going was tough, in large part the result of my reluctance and my conviction that the author was a lunatic to undertake such work. As I read on, however, my resistance gave way first to enthusiasm, and then to joy.
Before explaining the reasons for that joy, however, let me remind readers of the tale of Dido and Aeneas.
In Virgil's masterpiece, the "Aeneid," Dido is the Phoenician queen who has founded the city of Carthage in North Africa. She is an industrious ruler, a woman who overcomes daunting obstacles, including a treacherous brother, and who is beloved by her people. When Aeneas and his men, Trojans who have escaped the fire and slaughter brought by the Greeks to their city, appear on the scene, Dido falls in love with Aeneas like a 16-year-old brought down by the bow of Cupid. Passion abounds until the gods order Aeneas to fulfill his destiny and to settle his people in Italy, where his descendants will found Rome, the mortal enemy of Carthage. Aeneas obeys the command from Olympus, sails away, and the desperate, broken-hearted Dido immolates herself on a funeral pyre.
OK. Now let's get to the fun of reading Lane's "Dido: The Tragedy of a Woman."
First up, Lane delivers what he promises in the "Preface," a play written "in traditional blank verse and the traditional language of poetry virtually universal from the time of Homer to the early twentieth century." As a lover of traditional verse, I quickly came to admire the bright power with which Lane illuminates our language. If I open the book at random, his skill is evident on every page. Here, for example, is Nisus, lieutenant commander in the Trojan forces, speaking to Aeneas just after Mercury has delivered his message from Jupiter that the Trojans are to resume their quest for Italy:
Aeneas—if thou art the man and not
The region ghost that quits its grave to live
Again calamity—thou wannest white
As alabaster; sweat thy tangled brow
Bedews, as if my poring eyes might read
Therein disaster. Is't the Kindly Ones
Who shake the hissing hair have lately paid
Thee sudden courtesy and made thy eyes
So start and wilder? Find thy tongue and tell,
For I have care to know thee whole or ill.
Another passage brings us these words from Anna, Dido's sister:
O sister mine and serene in the love
Of Prince Aeneas, bliss as of the gods
Has fulled thee now thou puttest to the breast
A crooling heir and issue—king betimes
Of Carthage—sired of th' world's surpassing prince,
A scion of the heroes' storied race
And swaddled envy of the world to be!
Those lines brings another delight of this book, for those inclined toward words and language. Here are words as strange to our hearing as Farsi or Swahili. Take crooling, for example. I wondered whether Lane had simply invented the word or owned some sort of Elizabethan dictionary, but no — I looked online and found this meaning: "to make a repeated low, liquid, or gurgling sound." Other words we rarely hear imbue the lines of "Dido:" perseverates, coruscating, fisc, whilom, bedpressers, and many others. These bring delight to the ear and tongue, and will send most of us running to a dictionary.
Because of its Germanic and Latinate origins, and because it readily adopts words from around the world, English is one of the richest languages in the world. The best of our dictionaries contain more than 175,000 words, yet most of us have a working vocabulary of about 20,000 words. Reading Lane's "Dido" reminds us of the linguistic gold that often goes ignored and unheralded.
Finally, Lane's "Dido" is a powerful testimony to natural law and the possibility of barbarism when we abandon that law. In Vergil's epic poem, Aeneas and Dido have no child, but in Lane's verse-play their union produces an infant son. An evil priest of Moloch, Adonibaal, convinces Dido the sacrifice of her son will bring her Aeneas again. (Baal was another name for Moloch.) Aeneas returns just in time to rescue his son, but scorns Dido and her religion—the Carthaginians practiced child sacrifice—and leaves her to her suicide.
A poet who puts out such a work, so removed from most poetry today, is either a champion of verse, his sword a pen, or a Don Quixote tilting at windmills.
I'm voting for the former. Thank you, David Lane, for "Dido."
(Jeff Minick is a writer and teacher. This email address is being protected from spambots. You need JavaScript enabled to view it.)