Archived News
Corbin, Conway seek GOP nod for Senate
Wednesday, January 29, 2020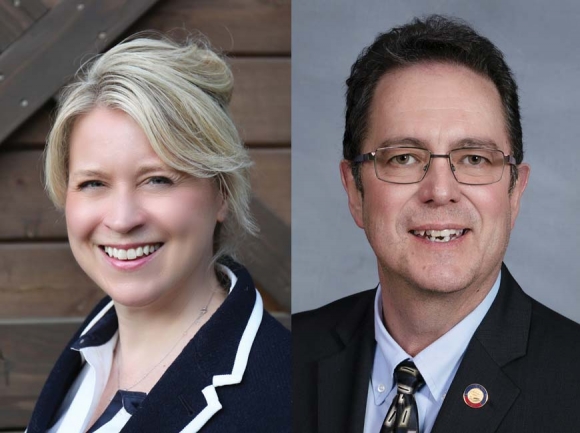 Sarah Conway and Kevin Corbin.
When five-term N.C. Sen. Jim Davis, R-Franklin, announced his surprise retirement at the Macon County GOP headquarters last fall, it wasn't much of a surprise that he'd asked two-term House Rep. Kevin Corbin, a Republican also of Franklin, to succeed him in the Senate.
Corbin's actually followed Davis' path before — when Davis, then a Macon County commissioner, first won election to the North Carolina General Assembly, it was Corbin who served out the rest of Davis' term after Corbin himself had already served for two decades on the Macon County Board of Education.
What was a surprise, though, was the announcement of Sarah Conway, who at that same event said that she, too, would be a candidate for Davis' seat.
"I'm running organically," Conway said. "No one asked me to run, which my understanding is that that is unusual. I was compelled to run because I wanted to make sure that our epidemic in Western North Carolina was worked on — in other words, we have a narcotics epidemic in Western North Carolina and so when I was reading the statistics, it just compelled me to run."
Conway, of Highlands, is a retired radiologist; coming from the medical community she's well aware of the damaging effects that stem from the misuse of drugs and cites the opioid epidemic as probably her biggest campaign issue.
"Right now I feel like a doctor would be perfect because of the opioid epidemic that we have," she said. "If we had an agricultural crisis, I would love to see a seasoned farmer or perhaps an agricultural Ph.D. I have a theory — right person, right crisis, at the right time. Once that crisis is contained and we have found solutions for the crisis, I feel it's important to pass the torch so that the next person can contribute their talents and skills as well. That's how we all maintain our voice in government."
Davis, along with Corbin, has been among the most active North Carolina legislator in addressing the opioid epidemic through several bills that have clamped down on the number of pills that can be prescribed by physicians, as well as removing obstacles to needle exchange programs that help stop the spread of infectious diseases. Conway says she has a multidimensional approach that could also yield results.
"I think one of the most important facets to my plan is prevention. How do we prevent people from getting addicted in the first place? My theory is, it starts very young," she said. "I'd love to create an educational template which can be used in schools as young as eight to 10 years old, for students where they can understand the health ramifications of getting addicted to these agents and how they can avoid that. And so prevention is extremely key."
For some, prevention won't work because it's already too late to stop them from using drugs that result not only in a debilitating addiction but also in a tremendous social cost to taxpayers. One possible solution cited by health care professionals and addiction treatment specialists alike is the wider availability of health care coverage — like Medicaid expansion — and the increase in behavioral health services that would bring.
Corbin had bucked his party in support of Medicaid expansion, but has since dialed that back a bit to instead express his support for Carolina Cares, a compromise proposal. As the owner of two insurance agencies, Corbin brings a unique perspective to the rural health care coverage debate.
"I co-sponsored that bill in the house," he said. "It's not straight up Medicaid expansion, which I think most Republicans are opposed to, but what this has is a work requirement. If you're able and you're not disabled, there's a work requirement. There's a premium requirement of up to 2 percent of your income, which if you make minimum wage ends up being about 20 bucks a month. And then there's a requirement to get your preventive care."
Conway said she wasn't completely familiar with the Carolina Cares proposal, but wasn't exactly in support of Medicaid expansion, either.
"I'd have to look at the details of each plan. I have read quite a bit about Medicaid expansion. I guess my biggest fear for Medicaid expansion is that I do not want to dilute Medicaid resources for the truly disadvantaged and disabled," she said. "This is an extremely vulnerable population that needs resources. What I have read is that the expansion could extend into able-bodied young adults that could potentially be in our workforce. I favor more reasonably priced health plans, so patients have choices, such as 'skinny' plans and association plans; we also need more medical doctors in Western North Carolina."
She does, however, recognize the increasing need for mental health services, and is a proponent of a novel idea that takes into account the far-flung, isolated nature of Western North Carolina's population.
"I thought it would be interesting if we could have a mobile mental health unit," she said. "One that would go through all my seven counties, so if there's a particular county that's having a particular crisis, at a particular time we could have the mobile unit go out to that county."
The opioid epidemic certainly isn't the only issue Corbin and Conway will have to deal with, if they can get past Canton Democrat Victoria Fox and Sylva Libertarian Clifton Ingram — neither of whom have a Primary Election opponent — in November. As a conservative, Conway said she'd like to see the state continue to make progress on paying down its debt and take up the issue of term limits.
As a seasoned legislator who's spent nearly 30 of his 58 years in government at one level or another, Corbin said his main focus is addressing the needs of his constituents.
"That has been a top priority of mine, constituent service," he said. "What we do when we go to Raleigh is certainly important and legislation is important, but as a representative elected to represent about 83,000 people in this district, I'm the only voice they have in state government."
That includes fielding concerns about Department of Transportation projects, addressing problems with the Department of Revenue and various other licensing agencies.
"I would say in the past going on four years now, we've had calls concerning probably every aspect of state government," he said. "It's been a learning curve, trying to learn all these areas, but it's been a pleasure."
Corbin thinks that message will earn him the votes he needs to emerge from the March 3 Primary Election as his party's nominee.
"You can put this on the record or not but my opponent seems to be very intelligent. I have a lot of respect for her and we've had a very respectful campaign," he said. "I think the difference is clearly experience. To me, when someone goes for a seat like the Senate, I have a voting record to look at. When you have no voting record, then all you can say is, 'Well, here's what I think I might do,' or 'Here's what I believe.' I have a record, an established record."
That record has elicited praise from a number of advocacy organizations including the American Conservative Union, which scored his voting record at 92 percent and bestowed upon him its Conservative Excellence Award.
Conway says her brand of conservatism is less institutional, something she hopes will boost her prospects at the polls.
"I have great respect for anybody that has served and that has run for office," she said. "I guess my opinion is I feel as though I want more grassroots people to be able to contribute their voice. This seat is open, currently, so in truth there's really no incumbent for this particular seat. My whole view of government is very different. It's very grassroots conservative. I want more people to run, I want us all to have more of a voice and I want to pass the torch more quickly."
Whoever emerges as the Republican nominee for the seat, they'll eventually have to make those arguments to a broader segment of North Carolinians, including Democratic and unaffiliated voters.
"Going back to my record, I've had my two terms, I've had very successful freshman and sophomore terms. I've worked hard for my district. All four of the counties that I represent now [Cherokee, Clay, Graham and Macon] have gotten additional school construction money, additional funding for classroom teachers, for supplies," Corbin said. "If you look around and see all the orange barrels, you've seen all the transportation money that we've gotten for this district. So it's about working for your district. Again, to go back to what I answered earlier, it's not necessarily about what you do in Raleigh or things you accomplish as a legislator. You're there to represent your district."
As with every other race on North Carolina ballots in November it's presumed that President Donald Trump will somehow impact this one, for better or for worse; Trump is as likely to garner praise if Republicans surge at the polls as he is likely to draw blame if they don't.
"That's a really good question. I think the jury's out on that one," Corbin said. "I think the folks that support President Trump are clearly behind him and are clearly motivated to vote and to be involved in the process and folks that are opposed to him, I think they feel the same way."
Republicans, Corbin said, by and large support the performance and agenda of Trump, who brings energy to both Republicans and Democrats.
"Look at the improvements in the economy," Corbin said. "Unemployment numbers are the best they've been in decades. The business climate in North Carolina is the best it's ever been and that's not a political statement. It's just an economic fact. I would certainly acknowledge that Trump is a polarizing individual. In Western North Carolina, you have a conservative base, even Democrats. I think most folks in our district tend to be fiscally conservative, if nothing else. I think when they look at the economy and how it's doing, I think that's going to be a positive thing."
Conway isn't as certain that partisanship will play a central role in the November elections, should she make it that far, but is hopeful voters will see beyond the traditional red/blue paradigm to make the best choice.
"I guess we'll have to see how the races go," she said. "If there's a lot of momentum behind the president, then I would anticipate that there would probably be a lot of momentum for the Republican Party. But I think it's important for everyone who goes to the ballot box — whether they're unaffiliated, Democrats or Republicans — to really look not with a broad brush, but look at the individual and look at the person who's running, look at their credentials, look to see if they're a visionary thinker, if they're a deep thinker, if they'll listen to you. That's almost more important to me than the partisanship."
Senate District 50
Sarah Conway
• Age: 57
• Residence: Highlands
• Occupation: Retired radiologist
• Political experience: First campaign
Kevin Corbin
• Age: 58
• Residence: Franklin
• Occupation: Insurance agency owner
• Political experience: Two-term N.C. House representative, 20 years Macon County Board of Education, six years Macon County Commission