Archived News
Shooting victim's mother opposes gun resolution
Thursday, January 23, 2020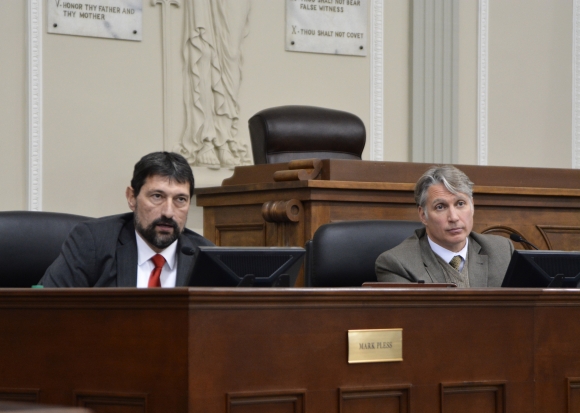 The debate over whether or not Haywood County should declare itself a "Second Amendment sanctuary" entered a new phase Tuesday night after hundreds packed the Historic Haywood Courthouse and dozens addressed commissioners, with most speakers expressing a single resounding opinion: yes, it should.
A number of Second Amendment sanctuary resolutions are already in place across the United States. Some are statewide, and others are piecemeal like in Virginia, where more than a hundred local jurisdictions have passed such measures in response to gun control bills entered into the Virginia General Assembly.
Although the sanctuary resolutions are symbolic and carry no actual authority, they generally state that a local government won't enforce laws — especially, gun laws — that they feel are unconstitutional. Several Virginia sheriffs have taken that argument one step further, saying they personally won't enforce gun control laws in their jurisdictions.
Haywood County Sheriff Greg Christopher told commissioners he was bound by his oath to enforce the laws enacted by the North Carolina General Assembly.
"I support our citizens' protected right to bear arms under the Second Amendment and the doctrine of judicial review that grants to the United States Supreme Court and the lower courts the power to determine the constitutionality of any law," said Christopher. "Sheriffs do not possess the legal authority to interpret the constitutionality of any law."
Regardless, those who spoke after Christopher gave all manner of reasons why Haywood County should pursue Second Amendment sanctuary status, but there was at least one voice of dissent.
"I'm a native of Haywood County. Thank you for letting me speak tonight. This is not going to be easy for me. My family has been a victim of gun violence. My son Riley was killed by a school shooter at UNC Charlotte on April 30 of this past year," said Natalie Henry Howell.
Howell expressed concern over lackluster background checks, as well as extended magazines.
"I know that Riley's shooter had a 9-millimeter gun and had several extended magazines," Howell said. "I know that my son was killed by bullets that came from an extended magazine. He was the last one shot and once Riley tackled that gunman no one else was shot that day. He was shot by bullets 13, 14, 15, 16, 17, 18 — he was shot eight times that day."
Commissioners responded individually to the debate at the end of the public comment session, saying they'd be working on some sort of resolution in the coming weeks.