Archived News
You can't stop me from dreaming: Bluegrass banjo legend Marc Pruett releases memoir
Wednesday, January 22, 2020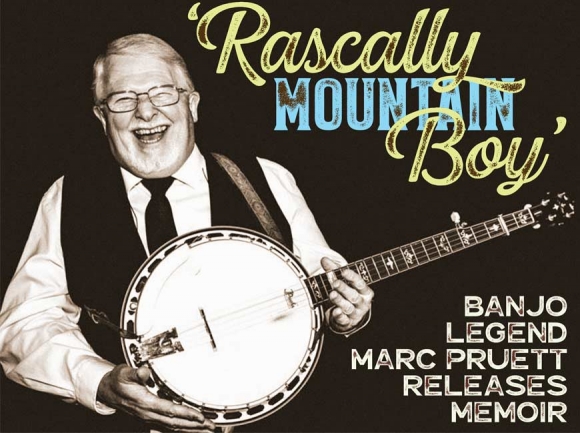 It's just after lunchtime at the Haywood County Health Department on a recent chilly afternoon in Clyde. And standing in the front window of the lobby awaiting his appointment for a sit-down interview is Marc Pruett.
Formerly the county's erosion control officer for the better part of a quarter-century, Pruett retired some three years ago, only to be asked to come back part-time as the much-needed development services technician (now that the erosion and planning offices have combined). His skill set and personable approach to his position have made him invaluable to those who not only work alongside Pruett, but also cross paths with him — personally and professionally.
And it's that same intricate and analytical skill set amid his friendly demeanor and gracious nature that has also made Pruett one of the most talented and highly-sought after banjo players in the history of bluegrass and old-time music.
Born and raised in Canton, Pruett has ventured across the country and the around the world with his trusty five-string acoustic instrument. Learning his craft from some of the finest musicians in Western North Carolina and beyond, he's considered the cream of the crop within a rich scene where giants of the genre have last names like Fleck, Brown, Vestal, Trischka, Scott-Benson, Pikelny, Munford, and so forth.
At 68, Pruett recently released a memoir. Titled Rascally Mountain Boy, the book is constructed in three parts: Pruett's extensive musical career, a section of personal stories and tall tales, and a wide array of his own song lyrics.
Chipping away at the book for the last decade, the work showcases Pruett's early days holding court at the legendary Bill Stanley's Barbecue bluegrass joint in Asheville, his time performing onstage with some of the pillars of bluegrass music (Bill Monroe, Lester Flatt, Earl Scruggs, Jimmy Martin, among countless others), and his tenure with Ricky Skaggs & Kentucky Thunder, which yielded a Grammy Award in 1998 for "Best Bluegrass Album" (for Skaggs' record "Bluegrass Rules!").
The memoir is an ode to days long gone, but not forgotten, in Southern Appalachia. It's not meant to look back with rose-colored glasses, but to perhaps pull wisdom and life lessons from for future generations.
More so, it's about remembering great souls who once walked this earth, and never forgetting where one came from, even if the distance — whether physical or emotional — seems too wide to bridge amid a modern era of fast technology and inconsequential priorities.
And even though Rascally Mountain Boy focuses on Pruett's life and times in Haywood County and Western North Carolina (and other ramblings), it also brings to light his current musical endeavor — the acclaimed, marquee bluegrass act that is Balsam Range.
In recent years, the Haywood County-based act has received the industry's highest honor, by taking home the International Bluegrass Music Association (IBMA) award for "Entertainer of the Year" in 2014 and 2018. The quintet has also received "Album of the Year" (twice), "Song of the Year" (twice) "Vocal Group of the Year" (twice), "Male Vocalist of the Year" (Buddy Melton, twice) and "Bass Player of the Year" (Tim Surrett, twice).
While in the presence of Pruett, he's warm and engaging in conversation. His sincerity is only matched by his wit, which is finely-tuned and perceptive. Marc Pruett is truly a man of his word, with his word now for all to read and immerse oneself in — a long-held literary dream now a reality for the someone whose legend echoes far and wide from our surrounding ancient mountains.
The Marc Pruett Band.
Smoky Mountain News: The book is out. What's it like for you to finally hold it?
Marc Pruett: I'll tell you what, I worked on that book so long and to be able to hold it, well, it's just a wonderful relief. It's made me happy. You know, it's interesting to have something like that.
The old-timers and old farmers have a saying called "barn blind." And that applies to a farmer that raises his own calf — he knows who the parents were, he's fed it, took care of it when it's sick, and it's really special to him. But, you know, when he goes to market, it's just another cow. So, I may be barn blind to the book. [Laughs].
But, I've read some of these stories back again and just laugh and remember those times. And I grew up in a time of a really vibrant and interesting Appalachian culture — before all the big box stores, before the big four-lane roads came through. It was a time when Haywood County was all two-lane roads. In those days, we had friends that we would just hang out with and cut up and carry on with, and kids would entertain themselves outdoors a lot.
For me, part of the purpose in writing this book was to reach back and touch those memories and give myself a little bit of a positive kick. It's not that the memories are important or that critical, but, to me, there is value in every individual human history. Each person has things that are unique to them that can be interesting to other people. If anything, my kids will have something that could help them to know where they came from, what their dad was like when he was a little mountain kid, too.
SMN: This is a region of the country that's so rich and vibrant, in terms of the arts, heritage and culture. But, at the same time, all of that is rapidly disappearing, though there are folks and organizations working hard to preserve and perpetuate it, too.
MP: Well, it all began to change with the commodification of land. As a matter of fact, I have a story in the book called "Posted." It talks about how this guy's grading a piece of land and he doesn't like working on somebody else's property that was bought from out-of-state. And how a half-acre will cost more than the $50,000 that the farmer got for it. But, in the end, he's feeding his family with grading land that's posted now.
We have a dichotomous population here. There are different cultures, where you still have the all mountain cultures and people who actually live it. Then, you have people who preserve it. Then, you have people who do both. And then we have people who imitate people, people who observe, and people who interact in different ways to squeeze part of it for themselves as they are motivated and feel it.
SMN: And what's amazing is that in 2020, with all this change and sprawl, there are so many incredible real deal mountain folks that still are able to live and thrive in these mountains. What does that mean to you to see that ethos still exist?
MP: Well, if they're happy, I'm happy, you know? Good people can exist in any socioeconomic strata. If a person has a good heart, they treat their family good, they are trying to be a good provider or a good contributor to their community — they don't have to have money or anything. And if they enjoy the land, the culture, the folkways, it means something.
SMN: Which would circle back to the point of your book, reminding people of the simple pleasures of life, of family, of these mountains, and being proud of where you came from.
MP: It really does. Well, it made sense to me to make it quality, make it fun, make it entertaining. There are a lot of negative things that we hear in the news these days. And I wanted to put stories in a book that would add uplift to a person's day.
SMN: When you look back on growing up in Canton, what sticks out most about that town and greater Haywood County?
MP: Growing up, Canton was a viable economic community. There was just so many good little stores, all of the buildings were filled with businesses. It was a safe place to be. Our mother would take us boys to town and she just turned us loose for half a day, we'd just wander the streets, go to the Army store, go to the different stores and hang out.
And maybe it's just a nostalgic thing. It makes me sad in a way, because it's like the great songwriter Mel Tillis wrote so wonderfully, "And we spend our lives replacing all the things we leave behind."
SMN: But, do you see any intrinsic value in realizing that? Any earned wisdom from seeing that for yourself?
MP: I do, I really do. It's hard in a way, too, almost like — is it a blessing to know the difference?
Pruett (left) onstage with Bill Monroe (center) at Western Carolina University in 1971. Lester Flatt is on guitar in the background.
SMN: There's something to be said about knowing the difference, because it shows that you seek the good in wherever you are.
MP: I hope so. That's how I feel. You know, I can't be so lofty as to say that I'm an entertainer, but I've been in entertainment to some level all my life. I wanted to write this book in a way that it would be entertaining, fun for people to read, and that there would be little catchy things that would keep pulling people through the pages. And I hope I've done that.
SMN: And yet, you've spent most of your life in entertainment. But, at the same time, you've always had this balance of a very stable career working for Haywood County.
MP: It was by design to some extent because my mother was a very sparkling encourager and forward thinker. She was not a college graduate, but was salutatorian in 1947 at Bethel School. She was a very smart lady and she encouraged my brother and I to learn. She read to us when we were little and she gave us a freedom to be inquisitive.
And she told me that she wanted me to be the first one in the Pruett family to ever graduate from college. That was the goal or a task that I knew I had to complete. I just knew I had to go to college. I went to Western Carolina University and graduated with a degree in geology and biology.
And you know, I never saw my dad watch a ball game. But, he took me to so many wonderful places, always rock hunting in the mountains. He was an old rock hound. We went to the emerald mines and the ruby mines. I feel like I about half grew up in the sapphire mines around here. [Laughs].
SMN: Do you remember the first time you ever heard bluegrass music?
MP: I do. I was about 10 years old. I would come home from school and WHCC in Waynesville was the radio station. They had a program called "The Cornbread Matinee." And I would get home from school about 3:30 in the afternoon and listen to the show until four o'clock. Then, I would have a snack and then at four o'clock I would have to do my homework.
One day, the program featured Lester Flatt, Earl Scruggs and The Foggy Mountain Boys. They played "Dim Lights, Thick Smoke," "Flint Hill Special" and "Earl's Breakdown." And it just flew all over me. I get chills thinking about it because when I heard that sound and that music and that banjo, it was a perfection that I've never really heard equaled, you know. It was one of those things in life — it was perfect.
And I asked my mother, "What's that instrument that man's playing?" She said, "Honey, that's a banjo." I said I'd love to have one for Christmas. So, they got me one for Christmas in 1962.
I had some really great Haywood County people that helped me learn how to play the banjo. French Kirkpatrick [in Iron Duff] was one of them, he was very helpful. My dad had a 1952 Plymouth and we'd go over there to French's on Friday nights, make a pot of coffee, listen to records and play a little bit.
SMN: And you spent a lot of years playing [the now defunct] Bill Stanley's Barbeque in Asheville with The Marc Pruett Band, right?
MP: A lot [of years]. I played music there until I was 41 years old. After I got my college degree, my brother and I opened a music store in Asheville that I stayed with about 12 years. And I also taught students the banjo two nights a week, where I had 96 students [each] week, half of which were at a Southwestern Community College [in Sylva].
SMN: I always hear such crazy stories about Bill Stanley's and how incredible of a space it was for bluegrass music.
MP: It's all true. I'll tell you, it's all true. [Laughs]. It was magic. Everything about it came together — the band, the food, the place, the dancers. People came from over the world. It was a destination. Once it became known, we had the same five guys in [The Marc Pruett Band] for about nine years. We did five nights a week, and then there were times when we had catering jobs and different things. We would play sometimes seven nights a week. Other times, we played Bill Stanley's at lunch for an hour for four days a week. It was music to the wall for me then.
SMN: Then you were with Ricky Skaggs for a period in the 1990s, which led to a Grammy Award. But, after you left Ricky, did you think you might slow down from playing and touring?
MP: Being able to play at that level [with Ricky], it was a pinnacle for me. And I was working full-time [for Haywood County, too]. I used all my company time, sick time, vacation time and weekend days to play with Ricky Skaggs all over the world.
SMN: Why was that sacrifice worth it to you?
MP: That's a good question. I felt like there was a reason for me to be there because I was learning, I was playing fabulous music. I was networking with great people and I was hoping that there might be an opportunity to record with that band, which there was [that led to a Grammy].
You know, when you climb that pinnacle and you get to a point where you've climbed up the cliff and you look out onto this broad plain of almost emptiness. It's like you say, "Is this all there is to it?"
SMN: And you then played with Whitewater Bluegrass Co. for a while. Your wife, Anita, was a banjoist in that band at one point, right?
MP: My wife was with them for over nine years. She was kind of their original banjo player.
SMN: I would surmise then that you married maybe the one person that would understand you having to pursue these things in your music career over the years.
MP: I did. I married way up. [Laughs]. She's a great banjo and guitar player. And a great singer, too. We've been married since 1986. She's the best person I know. She's honest to a fault and totally dependable.
When I left Ricky Skaggs, I really didn't know what to do. I did work with Whitewater Bluegrass Co. for about nine years until Balsam Range formed in 2007.
With Balsam Range, it just kind of happened very organic. I was with Whitewater and they made a personnel change. They needed a fiddle player. So, I helped bring [Balsam Range singer/fiddler] Buddy Melton into [Whitewater]. Buddy and I rode together to all the shows for a long time, and we would talk sometimes coming back from the shows about what it would be like to have a band at the Ricky Skaggs quality of musicians.
Balsam Range at the IBMA awards in Raleigh.
SMN: And this was right around the time that [Balsam Range's] Caleb Smith, Tim Surrett and Darren Nicholson are all serendipitously back in Haywood County from their separate careers on the road with other bands, all now looking to play some music.
MP: We got together and jammed about three different times as I recall, right there in Darren's kitchen. At the end of the third night [jamming], I had a show booked for $1,000 and didn't even have a band. We didn't even have a name for the band. I said, "Hey, do you guys want to go do this show?" Then, I figured maybe we might ought to book some dates. [Laughs].
SMN: Balsam Range is another long chapter in your vast and ongoing musical career, a chapter that for many musicians would itself be considered a lifetime of success and experiences. What's been your biggest take away from all of this with Balsam Range?
MP: Well, my big take away from it is how much I've learned playing with that band, and how much the creative experience has meant to me. I'm just thankful to be able to work and keep working. All of the boys [in Balsam Range] work hard. They're all professionals in their own direction.
SMN: You've been playing the banjo about 57 years. What are you learning about the instrument these days?
MP: Tone and how to set up a banjo. You never quit learning. And anybody that's a Cub Scout parent will understand what I'm fixing to say about this when you say, "How do you make the perfect pinewood derby car?" I mean, it's a study in physics. With four little nails, four little plastic wheels in a wooden block. Now buddy, I'll tell you what, that itself will send you deep into some study.
Well, that's an any art form. Sheila Davis said in her book about songwriting to make sure the idea is worth writing. You can write a song about anything, but it needs to be a specific in a universal way that touches people.
SMN: What does bluegrass mean to you these days?
MP: Well, the act of playing music is its own self-gratification. The better tools you have, the more it interests you. It's like any discipline — where your love ends is where your progress ends. And I don't know if I know where that is with this yet [in my life], which is great. I'm still learning things.
What bluegrass means to me is appreciating the old, recreating the old, finding the new, appreciating the new things, and giving credit to people who are creating at fabulous levels today.
And encouraging people. Everybody hears [Earl] Scruggs a different way. And I don't know that I hear it all the way to the end of it, of what he did. I've spent a lifetime trying to figure it out. But, if I could help somebody to hear the music, with a fresh approach, with great tone and touch, and the right feeling, then I've carried that old feeling through into a new creative space.
SMN: You've had this life of travel and experiences, of creating and recording music, playing music onstage. You've met people from all over the world, and it all circles back to Haywood County and Western North Carolina. What has all of that taught you about what it means to be human being?
MP: Well, it's taught me two of the most valuable things that you can have in life — passion and compassion. Passion for what you do gives fuel to learn as far as your love will take it. And during that effort to learn and to do, if you have compassion for other people, you can share what you do in ways that help them learn.
You know, a lot of people get caught up in competition — "Who's doing this? Who's doing that?" And [the hope is that] we can get beyond any sort of competitive thoughts and just being the best that we can be.
I'll tell you who I'm in competition with today, and that is who I was yesterday.
Want a copy?
If you would like to purchase a copy of Marc Pruett's memoir Rascally Mountain Boy, you can find it on the shelves at Blue Ridge Books (Waynesville), Mast General Store (Waynesville), Blue Rooster (Clyde), The Southern Porch (Canton) and Pigeon River Mercantile (Canton). You can also buy the book online at www.balsamrange.com.
As well, The Smoky Mountain News will be hosting a special onstage Q&A event with Pruett about Rascally Mountain Boy in the spring at the Folkmoot Friendship Center in Waynesville. Stay tuned for more event details in a future issue of the newspaper.