Archived News
Retired teachers ask state for a raise
Wednesday, January 22, 2020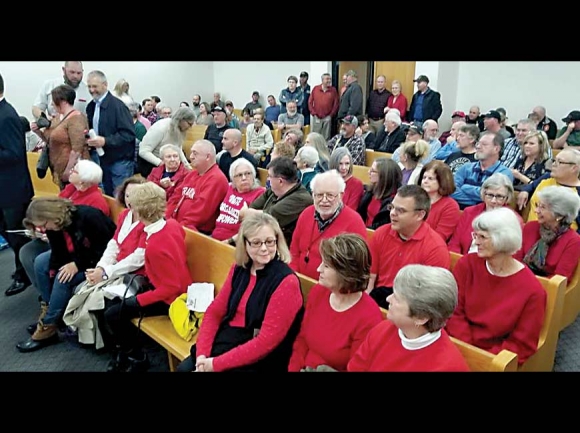 Macon County educators pack the Macon County courtroom Jan. 14 to ask commissioners to support a resolution to increase pay for retired educators. Screenshot
When teachers were starting their careers in North Carolina some 30 years ago, they did so with the understanding that their health care would be covered and the money they put into their retirement fund would cover the cost of living when the time came.
Unfortunately, that promise has been broken for teachers now in the state retirement system, according to a resolution that appeared before the Macon County commissioners last week.
Macon County retired teacher Lee Berger — who also serves as president of the North Carolina Retired School Personnel — presented a resolution for the board's consideration to support a 2 percent cost of living adjustment for N.C. retired teachers in the 2019-20 state budget.
"North Carolina teachers entered the profession, worked for the state and North Carolina students, in most cases for 30 years or more, while they contributed significant portions of their own salaries into the North Carolina teacher retirement fund with the expectation that the monies would not only be paid out in installments during retirement but that the installments would be maintained in terms of purchasing power with regular cost of living adjustments as they had been for decades," Berger said. "And when I joined the profession I was promised health care at no cost and today we have to pay for that now."
According to the U.S. Bureau of Labor Statistics, inflation has risen 18 percent since 2009, but North Carolina retired teachers have only received three, 1 percent cost of living adjustments and two one-time, non-recurring bonuses of a total of 2.6 percent resulting in North Carolina retired teachers being more than 15 percent behind relative to inflation.
She said Gov. Roy Cooper recommended a 2 percent COLA for teachers to the General Assembly in his budget proposal but they only approved a 0.5 percent increase, which came in the form of a one-time $150 payment. The state still doesn't have an approved 2019-20 budget as Gov. Cooper vetoed the General Assembly's budget back in October in hopes of getting Medicaid expansion.
Unfortunately, Berger said, benefit packages for new teachers and other state employees are about to get much tighter. Beginning 2021, new teachers will no longer qualify for state health care plans when they retire. Republican lawmakers made the change in an effort to control retirement program costs and be more streamlined with benefits offered in the private business sector. Opponents of the change say the loss of health care plans for retirees will hurt the recruitment of good teachers as well as other hard-to-fill state positions.
According to the UNC system, the enrollment for future educators has gone from 18,428 students in 2011 to 13,161 students — a decline of 28 percent. Berger said the decline can be attributed to the lack of pay and benefits for public educators.
Commissioner Gary Shields asked if there was a timeframe or if commissioners could study it and vote on it in February.
Berger said it would be great to have the resolution signed and sent to Raleigh this month, but it could be considered in February.
"I think y'all have a real argument but also it's just the right thing to do," Commissioner Ronnie Beale said.
Leave a comment
1

comment
Thank you for the update. Please let individual retirees know what they can do to help.

Sunday, 01/23/2022