Archived News
Maggie Chamber honors dedicated volunteers
Thursday, January 16, 2020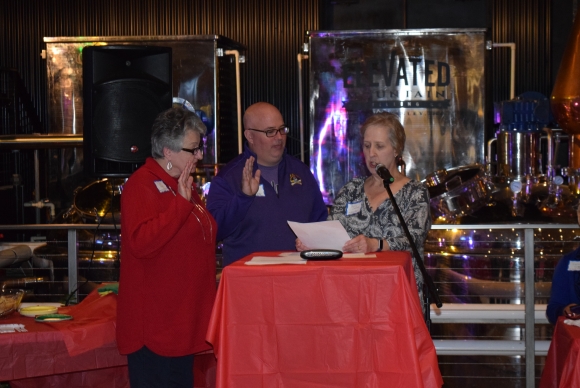 Chamber President Patty Carter swears in new board members Dave Angel and Rose Beck.
Jessi Stone photo
The Maggie Valley Chamber of Commerce recognized the hard work of its many volunteers Tuesday night during its annual banquet and awards ceremony at Elevated Mountain Distilling Co.
The Maggie Chamber relies on volunteers to step up to help organize community efforts like the Fall Days decorations, Winter Days decorations, painting skis and snowmen, selling beer at the Hillbilly Jam Festival, staffing the town's ice skating rink event and several others.
"We want to take this time to recognize these folks for so generously giving their time and talents to make Maggie Valley a great place to live, work and visit," said Chamber Director Teresa Smith. "I would be willing to bet that there's not another small-town Chamber of Commerce around that has this kind of support. I tried to calculate in dollar amounts just how much money we are talking about that volunteers saved us and, well, all I can say is 'ain't no way we could afford to pay these folks.'"
But it's about more than money for the residents and business owners in Maggie Valley, Smith said, it's about building relationships and working together as a tight-knit unit, striving for mutual goals, moving Maggie Valley forward and having fun in the process.
The following awards were given:
Volunteer with the Most Hours — Sue Knapko
Most Enthusiastic Volunteer — Carolyn Moncada
Volunteer of the Year — Christine Chamberlain
Spirit of Maggie Valley Award — Becky Ramey with Hillbilly Jam Festival
The Chamber also recognized long-serving volunteers who were stepping down from the board, including Tammy Brown with 29 years of service and Joe Moody with six years of service.
New board members Dave Angel, Rose Beck and Jim Drews were sworn in by Chamber President Patty Carter.