Archived News
Committed to the slopes: Waynesville snowboarder to appear in international competition
Wednesday, January 15, 2020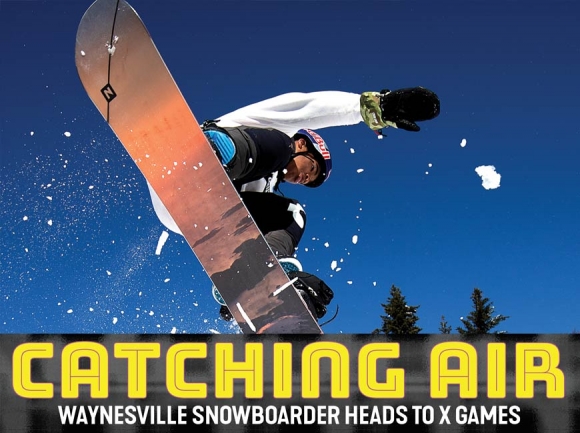 Zeb Powell was 7 years old the first time he tried a snowboard.
That initial ride wasn't great — Powell, a lefty, found himself being sent down the mountain right foot forward — but after that something clicked. Powell hit a box the first night and from there on out spent as much time as possible on the slopes at Cataloochee Ski Area.
"I remember in the beginning I would go up with friends and just ride with them, older kids," said Powell, now 19. "They would just carpool up there and I would just ride and snowboard and do crazy stuff that I didn't know was crazy. They would look at me all wide-eyed, but I had no idea. It was so funny."
At that point, Powell was just having fun, enjoying the feeling of jumping through the air. A year or two later, he saw a flyer for a summer snowboard camp in Colorado and asked his parents if he could go. They said yes, and it didn't take long for Powell to catch the attention of camp staff.
Throughout the decade since, Powell's riding has continued to draw ever-increasing levels of attention, and now he's been recognized as one of the world's foremost athletes with an invitation to compete in the X Games in Aspen Jan. 26.
"They're some of the best riders in the world," said Powell's coach Ross Powers — himself an Olympic gold medalist — of the X Games roster. "He'll definitely be able to hang with them, put on a good show and have a good time, and hopefully put himself on the podium."
Taking the leap
The X Games will be the biggest competition of Powell's career to date, but the Waynesville native is no stranger to big leaps, both on and off the slopes.
Powell was just an elementary school kid when he went off to that summer camp at Copper Mountain in Colorado. Before he left, one of the head judges suggested that Powell consider going all-in with snowboarding by attending a boarding school designed specifically for aspiring skiers and snowboarders. His mom, unsurprisingly, shot it down. The school was in Vermont, and his parents weren't big on the idea of sending their boy to live nearly 1,000 miles away from them.
But Powell kept asking, and by the time he turned 12 his parents had agreed to at least look into it. They traveled north to visit the Stratton Mountain School.
"I went with the coaches for a day, and they said they usually don't tell the kid if they get in or not, but they told my parents I had made it that night," said Powell.
It was a "pretty good start," he felt. He was 13 when he became a student at SMS, spending hours each day riding a mountain wholly unlike the Southern slopes where he'd fallen in love with the sport.
"He was just so blown away by the terrain features, because there's just multiple features down the run," said Scott Johnston, Powell's coach during his five years at SMS. "He was just so blown away by it. He was taken back so far. It was really cool to see the excitement."
It was a whole new type of mountain, a whole new environment for his skills to grow. But Powell is candid that he wouldn't be the snowboarder he is if he hadn't grown up on the slopes of Cataloochee.
"When you don't have rails and stuff, you still have all this natural terrain that you don't really see. But if you think enough and use it enough, all this cool stuff comes out," said Powell. "It definitely shaped me somehow."
Powell can certainly take a jump, using that air to perform from an arsenal of tricks guaranteed to leave spectators in awe. But his specialty is the more creative kind of riding, the kind that combines terrain with inspiration to produce off-the-cuff moves in unexpected places.
"There's really no rhythm to my riding, I guess," said Powell. "I just kind of use everything, so I'm not a traditional jump rider."
That preference makes Powell's admittance to the X Games even more exciting, because in addition to serving as an alternate competitor for the rail jam, he'll be competing in a second-year event that just happens to highlight Powell's specialty. It's called the knuckle huck.
"If you take your hand and hold your fingers downward, the landing of the jump is your fingers and the knuckle is your knuckle," explained Johnston. "So what you're doing is you're doing a maneuver off the knuckle, which is not a jump, and people have done stuff off it that's really impressive."
Powell snowboards during the March 2019 Red Bull Slide In Tour at Loon Mountain Resort in Lincoln, New Hampshire.
What's now called the knuckle huck used to be just athletes playing around, using that knuckle to turn a trick or two after coming up short on the jump. But it's gaining increasing recognition as an event all its own.
"Just people on social media videoing people doing knuckle tricks, that's kind of how it got traction, and Zeb being Zeb was doing things people could never do off a normal jump, and he's doing it off a knuckle," said Johnston.
"He's a fan favorite, or definitely a rider's favorite," Powers added. "You never know what he's actually going to do. Even being his coach for a number of years, you work with him on something and he does something else in the air and wows the crowd."
Becoming supernatural
As the new decade begins, Powell is a force to be reckoned with, in Powers' judgment "one of the best up-and-coming riders out there." But a lot of hard work on the slopes and dedicated investment from his coaches is behind his blossoming snowboarding career.
"He was a typical 13-year-old kid, on his own at a school with no mom or dad and had to really take the bull by the horns," said Johnston. "He had to wake up on time, and he struggled with that. There's no question about it. A lot of them do. Late for the van — we'd generally leave for the mountain around 8:15, and it was 8:30 and he wasn't there, and I left without him."
Powell quickly learned his lesson, getting used to setting out his clothing and equipment the night before and making the other adjustments necessary to ensure that he was on that van when it left. Each day, he'd ride until lunchtime, take classes from 12:30 to 5 p.m., spend the pre-dinner hour training and then study in the evening. It was a rigorous schedule, but Powell was up to the task, graduating last year and going on to pursue snowboarding full-time.
"I could definitely see potential," Johnston said of his initial look at Powell's riding, back when he first visited the school. "Being 13 he had a lot of work to do to become where he's at now. The biggest thing I think I've seen with Zeb is his openness to try new things."
Most kids just want to focus on the showy stuff, like half pipe and slopestyle. But Powell was open to anything, as long as it involved a snowboard. For a while he focused on slalom riding, which requires riders to navigate through a series of gates. Slalom events are "really great tools for snowboarding," said Johnston, because they force you to turn in places you don't naturally want to.
"It's really refreshing as a coach to have a kid be that into it," he said. "Most kids will fight you."
Not Powell. And that's paid off.
"He's like supernatural right now," said Johnston. "There's very few like him in our snowboarding world. Everyone's talking about him because of his creativity."
"I'd say progression is one of the biggest things that describes him, and creativity," Powers added. "He'll ride a park like no other and just find different little features and do different tricks than a lot of the other guys out there."
Zeb Powell stands for a portrait at the Red Bull Slide In Tour at Loon Mountain Zeb Powell stands for a portrait at the Red Bull Slide In Tour at Loon Mountain Resort in Lincoln, New Hampshire in March 2019. Brian Nevis/Red Bull Content Pool photos
Looking toward the future
Powell is still feeling out what his future holds. He's a pro, no doubt about that, with sponsorships from Red Bull, Nitro Snowboards, ThirtyTwo, Recess Ride Shop and Crab Grab.
At the moment, he's more interested in pursuing filming than competition. But the X Games invitation proves that Powell's got potential on the competition circuit too.
"Oh yeah. That. That's crazy," Powell said when asked about the upcoming event. "I actually can't believe it."
That response is typical Zeb, said Johnston. Despite his unmistakable skill, Powell is quiet, reserved, humble and generally "a great human being" who lets his riding speak for itself.
"It's really cool to see that he hasn't forgotten where he's come from," said Johnston. "When he graduated I said, 'Never forget where you came from because one day you might be back there.' He's like, 'I'll take that to school, for sure.' And he hasn't forgotten that."
Powell got the X Games invite email Dec. 28, less than a month before the event was set to commence. He attributes the opportunity to a pair of videos that garnered a ton of attention on social media. One shows Powell flying off the knuckle while sliding on the edge of his snowboard only to somehow gain a significant amount of air and stick the landing. In the second, he somehow completes three spins midair before landing solidly in a cloud of powder.
Watching the videos, it's hard to imagine what it must be like to be Powell, hurtling down a mountain and then flying through the air, making a split-second commitment to a trick that for nearly anyone else would be patently impossible in the space and time the terrain allots.
"It's hard to explain," said Powell. "It's kind of like you have this scary feeling in the back of your head, the back of your mind, but you can't let it come out. You have to power through it. You can't lose your train of thought or else it will go worse than it would if you just try the trick and do it."
Bottom line: you have to commit.
"It's funny, sometimes I don't know what I'm really going to try, but I guess it's the commitment part that really matters," he said. "I don't know what I'm going to try and I just commit to it and kind of leave my friends and people in awe, and myself in awe sometimes too. I guess that's what I love about it."