Archived Arts & Entertainment
Gathering of the souls: Beloved Sylva restaurant closes doors
Tuesday, January 14, 2020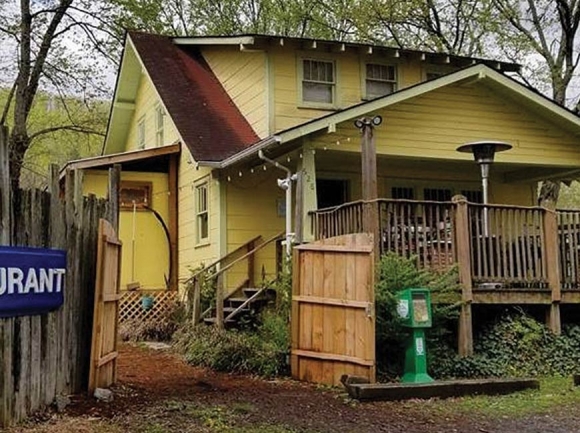 Last Thursday evening, three days of celebration commenced within the walls of Soul Infusion Tea House & Bistro on the outskirts of downtown Sylva.
The gathering wasn't to look ahead as the business turned 19 years old. Rather, it was to tie a poignant bow on almost two decades of culinary and artisan bliss in this small mountain town.
"There's not another establishment in this community where you can walk in and feel like you're in your living room when you sit down — you can't recreate this place," said Tori Walters, co-owner of Soul Infusion.
Alongside her partner, Haley Milner, the couple had run the gourmet restaurant since January 2011. Before that, it was initially opened in 2001 by Jason and Karin Kimenker.
With recent financial hardships and an urge to pursue other passions in life, both Walters and Milner felt it was time to close the doors on a beloved institution in Jackson County and greater Western North Carolina.
"I have mixed emotions. I'm sad we couldn't continue on with the business, but I'm really glad to be moving on into another job and other opportunities," Milner said. "The place has always been about love and community. It's about family, and it's about friends getting together and feeling comfortable in a space."
Soul Infusion will forever be known as a beehive of creative and curious minds. Filled with locals and visitors alike, it was also a beacon for those new to Sylva or to Western Carolina University just down the road.
It was a property where any and all musicians and artists were welcomed to perform, either inside in the corner near the defunct fireplace or outside on the modest stage that held more than its share of good times — all of which purely in the name of togetherness.
"This is definitely the end of an era — we're losing a bit of the soul of Sylva," said Adam Bigelow, bassist for Americana/string act Ol' Dirty Bathtub and manager of the Cullowhee and Sylva community gardens. "This building has always been a hotbed of art, music and creative energy. I met a lot of friends here, and I'm going to miss coming in."
When the closing was announced, Ol' Dirty Bathtub asked if the band could play a goodbye set on Thursday night. Soon, other local groups followed suit as several ensembles filled the space with joyous melodies throughout the weekend. It seemed nobody wanted the music to stop or the craft beer to run out. Nobody wanted to be the last to turn off the lights and lock the doors, either.
"So many times I'd come here for lunch and not know anybody else in the room. But then, by the time I left, I'd made a bunch of new friends, and also people who I now do business with," said Brad Waldrop, mandolinist for Ol' Dirty Bathtub and co-owner of nearby Ward Plumbing & Heating. "Whether it was the menu or the vibe of the place, Soul Infusion has always been a progressive spot, years ahead of its time in what it was doing and the values it was promoting."
Sitting at a nearby table watching Ol' Dirty Bathtub, Tom Cooper can't help but shake his head in awe of the life-changing moments he was part of at Soul Infusion. A long-time patron of the business, Cooper met his girlfriend here several years ago. They now have a 6-year-old daughter, aptly named Téa.
"Soul Infusion was a touchstone for our community — it's been an emotional week, to say the least," Cooper said. "We're also losing the best place for kids and families to hangout in the area. This was a safe place to come with your family, to see great live music and get a quality meal."
Stories like Cooper's aren't uncommon, with numerous attendees swapping tales of first loves, engagements and lifelong friendships coming to fruition within these walls.
A few seats down from Cooper was Jason and Karin Kimenker. Taking in the bittersweet sights and sounds of the evening, they can't help but reminisce about their many years owning and operating Soul Infusion — a labor of love that impacted countless lives.
"We wanted people to feel like they weren't rushed to leave their table, to feel they could turn their seat around and have a conversation with another person," Jason said. "We always wanted Soul Infusion to be a crossroads for infusing ideas and experiences, with people going off on their own adventures from this starting point — and it was."
With Ol' Dirty Bathtub plucking its last song of the night, the sound of car engines rumbling could be heard outside in the cool night. Those left standing in the living room gave each other bear hugs and well wishes. Laughter and friendly banter echoed off the walls, just as several teardrops rolled down the cheeks of those who will never forget what Soul Infusion meant to their lives and well-being.
Finally having a moment to sit down, Milner emerged from the kitchen and finds a seat in the back of the restaurant, one where she can observe not only the entire room, but also to see and remember everyone who came to say goodbye.
"I love seeing all of our friends here tonight, this incredible support system we have in this community. We'll carry these memories in our hearts wherever we go," Milner said. "And we're all going to see each other in our daily lives. I'm thankful for how much the community has supported us over the years."