Archived Outdoors
The Naturalist's Corner: CBC vagaries
Wednesday, January 08, 2020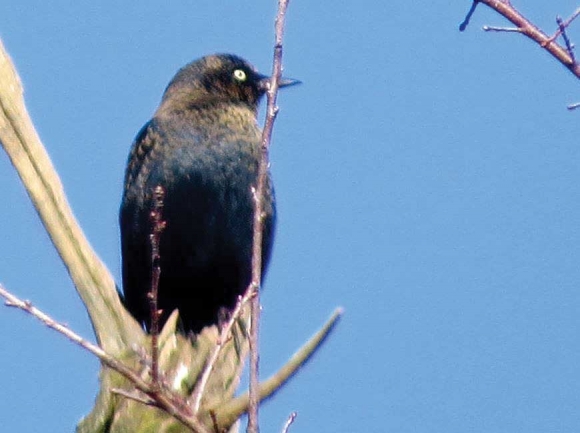 Rusty blackbird fall 2019. Don Hendershot photo
This year's Balsam Christmas Bird Count was record setting — but maybe not in a good way. The 63 species recorded was the lowest total in the count's 17-year history. Next lowest counts were 65 species (two times) and 66 species once. The average number of species for the count is 70.
There are lots of variables to consider when it comes to comparing one-day birding events over a period of time. Weather is one; number of people counting is one; habitat change is one and dare I say population trends and/or climate change.
Whoa! Didn't mean to make you spit your Wheaties. There's no way to say, at this point, and I certainly am not, and would not announce that climate change is the reason we achieved this rather dubious accomplishment. But I went back and looked at the Audubon records for our Balsam CBC. You can do that too by going to https://netapp.audubon.org/CBCObservation/Historical/ResultsByCount.aspx and following the prompts — our count is state; North Carolina and circle Balsam.
So I looked at weather. Our count this year was pretty chilly starting in the 20s and only getting into the 40s. But the 2017 count was colder and our total species count was 70. One of our next lowest counts (2011) was 65 species and there was heavy rain, but our next 65-species year was 2012 and there was no rain.
Maybe more people counting equals more birds, so I looked at participation. This year's low count had only 15 participants, but way back in 2006 we only had 12 participants and our total was 72 species. Our highest count, 78 species had 19 participants. Our largest participation (24 counters) resulted in 69 species.
The habitats in our circle have changed slightly. More new homes around Barber's Orchard have constricted some sparrow habitat we used to have. Getting up to high elevation species is questionable each year. Some years the Blue Ridge Parkway is closed and some years it's open. But even those years, like this year, when it's closed there are often other avenues to get up to 4,000 feet or more. We were able to go up the road to Lynn Lowery this year and recorded red-breasted nuthatch and black-capped chickadee.
We also used to tour Balsam Mountain Preserve every Christmas count but now it's kind of hit or miss. Target species there has always been ruffed grouse, but occasionally, like this year, we get them in other spots.
The thing that stands out from looking over the data from all our Balsam counts is when we have waterfowl (think Lake Junaluska) and when we have blackbirds (rusties, red-winged, grackles, cowbirds) we have our highest numbers. When these species are low, our totals are low.
And, well, guess what some of the species are that appear to be affected by climate change. Read about studies regarding "Climate change and the decline of a once common bird" in Ecology and Evolution February 2012, or 2006 Science Daily, "Climate Change Creates Dramatic Decline In Red-winged Black Bird Population."
A Ducks Unlimited white paper titled "Conserving Waterfowl and Wetlands Amid Climate Change" notes, among other things, "Warmer fall and winter temperatures in northern regions would make it unnecessary for waterfowl to fly as far south to find ice-free water and suitable food. For example, the unusually warm, late-arriving winter of 2001 increased hunting opportunities for waterfowl hunters in the Midwest and New England and reduced hunting opportunities in the
Mid-Atlantic and South." And a US Fish and Wildlife article, "Arkansas: Warming Trends Changing the Hunt for Waterfowl," Dr. James Bednarz, a professor of Wildlife Ecology at Arkansas State University in Jonesboro, says he's now convinced climate change — including warmer temperatures, more ice-free days and changes in precipitation — is causing fewer ducks to migrate south for the winter.
Of course, glancing at 17 days of birding spanning 17 years is no kind of scientific study, but is there a trend to see here?
(Don Hendershot is a writer and naturalist. His book, A Year From the Naturalist's Corner, Vol. 1, is available at regional bookstores or by contacting Don at This email address is being protected from spambots. You need JavaScript enabled to view it.)