Archived News
'Mountain Murders' podcast celebrates one year
Tuesday, January 07, 2020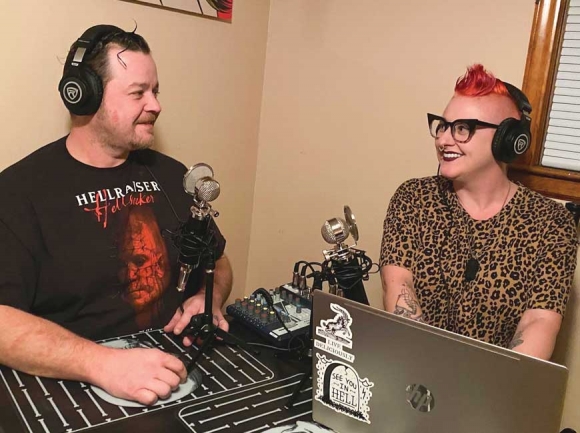 Heather and Dylan Packer of Waynesville record an episode of their podcast 'Mountain Murders.' Donated photo
There's just something so mysterious about Southern crime stories. Small towns with big characters and dark family secrets. People taking the law into their own hands and crooked cops turning a blind eye. If there's one thing mountain folk appreciate, it's a tall tale woven together through the decades.
That's the premise of the podcast "Mountain Murders" created by Waynesville couple Heather and Dylan Packer.
"There's such a mystery surrounding this region anyway. We were isolated communities for so long and storytelling was such a big part of the culture," Heather said. "This is just another medium for telling those stories and reaching a broader audience."
Every week, listeners around the country can tune in to "Mountain Murders" to hear what interesting case Heather and Dylan have dug up to share. Some might have happened in your backyard a few years ago while others might have occurred in Alabama or Virginia decades ago.
It's definitely not the only podcast that examines interesting and devastating murder cases — there are tons of true crime programs out there — but Heather and Dylan try to add their own Southern flavor to the show. Heather, who has a background in broadcast journalism, spends a lot of time researching the cases and adding details that news outlets probably have never reported in the past.
Dylan said he's the "color guy" that adds some new insights and commentary. The show is unscripted as Heather and Dylan's natural chemistry shines through as they banter throughout the episode.
Both are big fans of other true crime shows, which is how they had the idea for "Mountain Murders."
"We are both true crime fans and Heather's had the idea to do something like this for a while so we thought we should try it," Dylan said.
"I listen to several crime podcasts but wanted to focus on Appalachian crimes and not just the big cases that got a lot of attention," Heather said. "I thought Dylan would be a good partner because we have good banter, so we just jumped right in there and did it. We just try to be ourselves."
Now celebrating the one-year anniversary of "Mountain Murders," the couple says they've been blown away by all the support and feedback they've received as the podcast's popularity continues to grow. In January 2019, the podcast had 400 downloads for the month. By December 2019, it had reached 8,000 downloads per month. "Mountain Murders" Facebook page has a reach of 5.8 million, which is actually down from 11 million in November with over 18,000 likes.
"I'm still surprised when we get a good review or people come up to me around town and say they like it. It blows me away that we've had so many downloads. It's very humbling," said Dylan, who also works at Evergreen Packaging in Canton.
"Growing up here as a child I would stay with my great-grandmother and always wanted to hear stories — murders and ghost stories — some were true, some would be spun, but it was so fascinating for me," Heather said. "I think people like to be scared in a controlled setting. You're on the edge of your seat but you're still safe."
"Also, I think women watch and listen to a lot of true crime because they're the ones who are more likely to be attacked and they tend to have an analytical mind," Dylan said. "It's the fear of the unknown but they feel like if they're aware of these things, they're better prepared for it."
Heather pointed out that not everyone is a fan of their style of storytelling. While other true crime podcasts tend to be dramatic and serious, Heather and Dylan's delivery goes beyond "just the facts." Heather might include comments from an anonymous source who was close to the victim or provide more background on the family dynamic. Depending on how old the case is, the commentary might be a little light-hearted with some dark humor.
"Some people don't like that — they want just the facts — but I like the ones that are more light-hearted," Heather said. "But it's tricky because every one of the cases has victims. It's a fine line trying to be sensitive and sympathetic but also trying to find some humor in some of the situations. We tend to deal with pain and emotion with a lot of humor — it's just how we get through hard things."
But don't let the humor fool you — Heather takes her job as a reporter and researcher seriously. She scans the internet for interesting cases that might have been missed by the mainstream media. She searches through library archives and microfilm newspapers and even interviews those who were close to the case.
In the podcast episode about Crystal Howell, the teenager from Maggie Valley who murdered her father and kept him in a storage container in a shed for months, Heather was able to talk to Crystal's friend and also to someone who was an inmate at the Haywood County Detention Center at the same time Crystal was being detained.
The details of the case paint a certain picture of Crystal — a cold-hearted and mentally unstable teenager who shot her father in the head and continued to have wild parties at the home after the crime was committed. Heather's research on the family, however, gives listeners a clearer view of the past behaviors and incidents that might have led the teen to commit such a treacherous murder.
"We dig into their backstory and sometimes it really changes your perspective on the situation. It doesn't make it OK, but it explains how they ended up there," Dylan said. "I like when she digs into the really old ones — incredible stories that have never been told. Other cases feel too close to home — too fresh. There's some cases we won't touch out of respect for our community."
The year has proved successful as Dylan and Heather are still learning the ropes — figuring out what their audience wants and how they want it, getting new equipment to improve the production quality and always looking for new ways to keep things interesting for listeners.
"It's a learning curve — you always have an idea in the beginning what you want to do but as time goes on it evolves," Heather said. "Everyone has a story to tell, but it's not just about the facts of case but also in how you deliver it."
Living in a small town also has its advantages. As more people tune into the weekly show, more information comes forward about the cases they're covering and future cases worth exploring.
"Being local and knowing people, they're not afraid to reach out and ask questions and give me background as a reporter," Heather said. "A lot of people come to us through Facebook or other social media with important tips."
To celebrate its one-year anniversary, Mountain Murders will be hosting a special live podcast episode from 5:30 to 7:30 p.m. Saturday, Jan. 18, at Fleetwood's in West Asheville.
"We're going to cover a well-known case in WNC — one that's never been discussed. I don't know if any podcast has covered this story. There will be drinks, some audience participation and a Q&A session. It will be a lot of fun," Heather said.
To support Mountain Murders, follow them on Facebook at www.facebook.com/mountaintruecrimepodcast. Become a patron for a monthly donation or find out more about how your business can sponsor an episode.
Mountain Murders – a True Crime PodCast
Live Show

To celebrate their one-year anniversary, Mountain Murders will be hosting a special live podcast episode from 5:30 to 7:30 p.m. Saturday, Jan. 18, at Fleetwood's in West Asheville.

For tickets and information, visit www.facebook.com/mountaintruecrimepodcast.