Archived News
Deaths, possibly from flu, shock Haywood County
Tuesday, January 07, 2020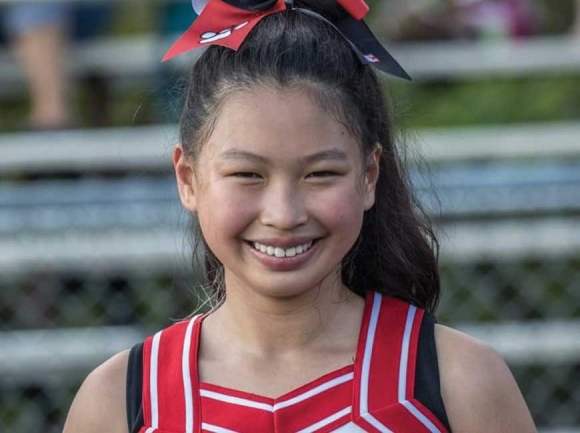 Pisgah High School comes together to celebrate the life of their classmate Lacie Fisher, who died Dec. 30 after experiencing a flu-like illness. Donated photo
A pair of deaths from what's being called a "flu-like illness" rocked Haywood County last week, underscoring the importance both of prevention and of recognizing the symptoms of what can still be a very dangerous virus.
"Unfortunately, the 2020 flu season has arrived earlier and in a more aggressive fashion," Patrick Johnson, director of the Haywood County Health and Human Services Agency, told Haywood County Commissioners Jan. 7.
Johnson was referencing the spike in a graph included with something called the Weekly U.S. Influenza Surveillance Report, issued by the U.S. Centers for Disease Control and prevention, but he might as well have been talking about the recent untimely deaths of two Haywood County women.
Kaylene Putnam, 48, and Lacey Fisher, 15, both passed away at Mission Hospital in Asheville on Dec. 30.
"We lost a great young lady," said Dr. Bill Nolte, Haywood County Schools superintendent, of Pisgah High School cheerleader Fisher. "School had been out of session for about a week and a half when she passed. This is a very sad situation for everyone involved. We hope people will take the flu and similar instances very seriously."
On Jan. 2, HCS posed informational flyers on its website in both English and Spanish, urging parents to vaccinate children and be on the lookout for signs and symptoms that something may be wrong.
The symptoms to look for, according to the CDC, are fever or chills, coughing, fatigue, headaches, sore throat, a runny or stuffy nose and muscle or body aches.
People presenting such symptoms should see a primary care provider immediately and stay home from work or school to avoid transmitting the virus, which causes respiratory illness that can lead to more severe illness.
The virus is spread through small airborne droplets of saliva and mucus that occur when someone with the virus coughs, sneezes or even talks. People with the virus can transmit it a day before they even experience symptoms, and are still contagious up to a week after that.
According to the CDC, flu season runs from late September through mid-May, often peaking in early February. Right now, the flu is "very active" across both the state and the county, as well as all regions of the United States.
Already this season, per CDC data, there have been more than 4.6 million flu cases, 39,000 hospitalizations and 2,100 deaths from the flu.
Compared to the 2017-18 and 2018-19 seasons, the percentage of outpatient visits by patients with flu-like illnesses was around 50 percent higher than normal for this time.
Usually below 2 percent, as of Dec. 14 that number had climbed to more than 3 percent, but is still far below the 2017-18 season's 10 percent level. As of Dec. 27, the North Carolina Department of Health and Human Services had already reported seven confirmed deaths from flu this season.
Get your flu shot
A flu shot clinic for those aged 6 months and up will be held from 4:30 to 6 p.m. on Thursday, Jan. 9, at the Haywood County Health and Human Services Agency. According to HHSA, the most effective way to avoid getting the flu is to receive a yearly flu shot. Developing protection against the flu virus still takes days or weeks after administration of the shot, so persons are encouraged so act quickly. HHSA is located at 157 Paragon Parkway, in Clyde. Shots cost $40, cash only. To schedule an appointment or for more information, call 828.452.6675.