Archived Arts & Entertainment
This must be the place: Life being what it is
Tuesday, January 07, 2020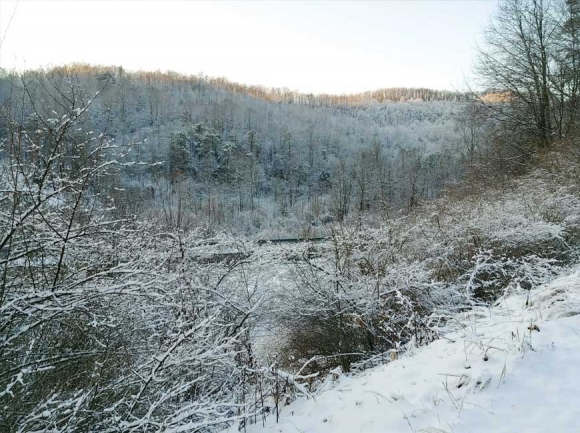 Summersville, West Virginia.
Stepping out of my truck, I stretched my legs and proceeded to throw on my running clothes. It was nearing sunset when I locked the vehicle and jumped onto a nearby hiking trail just off U.S. 19 in Summersville, West Virginia.
Late Sunday afternoon and I was still several hours and hundreds of miles from my apartment in Waynesville. Waking up in Pittsburgh, Pennsylvania, that morning, I'd been driving for about four hours before I decided it was time to find a place for a quick jog to clear my mind and kickstart my road weary body.
Alone on the trail, my mind was restless, mostly over the emotional terrain of my recent trip home for Christmas. All total, my trip back to the North Country hovered around 2,500 miles.
Leaving on a moment's notice on Christmas Eve, I drove 18 hours straight to my hometown in Plattsburgh, New York. Nonstop just to be on time for Christmas morning brunch with my five-year-old niece on the Canadian Border. With eight minutes to spare, I walked into my little sister's home at 11:52 a.m. just as the coffee, bacon and eggs were being served.
The majority of my time back in the North Country was spent visiting countless friends and family members. Sadly, on the evening of Dec. 30, we held a memorial service for my Aunt Bonnie who passed away on Christmas Eve. She lived in the picturesque mountain town of Lake Placid, New York — home of the 1932 and 1980 Winter Olympics. It meant a lot to stand up at the podium and say a few words, slowly scanning the room of faces I usually only see at funerals these days.
A lot of my family used to reside up there, with my Aunt Cheryl and Uncle Craig (the mayor of Lake Placid) still in town. I forget sometimes that I spent four summers in college living and working (front desk/maintenance) for my Uncle Craig's motel on the downtown strip.
It was wild to cruise the strip after the memorial service, with so many forgotten memories flooding my field of vision and dancing across the dashboard. Eventually, I decided to spend the night at the motel, perhaps wander the ole strip in the midst of heavy snowflakes blanketing the Adirondack Mountains.
Somewhere around 1 a.m. on New Year's Eve, I found myself at the Lake Placid Pub & Brewery a block from the motel. Exactly a decade ago that evening, I stood in that same establishment (and haven't been back since). I was dating and in utter love with the bartender (gorgeous soul, inside and out).
I remember New Year's Eve 2009 and her working behind the counter. I adored her. Told her I would marry her someday, and that one day I would write for Rolling Stone (which would, hopefully, help pay for our first home). Some 10 years later, one of those things came to fruition. Some 10 years later, I hope she is happy and well, wish her all the best. Oh, time and place and space: how wild art thou?
But, here it is, Dec. 31, 2019, and there I was, leaving the brewery and strolling around downtown Lake Placid, lost in thought with a slight grin on my face — one of appreciation for nothing and everything in the grand scheme of things.
Later that day, I returned to Plattsburgh. I didn't think I would be home for New Year's Eve, but it felt so damn good to be there when the ball dropped in Times Square. I grew up in a place where my hometown bar, the Monopole, closes at 8 a.m. on New Year's Day. It's a long-time tradition and I still shake my head in awe at the absurd and ridiculous nature of that.
Pushing past 4 a.m. and the live music was still cranking upstairs at the Pole. Ain't no place like the Monopole, ain't no place like the North Country — the center of my Universe. Standing in that bar, in that moment and with all those people, really brought a lot of things full circle in my existence at this current juncture.
On Monday morning, it took me a moment or two to realize that I was back in my own bed in Carolina. It's always fascinating how I feel when I return to my apartment after a long road trip. All those miles, new memories, adventures, beloved faces and familiar places, all circling back to your starting line at the front door of your humble abode.
That U.S. 19 stretch was something magical, simply riding along the ridge of endless mountains, all covered in snow, these small rural towns, silent lakes, old gas stations, abandoned homesteads and sleepy farms. Sunset through glistening white branches. Radio stations fading in and out through the peaks and valleys.
Another never-ending journey from my old home to my current home. Ricochet back and forth in the winter months. Another year in the rearview mirror. Fresh calendar on the wall. Where to from here, eh? The swirling vibrancy of long-time desire, stubborn ambition and all things cosmic coming to fruition.
Life is beautiful, grasp for it, y'all.
Hot picks
1 Nantahala Brewing (Sylva) will host Captain Midnight Band (rock/soul) 8 p.m. Friday, Jan. 10.
2 Lazy Hiker Brewing (Franklin) will host Acoustic Peachtree Peppers at 8 p.m. Saturday, Jan. 11.
3 Andrews Brewing Company (Andrews) will host the "Lounge Series" at its Calaboose location with Alma Russ (Americana/folk) at 6 p.m. Friday, Jan. 10.
4 Innovation Station (Dillsboro) will host Frances Eliza at 7 p.m. Saturday, Jan. 11.
5 Mountain Layers Brewing (Bryson City) will host Somebody's Child 7 p.m. Saturday, Jan. 11.