Archived Opinion
Twelve commandments for the New Year
Tuesday, December 31, 2019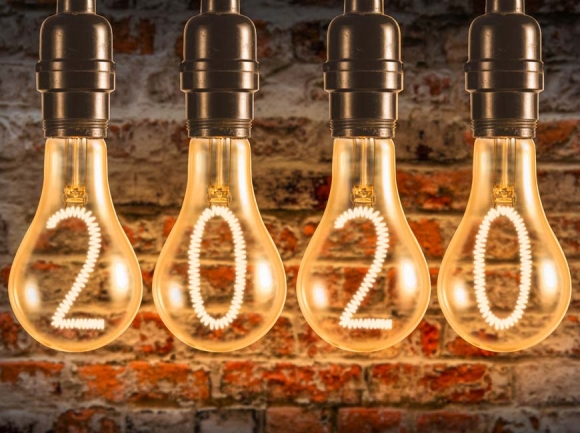 When I was a little girl, my dad would make huge snack trays on New Year's Eve and pour sparkling grape juice in crystal flutes for my sister and me. He and my mom had their own flutes brimming with champagne. Once we watched Dick Clark count down in Times Square, we'd clink glasses, spin noisemakers and state our resolutions for the coming year.
This tradition was so engrained in my psyche that I continued making resolutions year after year well into adulthood. Eventually, I realized it was challenging to accomplish overzealous resolutions. Though other things would get accomplished and dreams pursued, if my stated resolution was neglected, a sense of failure would ensue, and no one likes to feel like a failure.
After a while I started creating goals as opposed to resolutions. A resolution is a clear, finite action while goals are more malleable. After doing that for a while, I hopped on the "word of the year" bandwagon where one chooses a word like "mindfulness" or "spontaneity" on which to focus for the entire year. That failed to work because life's curveballs often make it hard to maintain a singular theme for 365 days. Unlike a pithy New Year's statement on Facebook, reality is tricky and convoluted.
Though resolutions and the word of the year fail to produce, I continue to feel a sense of energy and excitement each New Year's Eve. That adrenaline inspires me to tackle dreams and live a happier, fuller life.
A while back, I stumbled upon the book The Happiness Project by Gretchen Rubin. It synthesizes wisdom of the ages with modern research to help readers create more happiness in their lives. For instance, Rubin talks a lot about the concept of "outer order, inner calm." Formal and anecdotal evidence indicates that when a person can get their home, car, finances, etc. organized and tidy, it produces a significant inner peace.
I love Rubin's work and the fact that it's action-focused. I received her newsletter last week and she reminded us of her 12 commandments, which are:
1. Be who you are.
2. Let it go.
3. Act the way you want to feel.
4. Do it now.
5. Be polite and be fair.
6. Enjoy the process.
7. Spend out.
8. Identify the problem.
9. Lighten up.
10. Do what ought to be done.
11. No calculation.
12. There is only love.
I've read the list before, but this year it seems especially relevant. Several of these commandments touch on core personality traits of mine that drive me crazy, such as perseverating, overthinking, being too serious and procrastinating. Items #9 and #10 are especially relevant. It's exhausting to be pensive all the time or worried about what may or may not happen in the future. "Do what ought to be done" helps me focus on the here and now. What's the next right thing? Figure out what that is and do it; don't worry about a month from now or a year from now.
Though Rubin's commandants seem varied, there is an important theme that ties everything together. If we can strip away the clutter, whether it's physical, emotional or mental, we open up room for positivity to enter. I plan to read the 12 commandments every day so it becomes something of a mantra.
Sometimes the road to happiness is simpler than we think. And almost always, we have the people and tools in our lives to make it happen. We just get in our own way. I think back to my little hand holding that champagne flute full of grape juice. With big eyes, I would pronounce to the world all the things I wanted to achieve, and fully believed I could make it happen. Though we may never feel the innocent wonder of our childhood selves, perhaps we can garner at least some of that thrill and enthusiasm that comes along with new beginnings and possibilities. Wherever you are in life, here's to a wonderful 2020!
(Susanna Shetley is an editor, writer and marketing specialist with The Smoky Mountain News, Smoky Mountain Living and Mountain South Media. This email address is being protected from spambots. You need JavaScript enabled to view it.)