Archived Arts & Entertainment
Nocturnal Brewing offers fine ales in Hayesville
Monday, December 23, 2019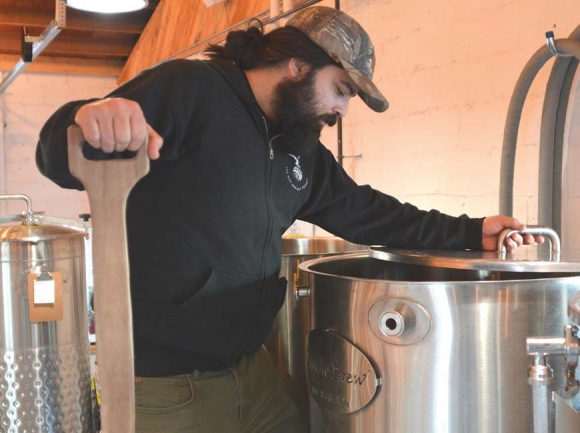 David Grace.
For a place that was dry just a decade ago, Clay County is now home to one of the finest craft breweries in Western North Carolina.
"Our beers are mostly driven on tradition, but we also try to push the boundaries," said David Grace, brewmaster at Nocturnal Brewing in downtown Hayesville. "We definitely do the tried and true American styles craft beers, but we also push heavily into fruity beers and sours."
Situated just off the town square, the brewery is housed in what was a former car dealership. Opened in October 2018, the 3,800-square-foot space is inviting, with the brewing operations alongside tables and an extended bar counter. The outdoor patio complements the vibrant social nature now overtaking this once quiet — more so dormant — downtown that has had a reawakening in recent years.
"I get really excited when I walk in here and see all these people enjoying what we're doing, and that we've provided the community with something they wanted," said Brittany Redding, manager of Nocturnal. "Everything we've done here is a little bit of each of us who works here — it feels like a family."
Grace and Redding were part of a crew of folks from Atlanta, Georgia, who worked at The Brick Store Pub, a world-renowned craft beer haven in Decatur. It was at the pub where the seed was planted to launch Nocturnal. The owners of the pub approached a handful of their employees about opening a brewery in Hayesville, a place the owners had second homes.
"They pretty much gave us free range to make this place our own. They gave us the resources we needed and trusted in what we envision for the property," Redding said. "We were able to combine all of our experience in brewing, cooking and the service industry, and put it together to create this space."
Offering an array of tasty ales, Nocturnal operates on a 2.5-barrel system with about a 100-gallon capacity per brewing session, where Grace does two batches per week. In terms of his experience, Grace learned by doing it himself, starting with a homebrew kit over a decade ago and picking up his talented skill set through various jobs in the craft beer industry.
"I love the passion and camaraderie of the brewing community. I love to cook and create something, and this industry just pulled me in because of that aspect of this position," Grace said. "And I really like the collaboration beers between breweries, too, which is something we're looking forward to doing soon with other breweries around our region."
Nocturnal Brewing specializes in traditional ales alongside fruity styles and sour offerings. Right: Brittany Redding.
Grace noted many of his ales contain local ingredients, including strawberries and watermelons from SMM Farms (Hayesville), while a lot of the produce in the food dishes comes from Carringer Farms (Franklin). In a full circle endeavor, Nocturnal gives its spent brewing grains to pigs at Still Waters Landing (Hayesville) and Brasstown Beef, both of which provide meat to the brewery.
"We're really fortunate to be starting this brewery in such a vast agricultural state like North Carolina — we're able to get fresh produce and meats all throughout the year," Grace said. "Hayesville is in this pocket where we're a short drive from North Georgia and East Tennessee. This entire area is great for agriculture and we're focusing on sourcing as many things as we can from right in our own backyard."
"And we're been able to find this balance in the menu and in the kitchen where we can offer farm-to-table options, but also still have that pretty casual pub style food," Redding added.
Now with one year under its belt, Nocturnal is looking to complement its stellar craft beer and restaurant components with more activities, from regular live music and trivia to special release beer tastings and dinner events. Coming into 2020, Grace hopes to also amp up the brewing operation to a five- or seven-barrel system.
"It's a very humbling experience to live and work in such a beautiful place. I wake up and look out my back window and all I can see is the mountain range," Grace said. "And then I come in here to the brewery and there's a whole range of opportunities. It's a hands-on creation that I'm just happy to be doing and sharing with people."
Want to go?
Nocturnal Brewing is located at 893 U.S. 64 Business in downtown Hayesville. The brewery also offers a full menu. For more information, click on www.nocturnalbrewing.com or call 828.305.7337.