Archived Arts & Entertainment
This must be the place: There was nowhere to go but everywhere, so just keep on rolling under the stars
Monday, December 23, 2019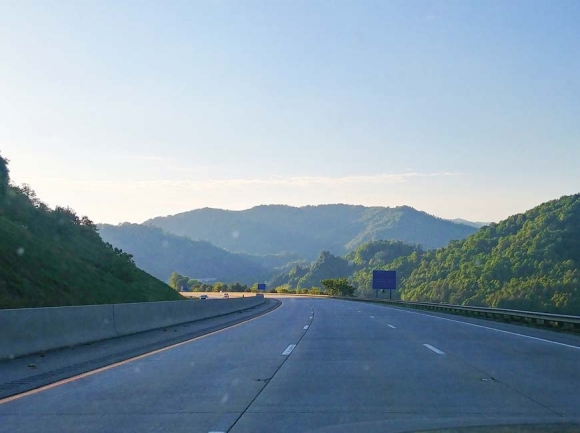 I-26 just west of Asheville.
Give or take, it's about 1,010 miles from Waynesville, North Carolina (my current home) to Plattsburgh, New York (my hometown). I know this fact seeing as about twice a year I roar up and down the interstates of the Eastern Seaboard either heading home for the holidays or back to Southern Appalachia for work.
Starting with I-40 to Asheville, it's I-26 into Johnson City, Tennessee, onward to I-81 into Virginia through West Virginia, Maryland, and Pennsylvania, all the way up to I-88 in Binghamton, New York, then I-90 to Albany, New York, and, lastly, I-87 amid the Adirondack Mountains to Plattsburgh.
Depending on traffic, it takes me about 18 hours or so to make the trek. And there always comes a point before I take on that drive where I contemplate whether or not it would easier and cheaper to fly home, or not go home at all.
But, then I think about missing out on quality time with my family, whether it be my five-year-old niece, my little sister or my aging parents. I think of not being there on Christmas morning to watch my niece open presents or not being able to watch football with my dad over a cold beer next to the fiery woodstove.
Seeing as it's so damn expensive to fly home (I could literally go to Europe for the price of flying back to the North Country), I start to plot out when I will depart from my humble abode in Haywood County. As you're reading this, I've already gone through the range of emotions of heading home for the holidays, seeing as the game plan is to once again be home for Christmas.
As someone who has always felt more at home when on the road — either for work or play — these long-distance jaunts have always been in my blood, but it seems to get more daunting with age.
When I was fresh out of college and hungry to see the country, I remember nonstop (all in one sitting) trips from Buffalo, New York, to Rapid City, South Dakota (1,522 miles) or those handful of excursions from Jackson, Wyoming, to Reno, Nevada (706 miles) and San Francisco, California (924 miles). Heck, when I moved out west in 2008, that trip from Plattsburgh to Driggs, Idaho, was quite the haul (2,258 miles).
Sometimes I had folks to keep me company. But, mostly I was — and remain — alone and in deep thought, only to be shook out of it by rest area or gas station stops, the sporadic Waffle House urge in the wee hours of some hazy morning below the Mason-Dixon Line.
And yet, as much as I may detest the never-ending drive home, I'm sitting here right now in Waynesville already thinking about who I'm hoping to see and what I'm aiming to do while home. Visiting old friends from high school. Skiing a day or two at Whiteface or Jay Peak if I can get the chance. Maybe a hike in the Adirondacks or an afternoon motoring to nearby Montreal, Quebec.
But, mostly, my mind is drifting back to the driving route. For every mile traveled, there's some beautiful or interesting sight to behold, from the Blue Ridge to Adirondack mountain ranges. I think of places like Bristol, Abingdon, Roanoke, Carlisle and Mountain Top or spots like Natural Bridge, Shenandoah National Park, and so forth.
Lately, I've been using this All Trails app on my smart phone. With it, I'm able to find trails or greenways near the interstate where I can slide away from hours of monotonous driving and lace up my running shoes.
The app has brought me to countless trailheads and community paths of beauty and splendor: the most random of which being a picturesque former railroad track now running trail through silent cornfields, just a stone's throw from a heavily congested highway.
And, like clockwork, there always comes a point where I find myself in some sort of Zen zone on the drive home, those tranquil moments where the vehicle is in a steady, free-flowing motion, your mind wandering, usually making sense of the past year — a rewind to prep for the new calendar on the walls of your heart.
It's in those Zen zone moments where I thank my lucky stars I'm able to channel that kind of spirit and emotion, something I chase after — literally and figuratively — when out on the open road, the ideal music radiating from my truck stereo, seamlessly provoking sentiments and actions from the furthest extents of my being.
So, wherever you're headed this holiday season, may your travels be safe and your thoughts worthy in hopes of finding balance within. Remember, the sun will rise tomorrow, as it always does. And whenever life gets a little too hectic, there's always the endless open road to clear your mind, body and soul.
Life is beautiful, grasp for it, y'all.
Hot picks
1 There will be a special performance by Darren Nicholson and friends, titled "Uptown Downhome," at 8 p.m. Tuesday, Dec. 31, at the Folkmoot Friendship Center in Waynesville.
2 The "Polar Express" will depart on select times through Dec. 31 from the Great Smoky Mountains Railroad depot in Bryson City.
3 Boojum Brewing Company (Waynesville) will host "The Great Gatsby" New Year's Eve Party at 9 p.m. Tuesday, Dec. 31.
4 The Swain County Genealogical & Historical Society will present "Remembering Hol Rose and Babe Burnett," at 6:30 p.m. Thursday, Jan. 2, at the Swain County Regional Business Education and Training Center in Bryson City.
5 Andrews Brewing Company (Andrews) will host Joey Fortner (singer-songwriter) 6 p.m. Friday, Jan. 3.