Archived News
Generosity Feeds Haywood: Volunteers package 11,000 meals for homeless students
Monday, December 23, 2019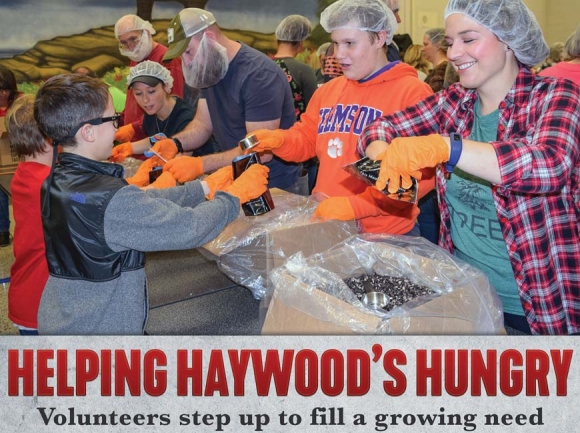 It was a sight to behold — more than 200 volunteers of all ages coming together on a cold Saturday morning in December to ensure the youth of Haywood County don't go hungry.
Those volunteers packaged 11,000 meals in under an hour, setting a new record for the Generosity Feeds program.
"I was completely blessed and blown away," said event organizer Morgan Fields. "We were all running on empty from pulling everything together, but seeing all the volunteers working so hard filled our tanks and restored our souls."
More than 200 volunteers packaged 11,000 meals in 53 minutes, setting a Generosity Feeds record.
Those packaged meals will go directly to Haywood County students who are considered homeless and/or food insecure. Unfortunately, that number continues to grow across Western North Carolina.
According to a 2018 USDA study, an estimated 1 in 9 Americans were food insecure, or about 37 million people. North Carolina's Department of Health and Human Services says that here, that number is closer to 1 in 5 — or about 21 percent — nearly double the national average for children under the age of 18.
In 2014-15, Haywood County had the largest percentage of homeless students in the four counties in The Smoky Mountain News' coverage area, with 3.94 percent, followed by Jackson County with 3.53 percent, Swain with 1.89 percent and Macon with 0.45 percent. Haywood's homeless student population was slightly lower in 2018-19 at 3.45 percent, but homeless services coordinators say the true number of homeless students is likely higher than reported.
These stark statistics prompted Fields and two other women from Calvary Road Baptist Church — Kellie Burgess and Bri Kaufman — to spring into action.
"We all three have kids in Haywood County Schools and we felt guilty sitting in a home with a full fridge of food and sending our kids to school with lunch boxes full of food knowing they have peers that eat at school but don't know what they'll have to eat when they get home," Fields said. "Kids can't focus on learning if they're hungry — no one can function well when they're hungry and don't know where they're next meal will come from."
Fields learned about Generosity Feeds from a business associate and called the organization to see about hosting an event in Haywood County. The nonprofit partners with local communities to put an end to hunger across the United States. Lead Facilitator Jon Crowe, who attended the event Dec. 7 at Pisgah High School, said Generosity Feeds started about eight and a half years ago in one of the wealthiest communities in Virginia where 1 in 4 children were food insecure.
More than 200 volunteers packaged 11,000 meals in 53 minutes, setting a Generosity Feeds record.
"Today in that same county, one in seven kids are food insecure," Crowe said, which shows how the program can begin to move the needle in the right direction.
The Haywood County event organizers signed a contract with Generosity Feeds in October to begin the fundraising and volunteer recruitment process. By signing the contract, they were committing to raising $10,000 before the Dec. 7 event and recruit 200 volunteers to help package the meals. It was a bit intimidating for them, Fields said, since they had never done any kind of large-scale fundraising like that before.
"We just knew we were being called by God to do something that would have a big impact — something to really start seeing a change in the community when it comes to poverty. We knew we had to do something big," Fields said. "The pastor at Calvary Road Baptist always encourages us to serve the community and help others so when we heard about Generosity Feeds, it was the perfect catalyst."
All along the way, Generosity Feeds provides the community organizers with a coach to keep track of volunteers and donations by starting a webpage for their event. While raising $10,000 in two months seemed daunting, Fields said that ended up being the easy part.
Silas and Abel Reece (above, right), members of Calvary Road Baptist Church, help stack boxes of meals.
"It's such a worthy cause everyone wanted to give — we couldn't have done it without them," she said. "Our goal was $10,000 and we surpassed that so we upped it to $10,500 and then we surpassed that so we finally had to cut it off at $11,000, which provides 11,000 meals."
Fields, Burgess and Kaufman used social media and reached out to youth pastors in an effort to recruit school-aged volunteers. Fields said they felt it was important for peers to be involved in this project and hoped to encourage them at a young age to be involved in their community and to give back to others in need.
"About half of the volunteers were middle and high school students, which is awesome," she said.
It was cold outside that morning, but the Pisgah High cafeteria was filled with warm and enthusiastic spirits ready to go. A DJ kept the music loud and lively as teams lined up at long tables and were assigned jobs within the assembly line process. The smallest of hands worked to open up the bags while others carefully measured and poured the ingredients into it before the last person sealed the bag securely. Small children had their most serious work faces on as they stacked boxes upon boxes of completed meals.
"We actually broke the record. Generosity Feeds' record for packing 11,000 meals was just over 54 minutes and we were done in 53 minutes," Fields said. "The set up and clean up took a bit longer but the packaging moved quickly."
The meal being made was black beans and rice with an added pack of veggies and seasonings. The sealed packages have a one-year shelf life, which means Haywood County Schools can distribute the meals as needed throughout the year to supplement the many backpack programs offered to food insecure students. School social workers and counselors know which kids may need a backpack full of food and other essentials to get them through the weekend.
"We've left it up to the individual schools because they know what they're needs are more than we do, but we'll work with them on how many meals they think they'll need to supplement their backpack programs, especially over the longer breaks like Christmas and summer breaks," Fields said. "We would definitely do it again if the schools say it was a tremendous help and if they run out of food by next year. Either way, we still want to serve them in whatever capacity they need — we just want to help."
To learn more about Generosity Feeds, to start an event or to donate to another event, visit www.generosityfeeds.org.
Generosity Feed Haywood supporters
Financial Partners:
• Michael McKee
• Tanner and Jenna Jones with Consult Webs
• Ryan and Michelle McElroy
• Patrick and Kim McClure
• Rowdy and Donna Lemoine
• Anonymous local donor
• Champion Credit Union
• Bob and Marla Morris and Blue Ridge Glass
• Haywood Landscapes
Community Partners:
• Pisgah National Honor Society
• Tuscola National Honor Society
• Haywood Co FCA
• New Covenant Church
• Calvary Road Baptist Church
• Brooklyn Jamison Photography
• Woody Boyd and his media team
• The Mountaineer
• The Smoky Mountain News
Inspirational Partners:
• Michelle Swanger with Haywood County Schools
• Marla Morris with FCA
• Special Thanks to Pisgah High School for offering space for the event