Archived News
WCU student working to translate Cherokee language from native newspaper
Monday, December 23, 2019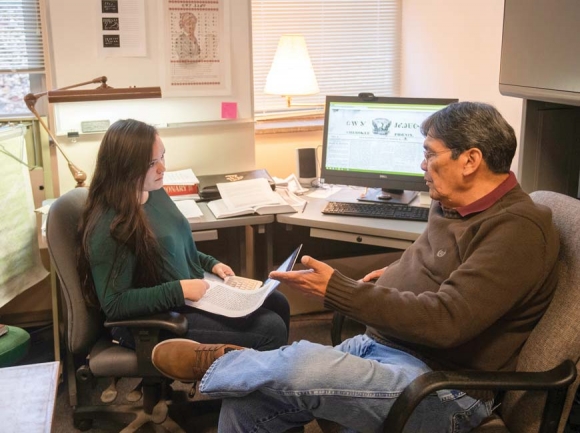 Graduate student Constance Owl (left) and Cherokee language speaker Tom Belt go over translations from the Cherokee Phoenix newspaper, which was published from about 1828 to 1834. WCU photo
Constance Owl's master's degree thesis is more than a means to a graduate degree in American history. It's a portal to understanding, and perhaps saving, a disappearing language.
Owl, a member of the Eastern Band of Cherokee Indians who grew up in Cherokee County, is a second-year graduate student at Western Carolina University. She is working with local Cherokee language speakers, Tom Belt and Wiggins Blackfox, to translate portions of the Cherokee Phoenix newspaper, published from about 1828 to 1834 by Elias Boudinot, a formally educated Cherokee. Belt, who speaks the western dialect of Cherokee, recently retired as coordinator of WCU's Cherokee Language Program. Blackfox, who speaks the eastern dialect, works for the program.
Owl's thesis, tentatively titled "Tsalagi Tsulehisanvhi: Uncovering the Cherokee Language Articles from the Cherokee Phoenix Newspaper," is separated into three chapters, each one focusing on a distinct time in the history of the Phoenix and the Cherokee Removal: the creation of the newspaper, debates printed within it concerning removal prior to its occurrence, and commentary surrounding U.S. Supreme Court cases involving the Cherokee from 1831 and 1832. Owl mines the Cherokee Phoenix for Cherokee language articles related to each theme and then works with Belt and Blackfox to translate such articles from the Cherokee language into English. She hopes to use three to five translated stories per chapter.
"The way I've been doing research has been basically sitting with a speaker and looking over scans of the original Cherokee Phoenix newspaper, and then I type the translation as we go line by line," Owl, said. "I'm not a fluent speaker, so I'm not able to actually translate the content myself."
The process of translating native language stories into English from scanned copies of a 190-year-old newspaper — where an ink stain or a simple misspelling from the original hand-set type or a fuzzy, low-quality copy can change the sound of a word and, therefore, change the meaning of that word — is painstaking and an inexact science. It requires Owl and her partnering speakers to use linguistic context, among other strategies and tools, to figure out the words of the polysynthetic language.
"Polysynthetic language is verb-based, where English is noun-based," said Belt. "So polysynthetic language is a key component of our speech's verbs, which means we can change those verbs around in a lot of ways. It's been estimated that we can change one verb around 20,000 ways. I can't tell you what the 19,999th word is for dancing, but if I hear it, I might be able to tell you what that means. So, it's a real precise language."
Owl said the challenges have been eye-opening. "I came to this project with an understanding that translation work is not as simple as most might think, but over the past several months I've learned how difficult it really is," she said. "Because of issues like dialect, translation can often be challenging because different speakers say or understand certain things in different ways. With the Phoenix specifically, there is even some language that some speakers today don't immediately recognize because those words are rarely used today or have been slightly transformed over the years. So, we have had to account for that."
Owl's interest in the Cherokee Phoenix began when she was an undergraduate student at Stanford University, where she graduated with a degree in Native American studies in 2018. Belt and Hartwell Francis, former director of WCU's Cherokee Language Program, were teaching a distance-learning Cherokee language course to Stanford students and used humorous stories from the Phoenix in their classes. The stories piqued Owl's interest.
"I decided I wanted to dip my toe into more historical research, and I knew that the Phoenix was something that interested me," she said. "I knew that if I wanted to do that then what better place to do it than here at home, where I have people like Tom surrounding me and access to the language."
Belt, a member of the Cherokee Nation of Oklahoma, spoke solely Cherokee until he was 6 years old and started public school. He moved to Cherokee, North Carolina, in 1991.
"What Constance is doing is important to Cherokee people for several reasons," Belt said. "One, it clarifies history that hasn't been clarified, so it also helps in the process of analyzing our own language to make it better understood by those who are second-learners. It also helps to clarify culture for the American public, too. We all understand that history is going to be an ongoing project forever, right? The more we clarify it, as it's applied in a real sense, makes the world more understandable."
For Owl, the intended consequence of her and Belt's effort is to not only bring a better historical understanding to the Cherokee Phoenix newspaper, but also to help revitalize the Cherokee language —and not just for tribal members.
"When we talk about language revitalization, one of the things you hear is you need to find ways to incorporate the language as much as you can into your everyday life," she said. "This is part of me incorporating the language into my academic interests.
Owl and her partnering speakers are the first to formally translate the articles, and she wants the translations documented and accessible to not only teachers and learners of the language, but to others, as well. "I've talked to many historians and they want this, they want to be able to include real Cherokee perspectives of this kind," she said.
For Belt, Owl's work is a literal reflection of the connection between WCU and the Cherokee people.
"It is important to this university not because it's a part of the academic world, but because it's important to the physical aspect of this university, which sits on an ancient Cherokee town," Belt said. "Constance could be anywhere she wanted to be doing this work, but she chose this place because it's intrinsic to the very idea of that language being absolutely a part of the very ground we walk on here."