Archived Reading Room
Last-minute holiday ideas for the literary
Wednesday, December 18, 2019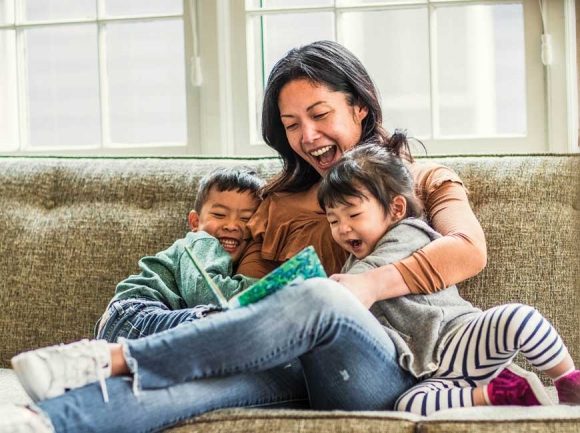 You're down to the wire. It's only a few days until Christmas, and you have yet to get that book lover in your life a gift. Maybe it's your husband who nightly reads military history. Maybe your 9-year-old can't get enough of the Hardy Boys. Maybe your teenage niece is reading anything she can get her hands on.
You could buy these loved ones books, of course, but giving a book is risky unless you know the specific title desired. All bibliophiles love books, but not just any book, and those of us who regard books as one of the three chief pleasures of civilization, the other two being coffee and hot showers, can be picky about what we read. Besides, what if that person has already read or owns the book? No — buying a book for an inveterate reader is as touch-and-go as investing in the "Jeff Minick Bermuda Fund." (Donations may be sent to this newspaper c/o the editor.)
Here I will make one exception of genre: Books about books generally delight readers, because these volumes send those readers off to the bookshop or library to track down recommended titles. By these, I mean books like James Mustich's 1,000 Books To Read Before You Die, 501 Must-Read Books, a compilation put together by editor Emma Beare, or Michael Dirda's Book by Book: Notes on Life and Reading, which is a delightful amalgam of this great critic's thoughts on living and literature.
Now let's consider some ideas for both gifts and stocking stuffers.
First, go to your local bookstore if you are lucky enough to have one in your town. (If you want to keep that bookshop in your town, you need to shop there.) Poke around. You might find some of the stocking stuffers mentioned below, a book that could delight even the fussiest of readers, or some other unexpected surprise.
No luck? No problem. Because the one gift that always delights any reader is a store gift card. Give them that, and they receive the pleasures of browsing the shelves, selecting the book they want, and carrying it home to read.
But let's say you want to give something more personal in addition to, or in lieu of, the gift card. Here are just a few ideas.
First, especially for heavy-lifting bookies, consider a nice notebook or journal, not for recording the daily events but for setting down the titles of books read, the authors, and a few comments. Remind the recipient that George Vanderbilt of Biltmore House fame recorded the books he read from the age of 12 until his death and that someday some great-great-grandchild may treasure the list her own ancestor created so long ago. Including a good pen with the journal would be a nice touch.
Next up are the stocking-stuffers with themes from literature: coffee mugs with quotes emblazoned on them, T-shirts and socks, stationary, magnets for the refrigerator, tote bags, games, pictures, even wallpaper and umbrellas. Again, shop at your local bookshop, and if you can't find your heart's desire there, then hit the Internet. You can browse sites like Amazon or explore others like The Literary Gift Company.
To illustrate the wide range of such gifts available to you, let's turn to Turtle Point Press and their release of what they call The Divining Poets Series. These are packets of quotable cards from Rumi and Emily Dickinson. They may be used to inspire, to provoke the reader into thought, or for memorization. The sets include a small stand so that owners may display a particular quote in a special place.
Want to up the stocking-stuffer idea into a major gift? Buy a large Christmas bag meant for gifts, throw in some of the stocking stuffers, add tea or special coffee, edible treats of all kind, some holiday candy, and if appropriate, a bottle of wine or spirits. Top it off with a Dickensian card and that gift card to the bookshop, and you just made your booklover's Christmas morning.
Another idea, without spending a penny: Institute a read-aloud as your gift. Set aside a certain time, daily or weekly, and promise to read with your lit-lover. Lots of poetry is better when given voice. Go back and find some old authors, and give them a try: the works of Stephen Vincent Benet, whose "The Devil and Daniel Webster" brings both American history and entertainment to the family; the rollicking verse of Rudyard Kipling, or his "Just So Stories;" some of the short stories of O'Henry; the essays of E.B. White or Joseph Mitchell of Down In The Old Hotel fame. Read with élan, even stories like Winnie-the-Pooh or The Wind in the Willows can bring smiles and pleasure to adults and children alike.
A friend of mine has written a book, and to help her edit it, she reads it aloud to me by phone twice a week while we both look at a copy of the text. She reads 45 minutes or so, stopping when I have a question or she wishes to make a change, and this reading over the last month or so has become one of the highlights of my week. It slows me down, the text delivered by her voice delights because both are so perfectly matched, and having to focus my attention on this one project somehow relaxes me.
Here's to a grand holiday season to all you readers out there and to those you love! Best wishes and blessings to all of you.
(Jeff Minick is a writer and teacher. This email address is being protected from spambots. You need JavaScript enabled to view it..)