Archived News
Airport authority chairman retires after 25 years
Wednesday, December 18, 2019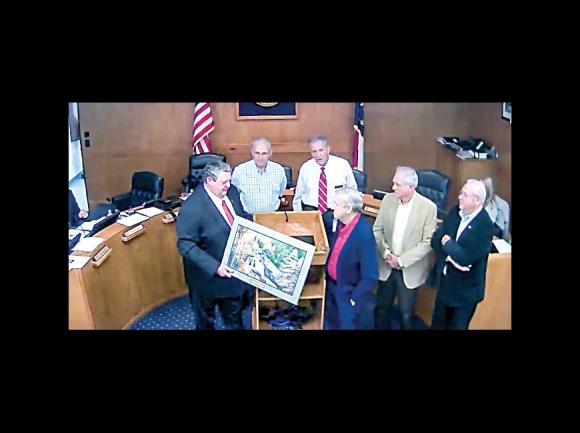 Macon County Commissioner Ronnie Beale (far left) presents a painting to Miles Gregory (center) in honor of his 25 years of service as the chairman of the Macon County Airport Authority. Screenshot
Macon County commissioners recently recognized Miles Gregory for his many years of service to the county, including his 25 years as the chairman of the Macon County Airport Authority.
Commissioner Ronnie Beale presented Gregory with a landscape painting during the board's Dec. 10 meeting to show the board's appreciation for his years of leadership. Gregory, who also served as a county commissioner in Macon until 1985, has been the chairman of the airport authority since its inception and has seen the airport through a number of important projects and expansions throughout the years.
"Without him, we wouldn't have one of the nicest airports in this area," Beale said.
Gregory said it was an honor to serve with a board that worked well together and kept pushing through even when times were tough and funding was tight.
"We didn't know what no meant, so we kept pushing and sometimes it wasn't easy," he said. "And we couldn't have done it without the help from the county. We've been able to accomplish a heck of a lot. For the size of our county, we've got the best airport you'll find in the Southeast."
Macon County Airport has been undergoing many changes in the last few years, including coming under new management in 2018. Under the new subsidiary Macon Air LLC, Drake Enterprises assumed responsibility for airport operations as of Oct. 1, 2018, after its former management entity — Franklin Aviation, led by Neil Hoppe and Peggy Milton — decided to retire. Hoppe and Milton had managed the airport for 20 years under a contract with the county.
The airport is also preparing for another runway expansion, a Department of Transportation project Beale said is on track for 2021. The project will expand the runway from 5,000 feet to 6,000 feet to increase safety measures for larger aircraft flying into Macon. DOT approved $4.5 million for the expansion project.
Airport authority member Jack Horton said the board has had brief discussions about the process of replacing the chairman — a process the board has never had to go through before.
"We decided we'll take it up at the first of the year. We have some applications from when previous positions on the board were open, so we're checking with those folks to see if anyone is still interested in serving and we'll probably take some new applications as well," Horton said.
According to the authority's rules and regulations, Horton said the board will make two recommendations to the board of commissioners who will then make the final chairman appointment.