Archived News
WCU trustees approve increases for fee, room and meal rates
Tuesday, December 17, 2019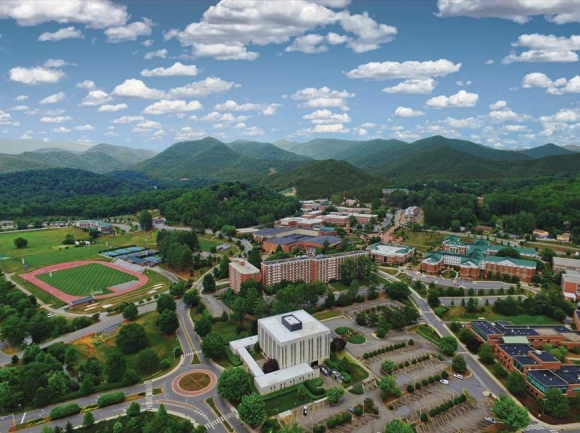 The cost of attendance at Western Carolina University will rise 3.27 percent next year following the WCU Board of Trustees' vote to approve a schedule of increases to fees and room rates, as well as changes to existing meal plans.
In 2020-21, an undergraduate student from North Carolina living on-campus in a standard double-occupancy room with a low-end meal plan will pay $13,609 per year, up from this year's total annual cost of $13,178. Very little of that cost goes to actual tuition — thanks to the N.C. Promise tuition reduction program, in-state undergraduates pay only $500 per semester to attend WCU, with the state budget filling in the gap.
In fact, approved changes included a 3 percent increase in the cost of undergraduate tuition, but due to N.C. Promise, students and parents won't see a change in their tuition bills. The N.C. General Assembly will continue to cover tuition costs over $500 per semester for in-state undergraduates and $2,500 per semester for out-of-state undergrads.
Trustees voted on recommendations brought to them by a campus tuition and fee committee, whose outreach included two open campus discussions, a meeting of the Student Government Association Senate and an interactive live video-streamed session hosted on the university's social media platforms, as well as an online survey that garnered 3,236 responses.
Students were overwhelmingly against the proposed increase. That's often the case when fees are proposed, but not always, Vice Chancellor for Student Affairs Sam Miller told trustees during a Finance and Audit Committee meeting Dec. 5.
"Year-to-year I think it depends on the issues and the perception students have of what we're planning to do," he said.
Student opposition was reflected in that David Rode, who as the Student Government Association president is the sole student representative on the Board of Trustees, cast the sole nay vote on the fee increases.
Much of the increase is due to a 2.24 percent hike in room rates, with annual costs for on-campus housing during the 2020-21 school year ranging from $5,140 for a standard double-occupancy room to $7,896 for a private room in Balsam and Blue Ridge residence halls. Rates currently range from $5,028 to $6,702.
Mandatory fees will rise by 2.4 percent, a total of $68 per year. They include a $44 increase in the student activity fee, from $632 a year to $676. The increase aims to fund future facilities projects, including renovation projects at A.K. Hinds University Center, improvements to intramural fields, equipment replacement in the Campus Recreation Center and student-focused programming and intentional learning partnerships in the Bardo Fine and Performing Arts Center.
While the fee shows up on paper as a blanket increase to the student activities fee, a particular goal is to ensure there's funding to support arts programs on campus. The reason it's not broken out as a separate arts-specific fee, Vice Chancellor for Administration and Finance Mike Byers told the finance committee, is that the UNC Board of Governors has stated that it will not approve any new fee categories.
"There was more student support on keeping it separate, and that broke down into students who want to make sure the arts get the support they need and also seemed to have a little bit of support from students who don't necessarily want to fund the arts but want to be able to identify that and complain about it later in some way," said Miller.
The mandatory fee increase also includes a $24 hike in the athletics fee, from $782 to $806 a year, which will help cover facilities needs identified in an athletics department master plan the board requested earlier this year. Student fees to support health services, education and technology projects, sustainability efforts and existing debt service will not change in the coming academic year.
The book rental fee will see an increase too, rising $8 from $298 to $306 per year.
The new school year will also see changes to meal plans offerings.
"The meal plans are being repackaged in significant ways, and that is in part due to the input we've gotten from students who are concerned about food insecurity issues and making sure we have affordable plans that will address the nutritional needs," Miller told the committee.
The restructured meal plans will offer a shift from the traditional emphasis on "declining balance" plans and increase the number of "exchange meals" in an effort to ensure students get a nutritious, filling meal when they dine with their meal plan. In 2020-21, meal plans will range from $749 per year for the commuter "low plan" to $2,514.50 per year for the first-year residential "high plan."
Currently, the least expensive commuter meal plan is $695.50 and the most expensive residential plan is $2,447.09.
The changes still require approval from the UNC Board of Governors to become final.