Archived News
Waynesville board becomes more diverse
Tuesday, December 17, 2019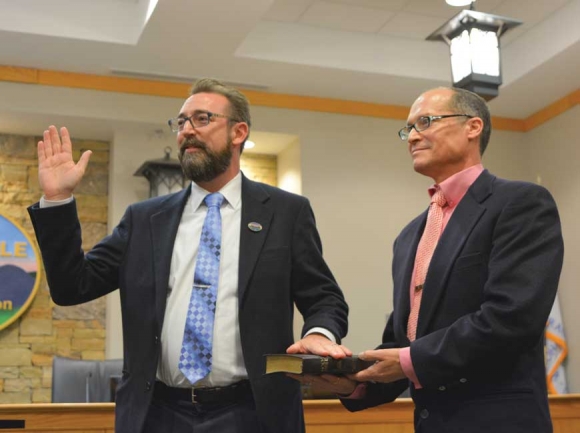 Anthony Sutton (left) takes the oath of office as husband Joey Del Bosque stands beside him. Cory Vaillancourt photo
The town of Waynesville swore in Haywood County's first openly gay elected official — Biltmore Farms Director of Information Systems Anthony Sutton — last week, but the real story may be the retirement of a once-controversial and divisive issue in American politics.
"I think it's a moot point," said Sutton, of his sexuality. "Voters looked at my qualifications, what have I accomplished and what I can accomplish."
Sutton's been married to small business owner and Navy veteran Joey Del Bosque since 2014, but they've been together for 11 years.
"He's been very supportive of my public endeavors but as with many political spouses, he doesn't want to know the day-to-day nitty-gritty of what I do," Sutton said. "He doesn't want to be in the limelight."
Area residents didn't seem to put the issue in the limelight, either. Sutton said that no media outlets asked him about it during the campaign, and maybe two or three voters asked if he was married.
"No one asked me about my sexuality because I've always been open about it," he said. "I had a few people ask me if I was married, and told them I'm married to my husband Joey."
Sutton's marital status didn't seem to impact him at the polls, either; he eked out a victory for the last of four available seats on Waynesville's Board of Aldermen with exactly 1,000 votes.
"I'm the first person in Biltmore Farms' 120-year history to be an elected official, and that seems to be a bigger deal than being openly gay," he said.
The same night Sutton was sworn in, Alderman Julia Boyd Freeman was also sworn in for her third term, and nominated by Mayor Gary Caldwell to serve as his mayor pro tem.
In essence, the mayor pro tem serves as a regular alderman unless the mayor can't be present, for whatever reason.
Although there was some speculation by newly elected Mayor Gary Caldwell that Freeman might be Waynesville's first female mayor pro tem, she's not — she's just the first in a long while.
On Nov. 23, 1999, Alderman Libba Feichter — mother of current Alderman Jon Feichter — was sworn in for the first of her three terms, and was nominated to serve under Mayor Henry Foy as the town's first female mayor pro tem. Feichter was nominated for the position by then-alderman Gary Caldwell.