Archived News
Realtor association merger will help with affordable housing
Tuesday, December 17, 2019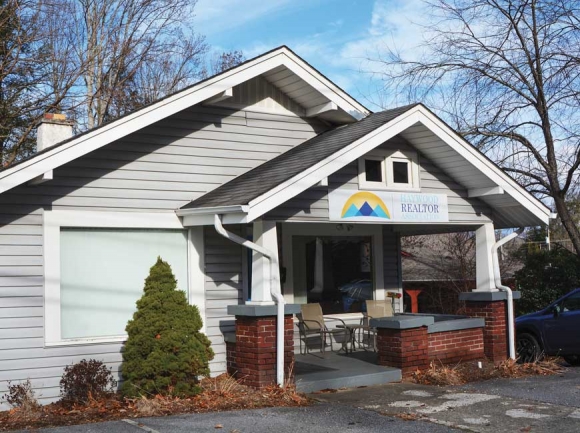 The Haywood Realtor Association's North Main Street building in Waynesville is now for sale. Cory Vaillancourt photo
Local Realtors are about to experience a change most of them will barely notice, but the merger of the Haywood County and Charlotte-based trade associations that govern them could have a noticeable effect on the regional affordable housing crisis.
"I've always been impressed with the Haywood County Realtors leadership," said Anne Marie DeCatsye, CEO of Charlotte-based Canopy Realtor Association and Canopy MLS. "They've always been forward-thinking and very progressive, and the fact that they reached out to us and want to forge a partnership going into the future is very exciting. I think it makes sense from an economies of scale perspective and we just really look forward to our new partnership with them, being part of us."
The National Association of Realtors is the nation's largest trade group and represents more than a million members. North Carolina's branch is called NC Realtors and is further divided into a number of regional and county-level units.
The Haywood Realtor Association has just over 300 members, including several non-Realtors, like lenders, attorneys and other real estate-related professionals.
The HRA used to have its own for-profit multiple listing service — the MLS, as it's known, is the master online platform where subscribing Realtors can upload photos and property data so its member firms and the public can shop and compare.
A few years ago, HRA merged its MLS with Asheville, Hendersonville, Buncombe, Henderson and Transylvania counties to form the North Carolina Mountains MLS.
"Our association executive who was running that organization was retiring, so the board at the time went to Charlotte and said, 'Hey, let us just subscribe. We're not joining you. We just want to subscribe to your MLS service,'" said Tom Mallette, president of the Haywood Realtor Association and a Realtor with Better Homes and Gardens Real Estate Heritage in Maggie Valley. "That's what we did for a couple of years, and then the logical progression is that it's working out really well, so why don't we just do a full-fledged merger?"
Haywood was still billing its individual member firms and agents, and then paying the Charlotte Regional Realtors Association for MLS use, which seemed a bit more complicated and duplicative than it needed to be.
Last month, the governing boards of the HRA and the CRRA approved the merger of the two, effective Jan. 1, 2020.
As the Charlotte group expands into more than a dozen regional counties from the mountains down into upstate South Carolina, it found itself in need of a new non-specific name, and chose "Canopy."
"We actually have a larger voice now within the state," said Mallette. "We're a very small county, so when I go to a state board meeting, maybe I'm the only voice for Haywood County. Now that we're joining Canopy we have 20 times that, basically."
Other than increased educational opportunities and greater influence, the average Realtor on the street won't notice much difference in the new association — except for a slight reduction in dues and a new billing address in Charlotte — but Mallette hopes the consolidation produces a cost savings that will free up existing HRA resources to benefit the community.
"Affordability is a huge issue in Haywood County as it is in all the western counties," he said. "If we can come up with programs that can maybe incentivize builders, developers and landowners to allow some affordable building, that's going to benefit folks that need that."
The HRA's building on North Main Street is now for sale, listed at $325,000. Once it's sold, the proceeds from that sale will end up in a foundation managed by Canopy, as will HRA's other existing assets. Mallette declined to provide HRA's cash balance, but did say it's substantial.
Although Canopy will handle the funds, they're earmarked only for Haywood County and the western region of North Carolina and are intended to alleviate the ongoing affordable housing crisis.
"We have a large amount of assets that have been saved through the years, and we could have dipped into that to cover increased costs due to lack of MLS dues," Mallette said. "But some of the membership was like, 'Hey, why can't we take that and use it for good within the community?'"
A small board or committee will be formed, according to Mallette, and will decide where, exactly, to focus those funds.
"It'll be up to that committee to say, 'All right, we're going to loan this organization this much money, or we're going to donate,' or whatever that may be," he said. "And then that money will go to those organizations and the committee will kind of manage that."
Mallette mentioned that the money could be disbursed as loans, grants or donations to institutional organizations like builders and developers, but he won't rule out the possibility of aiding individual buyers.
"I don't know, it's wide open," he said. "It's really what the committee comes up with, which you know, the committee hasn't even formed yet. Once they form and they start to brainstorm on how to best use the money, the focus will be on affordable housing."
The committee's members will come from a diverse field of professional disciplines.
"It's not going to be all Realtors," said Mallette. "They're going to go out into the community and get folks from nonprofits, government, people that have a background in investing in those types of things that can really give some different angles than just the real estate angle."
Mallette and that small committee needn't look far to see how other organizations perform in such a role.
Canopy and its predecessor organizations have been around for decades, as has its own charitable foundation. DeCatsye said her group has strong ties to the nonprofit community in and around the Charlotte metropolitan area and hosts several different fundraising and community service events each year, resulting in millions of dollars in donations.
"I'm really proud about Charlotte because we care about everything from homelessness to home ownership," she said. "We have a 5K race that raises funds. The last three years, everything raised has gone to a nonprofit. This year, the 5K race alone raised $25,000 and it went straight to an organization called The Relatives. They take care of homeless youth that don't have a parent here in Mecklenburg County and they used it to buy a van."
There's also a major event called Realtors Care Day where donated time and materials help homeowners maintain their property year in, year out.
"Between cash and in kind, I would say we'd probably give back a quarter of a million dollars," said DeCatsye. "It's kind of hard to quantify the in-kind contributions that are made on Realtor's Care Day but I think we have estimated that over the 11 years that we've been doing Realtors Care Day, we've had over a million dollar impact in the community."
In addition to helping the homeless and sprucing up existing structures, DeCatsye said that there's also a community grants program and a habitat grant program. If real estate markets continue on in 2020 as they have this year, local and regional Realtors shouldn't have much trouble raising money to support those programs.
"It's been a fantastic year," Mallette said Dec. 13. "We've already surpassed last year's numbers with about three weeks to go. We continue to be in a sellers market. Inventory continues to be tight, although we did have some nice growth this year on the inventory side — not as much as we would like to see — so pricing is back up. I'm not sure we're quite back to 2006 numbers, and that's not a bad thing because some bad things happened when we ramped up that high, but we have a very, very healthy real estate market in Haywood County right now."