Archived Arts & Entertainment
Viva Arts Studio becomes creative hot spot in Sylva
Tuesday, December 17, 2019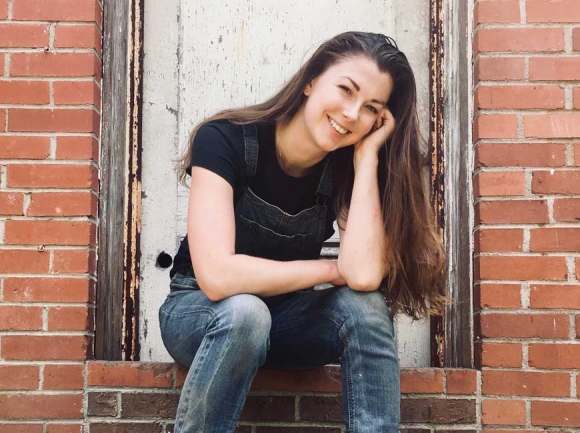 Victoria Shufelt.
Standing in a two-bay garage in downtown Sylva last Friday afternoon, Victoria Shufelt was putting the final touches on a pop-up art gallery event.
"For such a small town, I've always been blown away by the amount of creative folks here," Shufelt said. "And this space is a totally blank canvas to come together and create in Sylva."
That blank canvas is the Viva Arts Studio. What was formerly a cold, empty building has now become a beehive for a wide range of artistic mediums over the last year, all with Shufelt and her husband, Aaron Shufelt, at the helm of this endeavor.
"I wanted something that's not just a business venture, but also a service to the community, one where little kids all the way up to senior citizens can participate in affordable art projects," Victoria said. "We also work with several nonprofits and community organizations to be able to bring art to every aspect of the area."
Following graduation from Western Carolina University in 2017 (with degrees in fine arts and Spanish), Victoria didn't want to leave the mountains and head back to her native Winston-Salem. It was around this point she found herself as an intern at the Jackson County Green Energy Park in Dillsboro, only to meet Aaron there, who is a resident glassblower at the JCGEP.
"I could have gone to other towns and cities, but there really is something about the people here in Sylva and Western North Carolina," Victoria said. "There are so many genuine people here, and I haven't encountered that in many other places — it definitely led me to stay here and put roots down."
Victoria points to her childhood of being homeschooled as a big factor in her pursuit of access to artistic and creative endeavors in small communities that may otherwise not have the resources or outlets to do so.
"I'm coming from a background where I was fortunate enough to do art every day with a very open teaching approach. All of that made me appreciate art at a young age more so than maybe other people," she said. "And being a Spanish major in college, I was able to study abroad in Spain and see how art is so much more part of the European education curriculum in the school systems."
And when she isn't offering classes and workshops in the studio, Victoria is also taking her passions on the road, offering pottery and painting classes at local senior centers and breweries in Jackson County.
"We had a pottery class recently at the Innovation Station taproom [in Dillsboro] and it was completely sold out — it was a wonderful experience," Victoria said. "You're running your own business like this, you're being vulnerable, you're sharing your art and you're teaching art. There's a lot of risk in putting yourself out there, and to see such community appreciation for art means so much to me."
With the recent pop-up gallery at the studio, Viva teamed up with the newly formed Sylva Art + Design Committee, of which Victoria is a member alongside several local business owners and artisans aiming to be a catalyst for the arts in the region.
"SADC has definitely done a lot to encourage artistic growth in Sylva — the mural on Ward Heating & Plumbing, small paintings around downtown, pop-up galleries," she said. "And that says a lot about the town because you might not find that everywhere. All of this just goes to show how art is valued in the mountains."
Cleaning up the studio in preparation for the pop up gallery, Victoria still finds herself in awe of seeing her dream of art education coming to fruition, the studio proof positive that what she has — and will — offer is something vital to the culture and societal interactions of Sylva and greater Jackson County.
"I wanted a place where people — regardless of background, age or whatever — can come to a space and create freely, and can grow artistically," she said. "Sometimes we don't recognize how much art is implemented into these different areas of our lives, but art grows us as human beings. It's been a wonderful journey so far with the studio and I can't wait to see where it goes from here."
Want to go?
The Viva Arts Studio in Sylva currently offers several weekly and monthly pottery and painting classes alongside other artisan mediums.
For a full calendar of classes and more information on the studio, visit www.vivaartsschool.com, call 828.506.6067 or simply take a gander at the full schedule posted on the large garage door of the studio at 456 West Main Street.
For more information on the Sylva Art + Design Committee, go to Facebook and search: "Sylva Public Art."