Archived Outdoors
Parkway recognizes all-star volunteers
Wednesday, December 11, 2019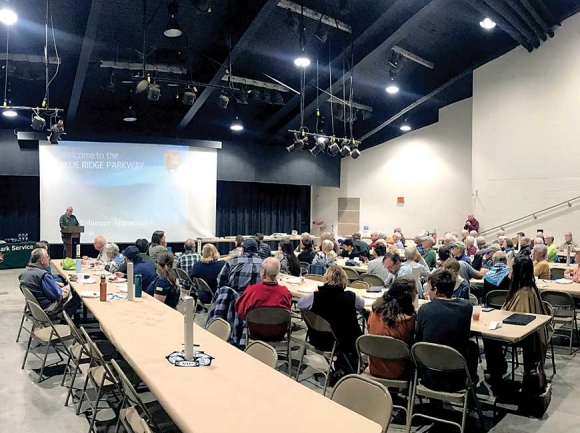 Standout volunteers are honored at a luncheon hosted by the Blue Ridge Parkway. Donated photo
Over the past year, 1,380 volunteers contributed more than 48,000 hours of service to the Blue Ridge Parkway, but six people and groups received special recognition with this year's Parkway Volunteer Awards.
Christ School in Asheville received the Volunteer Youth Group Award for completing multiple projects along the Parkway's Pisgah District in coordination with Friends of the Blue Ridge Parkway, helping to address some critical deferred maintenance needs.
The Craggy Rovers received the Volunteer Program Award for their work on the Craggy Pinnacle Trail. In fall 2018 this small but mighty volunteer group was tasked with providing critical resource preservation messages at Craggy Pinnacle, and this past spring the crew grew from eight people to more than 25, providing daily patrols seven days a week. The volunteers provided visitor information to more than 12,000 people this year.
Virginia Ward received the Youth Volunteer Award for the 133 hours she's contributed to rare plant conservation over the past two years. She scrambles off-trail to access remote locations and record detailed information about each plant, providing great insights as to the health of these populations, which inform conservation efforts.
Linda and Bill Taylor of Johnson Farm near Peaks of Otter received the Enduring Service Award, having served as full-time volunteers from April to October for the past eight years. The Taylors care for Johnson Farm as if it were their own homeplace, completing daily maintenance and making it possible for all to come and learn about the farmstead.
Latane Long from the Humpback Rocks Chapter of Friends of the Blue Ridge Parkway received the Individual Volunteer Award for her ability to encourage engagement from others and grow the chapter, demonstrated in her efforts to recruit and train a new chapter chair to continue her legacy of service.
The Nelson County Master Gardeners received the Volunteer Group Award for transforming the Humpback Rocks Farm garden at milepost 5.8 into a centerpiece of the visitor experience that contains crops representative of turn-of-the-century Appalachian mountain farmsteads.