Archived Outdoors
The Naturalist's Corner: Guilty pleasure
Wednesday, December 11, 2019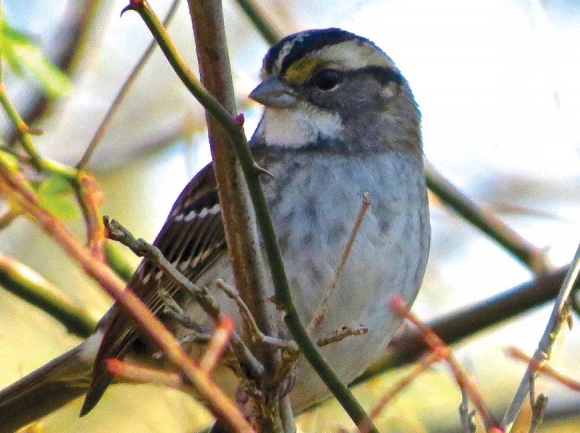 White-throated sparrow tan-striped from Tessentee Bottomland Preserve. Don Hendershot photo
Last Saturday, Dec. 7, had the makings of a very productive day. Girls were going to Asheville shopping and home would be calm and quite. There was no shortage of correspondence to catch up on — trying to nail down the last particulars of our annual Balsam Christmas Bird Count (CBC), try to figure out how to merge my email accounts (geek I'm not) as my old Bellsouth email had been hacked and I switched over to Gmail, plus enough "honey dos" to last the rest of the year.
So, like any responsible adult I got up early Saturday morning and went to Tessentee Bottomland Preserve for a round of birding. Well, I had looked at the weather report that Friday and Saturday looked like it would be nice. I have the pleasure of joining Brent and Angela Faye Martin next Saturday (Dec. 14) for the annual Franklin CBC and Tessentee is a big part of Brent's section so surely a little scouting would be prudent, right. Besides I hadn't been in the field for three weeks or so - wouldn't know a bird if it flew up and smacked me. I mean c'mon I needed to go birding!
The morning started out a little brisk but clear and sunny. As soon as I walked around the gate at Tessentee I heard the hard double chip of a winter wren, which flew to the edge of the road for good looks. Other birds quickly joined the winter wren. White-breasted nuthatches were calling, as were golden-crowned kinglets, downy woodpeckers, Carolina chickadees and a hermit thrush. The thrush also provided good looks. It turned out to be a good day for hermit thrushes, I saw and/or heard at least a half dozen.
Tessentee is always loaded with winter sparrows and last Saturday was no exception. I found, song sparrow, swamp sparrow, field sparrow and white-throated sparrow. I don't know who will get the pleasure of counting song and field sparrows next Saturday but I hope it's not me — they were everywhere.
I lacked one woodpecker (hairy, and I know they're there) having all the common ones for the region. I had downy, red-bellied, northern flicker, pileated and yellow-bellied sapsucker. There were no real rarities. I guess the most uncommon bird was probably a brown thrasher. There are always a few thrashers that overwinter in Western North Carolina but they are not abundant. I was surprised there weren't more raptors up. Red-shouldered hawk was the only one I recorded and I didn't see it, just heard it. I wound up the morning with around 30 species, nothing spectacular but a nice late fall birding adventure.
And it's always a pleasure to walk Tessentee as it reverts back to a bottomland hardwoods forest. The property was purchased in 1999 by the Land Trust for the Little Tennessee (LTLT), which has since morphed into Mainspring Conservation Trust. And as fate would have it I bumped into Paul Carlson, heart and soul and former director of LTLT, Friday evening. Paul told me Mainspring now owns both sides of Tessentee Creek at it's confluence with the Little Tennessee. This is great news as Mainspring has worked hard converting Tessentee back into a creek rather than a dredged ditch. Owning both sides of the creek will help towards that goal. Paul also told me of another Mainspring purchase just up river from Tessentee. I don't know the particulars at this time but should be great fodder for another column.
And as I look forward to revisiting Tessentee next weekend for Franklin's CBC, I need to mention our Balsam CBC will be Jan. 4, 2020, and anyone interested in joining us can email me at This email address is being protected from spambots. You need JavaScript enabled to view it..
(Don Hendershot is a writer and naturalist. His book, A Year From the Naturalist's Corner, Vol. 1, is available at regional bookstores or by contacting Don at This email address is being protected from spambots. You need JavaScript enabled to view it.)