Archived Arts & Entertainment
Orchard Coffee welcomes popular songwriters
Wednesday, December 11, 2019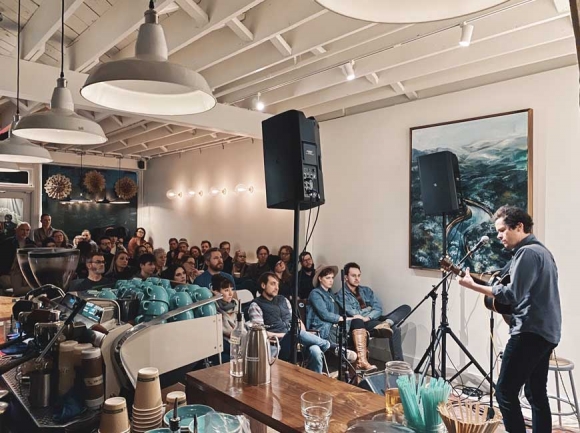 Ryan O'Keefe of River Whyless performing last weekend at Orchard Coffee in Waynesville. (photo: Cabell Tice)
Last Saturday evening at Orchard Coffee in Waynesville, two nationally acclaimed singer-songwriters stepped in front of microphones and projected their captivating voices and lyrical aptitude to a silent, spellbound audience.
"I like having that personal connection in a place like this — there's such a feeling in here," said Israel Nebeker. "I was rehearing for the show tonight in my hotel room earlier, and I was thinking back on some these songs I wrote, and those coffee shops I played when I was starting out — it's really a full circle thing."
Lead singer/guitarist of wildly popular indie act Blind Pilot, Nebeker took part in the solo acoustic showcase alongside Ryan O'Keefe, singer/guitarist for rapidly rising folk group River Whyless.
The two musicians played to a sold-out crowd of around 40 on a chilly December night — shop windows fogged up, with hands wrapped around hot cups of coffee and espresso.
"A setting like this is really freeing and exhilarating because you're up there by yourself, with nobody looking at you over your back like in a band setup," O'Keefe said. "And as a songwriter, I feel sometimes the words — and emotions behind the words — can get lost in the bigger production of things, where you're trying to make enough noise as a band."
The duo, friends of Orchard co-owner Cabell Tice, were the second show hosted by the shop, which has quickly become a welcomed addition to the town since its opening earlier this year. Orchard plans to feature more musical events regularly.
"I love sharing music with people, and I have connections with artists that I really look up to and admire," Tice said. "So, to have an opportunity to put these great artists in a room like this for people who are fans of them, who might not ever get a chance to see them in space with 30 or 40 people — it's pretty cool, and that's what it's all about."
Nebeker was passing through Western North Carolina en route to his home in Astoria, Oregon. He had recently completed a songwriting retreat by himself in the Catskill Mountains of Upstate New York. O'Keefe hails from just down the road in Asheville. Both of their bands have made waves in the music industry in recent years, with each ensemble currently working on albums aimed for a 2020 release.
"Songwriting is about making a brighter world," O'Keefe said. "And so, I think the songwriter just kind of enhances life a little bit."
Within the performance, O'Keefe and Nebeker were joined by Tice, also an accomplished singer-songwriter. In a round robin fashion, the trio rotated through their poignant material. Soon after, O'Keefe and Nebeker held court separately, rolling through solo works and signature melodies from their beloved bands.
"I've always approached songwriting in a way that's deeply personal, hoping that the tunes can be deeply personal for other people by having a message that's universal," Nebeker said. "So, whatever triumphs and struggles you might have, there is somebody that's going to hear that and connect with it."
(photo: Brindley Faile)
Coffee shop gets national recognition
Orchard Coffee in downtown Waynesville was recently recognized as one of "The Best Coffee Shops in America: 2019" by Food & Wine magazine.
"Getting the honor shows us that we've done something really special, not just for ourselves, but for the community, too," said Orchard co-owner Cabell Tice. "There's a lot of different coffee shops that do a lot of different things, but I think we have a couple of things that set us apart from other places — we love it."
Ranked No. 4 in the nation — with number one through three located in Brooklyn, New York; Los Angeles and Santa Cruz, California — Orchard has only been in operation since late spring. Since its launch, you'd be hard-pressed to find a seat in the busy, yet cozy, establishment.
"I've always been a people person and I think that everybody is worth investing into, everybody deserves a chance to feel seen. We treat everybody who comes into our door with kindness," Tice said. "We've gotten so much community support already and we're sincerely grateful for all of our customers who come in and feel at home here."
Tice and his extended family (which runs the entire business) found Waynesville by happenstance, only to fall in love with the community — ultimately deciding to extensively renovate the three-story art deco building where the shops stands today.
"When we showed up here, we wanted to add something to this town and to the landscape of the town. Small towns like Waynesville were in a decline for a long time in our country, but that's all changing," Tice said. "It's taken a little bit of belief from people from all over to show up in these towns, to invest in them by putting in businesses that work for the community — we're all in this together."