Archived Opinion
Food and exercise make good medicine
Wednesday, December 04, 2019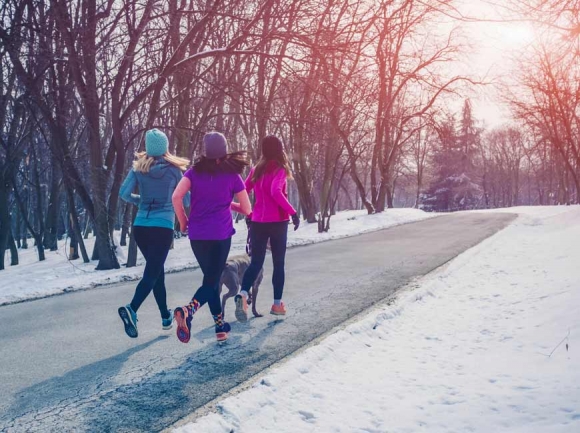 I was recently introduced to a book called What Made Maddy Run written by reporter Kate Fagan. It's the story of a beautiful, smart, talented college freshman who jumped to her death from the top of a parking garage in downtown Philadelphia. Madison Holleran was the perfect all-American girl on a track scholarship to the University of Pennsylvania when the pressures of perfection and the demons within created a toxic cocktail.
Maddy's story is one of millions. Depression is a legitimate illness. For some it's overwhelming and even unbearable. The reasons and genetics surrounding individual experiences vary, but the feelings of hopelessness and helplessness are a common thread.
My grandmother used to have "spells" and took medicine for her bouts of sadness and depression. She would sometimes stay in bed for days. Growing up, I knew she was often sick, but it wasn't until I was older that I fully understood the gravity of what she was going through.
Mental health issues are hereditary. My grandmother's tendencies toward melancholy trickled down to all the women in the family, including me. I suffered from some postpartum depression but was gratefully able to get through those challenging early months of motherhood. I've also had a number of friends who've suffered from post-partum depression and postpartum psychosis. It's a disturbing feeling to be holding a precious new life in your arms but not feeling the happiness you know you should be feeling.
Depression can also be exacerbated by life circumstances such as death of a loved one, losing a job or any other significant change. When my mom passed away and I went through a divorce within the same year, I retreated into a dark place. My faith along with my two little boys pulled me from the mire.
I tried a number of things to battle the sadness, even prescription medication, which I found wasn't for me. It made me feel numb to everything. I remember not being able to cry or craft written prose because while the medicine did help with the low mood, it also cut off all other emotions. It made me feel indifferent and despondent, so I stopped taking it.
After a couple of years experimenting with a plethora of natural remedies, I've created a regimen that works relatively well. My own brain, with it's overthinking and perseverating, can be my worst enemy. That's just something I've had to accept. Aside from that, I found a number of essential oils, tinctures, herbs, minerals and vitamins that naturally help with serotonin levels.
Interestingly, I've also found that exercise is a powerful antidote to depression and anxiety. This was a recent discovery for me. I've heard for years that exercise releases endorphins and blah, blah, blah, so why I only felt the effects as of late I'm not sure.
The holidays are typically hard for me and have been since my mom passed. This year is particularly hard because my boys are with their dad on Christmas Eve; however, I've been feeing lighter lately. Then, I stopped exercising for about a week due to a back joint issue. I felt some twinges of the ol' melancholy. I immediately tied my running shoes back on and things improved.
Here's the cool part. If you struggle with depression or anxiety, don't think you have to run a marathon to access those luxurious endorphins. Through some research I've learned that as little as 15 minutes of exercise does the trick. What's important is consistency over time. Working out 15 minutes sporadically here and there won't offer long-term benefits. While it may boost your mood momentarily, it won't offer therapeutic help.
I've also been learning about foods that help with low mood. The Western diet — which is heavy in fat, protein and dairy — is terrible for the brain and, subsequently, horrible for our emotions. In contrast, a Mediterranean diet, which includes fruits, vegetables, legumes, fish, olive oil, whole grains and red wine (in moderation) is not only good for our mental health but also our physical health.
Despite ranking eighth in the world for income per capita, the U.S. ranks 43rd for lifespan. When comparing this to some of the countries best-known for the Mediterranean diet, Italy ranks 25th for income per capita and is 6th for lifespan, according to the World Health Organization; Israel is 21st for income and 8th for lifespan; France is 19th for income and 9th for lifespan.
I know that, unfortunately, some people try everything and nothing seems to attack those dark emotions. I also know for other people a combination of pharmaceuticals, exercise and diet seems to work. To each their own when it comes to living our best lives.
As I enter into this holiday season and a New Year, my goal is to continue utilizing the tactics that work and to explore others. Just like all beautiful and complex machines, it takes a little work and effort to keep the mind and body functioning optimally. Luckily, I've never been afraid of a little work and effort, especially when the reward is so great.
(Susanna Shetley holds numerous job titles for The Smoky Mountain News, Smoky Mountain Living and Mountain South Media. This email address is being protected from spambots. You need JavaScript enabled to view it.)