Archived News
Sisters form Pretrial Justice Project of Macon County
Wednesday, December 04, 2019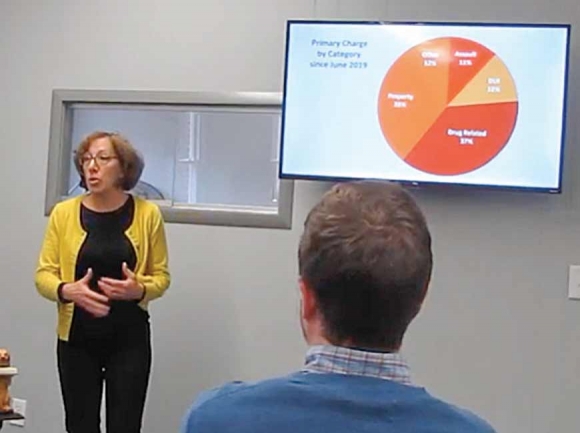 Laura Jean Koval gives a presentation about the issues within the criminal justice system and how it's impacting people in Macon County. Screenshot
Dawn Todd manages a humane society in Franklin. With a full plate at work, she isn't someone who would usually get involved in someone else's criminal matters, but she's also someone who can't turn away when she sees people being treated unfairly.
When a family friend got hit with first-degree murder charges two years ago in Macon County, she couldn't help but to notice a number of injustices as the accused were trying to navigate their way through the system. The case was all over the news — a young mother and father facing murder charges in the death of their 3-month-old infant. The mother was able to be bonded out of jail, but the father has been sitting in jail for over two years awaiting trial as taxpayers foot the bill.
"Dawn and I became aware of a case in Macon involving friends of our nephew who found themselves accused of a crime. Usually I wouldn't have gotten involved but the circumstances didn't add up to them being guilty," said Laura Jean Koval, Todd's sister. "So we've been involved in that case and many others since then and what we've found is there are an overwhelming number of people in this county who've been swept into this criminal justice system at a great cost to them and also to our county."
Since then Todd and Koval have gotten involved in a number of Macon County cases where they say the charges just don't add up and bonds have been set too high. They've become a resource and advocate for people sitting in jail awaiting a court date. It's been an eye-opening and frustrating cause, Todd said, seeing people suffering from addiction, unable to afford a proper defense, being moved from jail to jail, not having communication with their public defender or family and not knowing whether their case will finally be resolved or continued for another several months while they wait it out.
Todd and Koval formed a nonprofit — Pretrial Justice Project of Macon County — in an effort to bring more awareness to the shortcomings within the system and to implement pretrial programs that will decrease the overcrowdedness in the Macon jail and cut down the costs for taxpayers.
"There's been a sweeping outcry across the country and bipartisan support for criminal justice reform," Koval said. "It's costly to keep people in jail and it's shown to not make us any safer."
The road to reform is going to be a challenging one as the region has limited resources. Even if funding for pretrial programs came along in Macon, Todd said there's nowhere to divert people with mental health or addiction issues.
The women held what they hope is the first of many community discussions on Nov. 22 in Franklin to explain some of the issues they have encountered. In her presentation, Koval referenced reporting from The Smoky Mountain News last year regarding overcrowded jails in Western North Carolina, backlogged courts, burgeoning law enforcement budgets and possible solutions to address these complex problems. While the daily average inmate population has grown in each county, the inmate population in Macon County has grown at a much higher rate.
"All jails went up but nothing compared to Macon County. I wanted to know why," she said.
County jails are not the same as state-operated prisons — jails mostly house inmates awaiting trial (the assumed innocent until proven guilty) while prisons are for people who have already been convicted and serving their sentences.
In a perfect system, the only people who would be detained for more than 48 hours in the county jail are those who are deemed a flight risk or those whose alleged crimes pose a risk to public safety. Everyone else arrested and awaiting a court date should ideally be able to be released until they face trial.
Todd said that's not how the system is playing out in real life. The 75-bed jail in Macon County had an average daily population of 105 in 2018. The increase can be attributed to a number of factors, particularly the drug epidemic, an antiquated bond system and a backlogged court system.
The bail system is one reason county jails are facing an overcrowding issue.
"People are awaiting trial because of the bail system — the money you have to pay to avoid sitting in jail. It's the promise you'll show up to court but what happens when the bonds become punitive?" Koval asked. "Well the accused has a difficult decision to make — sit there for weeks, months or years awaiting a trial or try to get bonded out if they can come up with the bondsman's fee, which is usually 10 to 15 percent of the entire bail amount."
For higher bails, most people will need property to put up as collateral, which means people who don't own a car, house or property can't make bail. Even if someone makes bail and is found innocent in court, they'll never get that money back from the bondsman. For those who can't make bond, they will sit in jail awaiting a court date — and in the meantime the person could be losing their job, lose their ability to pay the rent or mortgage and could be at risk of losing custody of their children if they don't have family support.
"A majority of people in our county manage to bond themselves out and they go into debt to do it," Koval said.
She mentioned the national Bail Project that has helped more than 8,000 people by posting their bail and getting them out of jail pretrial. Researchers behind the project have found that 90 percent of people held in jail before trial — at the taxpayers' expense — end up pleading to lesser charges to be released, half of those cases end up being dismissed and only about 2 percent of people actually get jail or prison time.
"We've been tracking arrests since June 2019 with as much public information that's available — and how long they're sitting in jail. Of the 500 people arrested since June 1, the primary charge is drug related and property crimes, which we know goes hand in hand with substance abuse," she said. "The other charges are DUIs, assault charges, which 92 percent are misdemeanors. It's very clear substance abuse is driving the arrests in this county. We also learned that meth is having an outsized role in the community — 61 percent of drug charges are possession of methamphetamine."
While it's important to protect the rights of citizens who should be presumed innocent until proven guilty, Koval said criminal justice reform is also in the best interest of all taxpayers since the counties are having to foot the bill to keep people in jail at $80 to $120 a day. Instead of incarceration, people suffering from mental health or substance use disorders would be better rehabilitated by going through a treatment program.
"Treatment is more effective and less costly than incarceration," she said.
According to the National Institute of Health, every dollar invested in addiction treatment programs yields a return of between $4 and $7 in reduced drug-related crime, criminal justice costs and theft. There are limited mental health and substance use resources for people in WNC, especially for people without insurance. Meanwhile, the Macon County budget for the sheriff's department and the detention center continue to rise.
The Macon County jail budget was $2.1 million in 2013-14 and jumped to $2.9 million in 2016-17. Inmate medical costs have increased from $187,000 in 2013-14 to $282,000 in 2017-18. Overcrowding has forced the sheriff's office to have to transport inmates to other counties to be held, which is costing the county more than $500,000 a year.
It's a good time to be discussing jail costs and ways to reduce the jail population as Macon County Sheriff Robbie Holland and county commissioners have been discussing the need to build a new law enforcement center. The county recently hired an engineering firm to do a space needs analysis on all county facilities and make infrastructure project recommendations for the future. A new consolidated justice center that would include a new detention center topped the list of priorities, coming in at a whopping $77.3 million. The new proposed jail would have a maximum capacity of 240 beds.
There are plenty of ways to get involved in the Pretrial Justice Project in Macon County — assisting families swept up in the system, writing to people in jail, donating funds to inmates' jail accounts, donating nice clothes for inmates to wear in court, volunteering to make calls reminding people the nonprofit will be up and running soon.
"Clearly these are complex problems. We know people should feel safe in the community but we also want to know that our tax dollars are being spent effectively and that our less fortunate neighbors are being treated fairly, kindly," Koval said. "Our long-term vision is to reduce pretrial incarceration — it's morally and fiscally imperative."
The effort can use all the help it can get as Todd and Koval are volunteers with busy day jobs. They are hoping to collaborate with other nonprofits and stakeholders to move the effort forward. For more information, email Todd at This email address is being protected from spambots. You need JavaScript enabled to view it..