Archived News
Presnell out, Pless steps up as filing period begins
Wednesday, December 04, 2019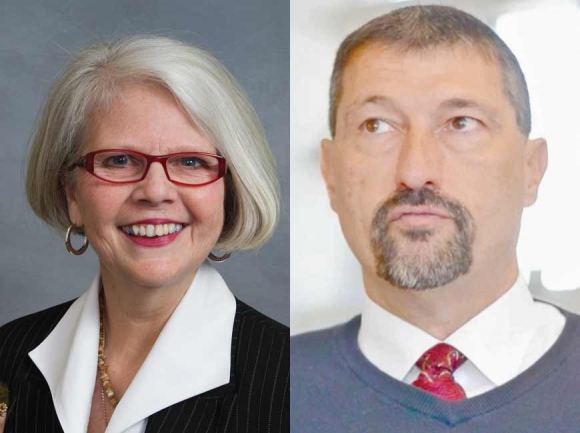 Michele Presnell and Mark Pless.
If you think seems a bit early for candidates to be filing for the 2020 elections, you're right — a change to state law pushing back North Carolina's Primary Election from early May to early March means that candidates have already begun filing for a host of offices.
Perhaps the most surprising revelation to come out of the first day of the filing period was an announcement by a longtime Western North Carolina legislator.
After four terms in the N.C. House of Representatives, incumbent Rep. Michele Presnell, R-Burnsville, announced Dec. 2 that she would not seek a fifth term.
"Today, December 2, 2019 is opening day for filing for the NC House of Representatives. I am announcing that I will not seek reelection for District 118 serving Haywood, Madison and Yancey counties," said Presnell in a Facebook post this morning. "By the end of 2020 I will have served eight years driving to Raleigh early Monday morning and returning late Thursday evening while in session. It's time to re-focus on family and other opportunities that the Lord leads. It has been an honor and a privilege to serve all the people in my district and the great state of NC."
Retirement was probably the only way to get Presnell out of her District 118 seat in 2020; in 2018, Presnell defeated Beaverdam Democrat Rhonda Cole Schandevel with 57 percent of the vote, a slight improvement over her 2016 total of 55 percent, again over Schandevel.
In 2014, she defeated Democrat Dean Hicks with 51.3 percent of the vote, and in 2012 she defeated incumbent Democrat Ray Rapp with the same total of 51.3 percent.
Another surprise came out of Haywood County just hours after Presnell's announcement — Republican Commissioner Mark Pless, first elected in November 2018, submitted paperwork declaring his intent to succeed Presnell. No Democratic candidate has yet stepped forward in a bid to contest Pless' plans.
Rep. Kevin Corbin, R-Franklin, signed up to run for Sen. Jim Davis' seat since the incumbent Republican won't be seeking re-election. Macon County Republican Commissioner Karl Gillespie then signed up to run for Corbin's House seat.
In Jackson County, the first days of filing have been slow. In 2020, voters will elect county commissioners for districts three and four — the areas around Cullowhee and Cashiers, respectively — as well as two school board members. The office of Soil and Water Conservation District Officer will be on the ballot as well, but filing for that contest doesn't start until June.
Incumbent District Three Commissioner Ron Mau, a Republican, will not run for re-election and will instead seek a seat in Raleigh representing District 119 in the N.C. House of Representatives, signing up for that race on the first day of filing, Dec. 2. So far, only one person — Democrat Brad Stillwell — has filed to run for the seat Mau will vacate.
Mickey Luker, who currently holds the district four seat, has been the subject of controversy lately due to his lack of in-person attendance at county meetings. While he often phones in, Luker has not physically attended a commissioner meeting since July. As of press time, he had not returned a message asking whether he intends to run for re-election, and nobody else had filed for the seat either.
Incumbent Wesley Jamison has filed for another term as the school board's district three representative. The seat currently held by Elizabeth Cooper is up for election as well.
Filing for legislative offices ends on Dec. 20, 2019, so be sure to check back with The Smoky Mountain News as the filing period progresses for the latest news and updates.
The Primary Election, including Democratic presidential candidates, will take place on Tuesday, March 3, 2020.