Archived Arts & Entertainment
This must be the place: And what it all comes down to, is that everything's gonna be fine
Wednesday, December 04, 2019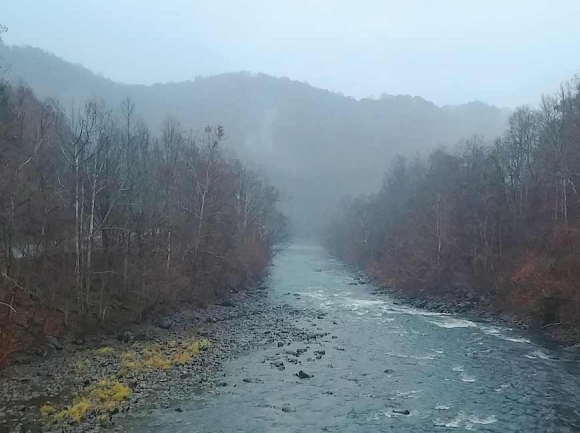 My eyelids fluttered open and it took me a couple moments to realize that I was in my apartment and it was Thanksgiving morning. After a wild, raucous Thanksgiving Eve bouncing through the fine establishments of downtown Waynesville, it was time to dust myself off and be ready for the impending dinner.
Rolling up to my place less than an hour later, my good friend picked me up and we headed for my boss' (Scott McLeod) Thanksgiving celebration at his sister-in-law's welcoming abode in Asheville. Somewhat fashionably late, we told tall tales of past Thanksgiving shenanigans en route to the meal while navigating the bustling holiday traffic on I-40.
Seeing as my immediate family is some 1,100 miles from Western North Carolina in Upstate New York, I've spent numerous Turkey Days at the homes of incredible friends across Southern Appalachia since I moved here in 2012. Seeing as I really only get home about once a year or so, I use that opportunity to be back in the North Country for Christmas,especially since the arrival of my niece five years ago.
By now, I genuinely know all of those loved ones at the dinner table, whether it be with my publisher's extended family in Asheville or my best friend's family in Knoxville, Tennessee. And, for the last few years, I've found refuge during the holidays with the McLeods — a jovial and warm bunch of folks who'd do anything for anyone.
With the McLeod clan, it's football and hockey on TV, smiles and hugs in every direction, sharing the last year of memories and achievements with each other, all followed by a holiday feast for an army. And, like clockwork, a hearty and competitive game of charades follows the pickup of dirty dishes, just after coffee and dessert is served.
At one point in the dinner, anyone could stand up and say what they were thankful for. Never one to be bashful in public, I stood up and raised my wine glass to everyone present, stating truthfully, "I may be over a thousand miles from home, but being here with y'all makes the distance seem that much closer." A couple hours later, it was smiles and hugs goodbye — until next time, and Merry Christmas to you and yours.
The next morning, I motored over the Great Smoky Mountains for the annual "Beersgiving" on Black Friday at a buddy's house in downtown Knoxville. Meeting up with my best friend, he, his wife and I took off for the party, where each attendee (many dear friends nowadays) brings a new and interesting craft beer to share with the group present. In its 11th year, I've happily been part of the last six "Beersgiving" get-togethers.
And just like my Turkey Day in Asheville, I found myself looking around the Knoxville party from time-to-time, thinking to myself how lucky I am to have such beautiful and loving people in my life. I thought of the last seven years I've called Southern Appalachia home and the deep roots I've been able to put down in these ancient and glorious mountains.
I also thought about that first Thanksgiving living and working in Waynesville, back in 2012. I had recently relocated my entire life to Haywood County and really didn't have any foundation of friends or family anywhere near me. That first Turkey Day, I was alone. It was a six-pack of cheap beer in the fridge and a Subway sandwich at my writing desk, my eyes out the front window of my apartment on the quiet, empty and cold streets of my new home.
And I remember thinking back then, "What am I doing here?" I questioned why I left all things familiar for this fresh start and unwritten chapter in my existence. "Why do I put myself through this?" I said to myself, thinking back on my college years in Connecticut and first journalism gig in Idaho — both unknown landscapes with not an old friend in sight.
But, something way down in the depths of my soul told me to hold steady. My instincts pulled me to Western North Carolina, and I wasn't simply going to give up on the dream of the written word due to a lonely holiday. Heck, I've had plenty of those since I left home when I was 18. Push ahead and keep on truckin' for the sun will rise tomorrow, as it always does.
So, I kept putting down the roots of my heart and being over the better part of the last decade in Western North Carolina. And I'm eternally grateful for all of those loved ones I've befriended in Southern Appalachia, folks I couldn't ever imagine not having in my daily life. People who I turn to in uncertain times, where the feeling and sentiment is sincerely reciprocated.
And yet, with Christmas around the corner, I'm looking forward to finally returning to the North Country, to spend time with my parents, little sister, niece, and childhood friends — faces and places that shaped who I have become, who I continue to be in friendship and solidarity with below the Mason-Dixon Line.
Life is beautiful, grasp for it, y'all.
Hot picks
1 The 36th annual "Lights & Luminaries" will return to the streets of downtown Dillsboro from 5 to 9 p.m. Dec. 6-7 and 13-14.
2 Acclaimed singer-songwriter Steven Curtis Chapman will perform at 7:30 p.m. Tuesday, Dec. 10, at the Smoky Mountain Center for the Performing Arts in Franklin.
3 The second annual "Bluegrass Boogie" will be held at 7:30 p.m. Wednesday, Dec. 4, in The Gem downstairs taproom at Boojum Brewing in Waynesville.
4 The old-fashioned "Cowee Christmas" will be held from 9 a.m. to 3 p.m. Saturday, Dec. 7, at the school in Franklin.
5 Frog Level Brewing (Waynesville) will host Billingsley (jam/rock) 7 p.m. Saturday, Dec. 7.