Archived Opinion
Celebrating family, longevity and all that's possible
Wednesday, November 27, 2019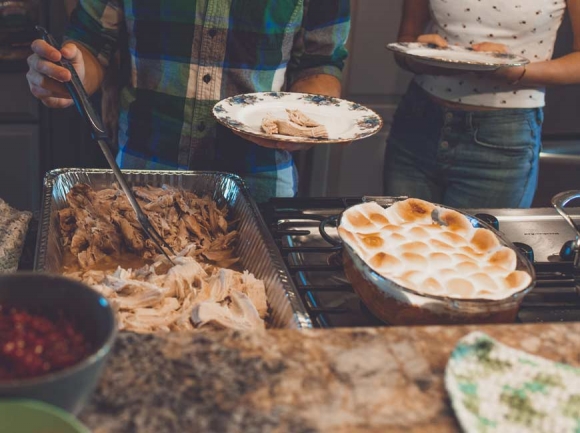 Photo by Craig Adderley from Pexels
Lillie is my dad's big sister. He's been gone for nineteen years — from a heart attack, in bed, while smoking his last cigarette — but Lillie keeps on going. Today is her 86th birthday, and we are having Thanksgiving a few days early to celebrate both. There will be 52 people there, which would be a decent chunk of Sparta's population, except that a lot of the family has moved off, most to find work, some to find love, a few to find that great adventure of the unknown.
I left 35 years ago for all of those reasons, I guess, but I always look forward to coming back, jumping off I-77 onto Highway 21, gliding past Elkin and then on up the mountain toward Roaring Gap, up, up, up, until I can feel Sparta seeping in like water, filling certain hidden chambers in me that always seem to empty out if I stay away too long.
By the time I hit the Glade Valley Flats, I often feel like I never left at all. An old girlfriend used to say that my accent got twangier and my expressions stranger when I was in Sparta.
"It's like you're a different person there," she would say.
That may be true, but I'm also a different person than I used to be there, and so is the town itself. The factories are mostly gone, a lot of the old businesses are gone, the tobacco fields are gone, even the red-eyes and water dogs are gone from the rivers. John R, my dad's older brother and ace fisherman, said there are no red-eyes left to catch.
It's a three-hour drive from our house to Sparta, almost all of it interstate. Tammy has to work and our daughter is driving up from UNC-Charlotte, since she doesn't go on break until Wednesday. So it's just me and my son in the car, three hours up and three hours back. Will there be any conversation? Tammy guesses maybe 20 minutes if I'm lucky.
When he emerges from his room with his standard travel kit — phone, earbuds, a body pillow, drum sticks and a practice pad — and then proceeds directly to the backseat of the car without so much as a nod to either parent, I can see that I'll be spending the drive in quiet reflection, or more likely playing my own music, plugging my phone into the car stereo via an aux cord.
Soon, we're on the road and settling in for the drive, orbiting silently in our own space like two planets spinning around the sun. I think maybe I'll meditate, try to wrestle down some recent disquiet. This lasts about five minutes, maybe three, before I shuffle through my downloads and find Neil Young, a longtime traveling companion.
"You can't be 20 on Sugar Mountain,
Though you're thinking that
You're leaving there too soon,
You're leaving there too soon."
I'm singing full throttle, in the song down to the marrow, right there with the barkers and the colored balloons, but Jack's got his earbuds in tight, lost in his own jam, impervious to this particular embarrassment. Good then.
Since I've allowed for the very real possibility of traffic snarls on I-40 and/or I-77 and there are none, we arrive a good half hour early. Only a few cars are here already. In an hour, Janie's driveway and yard will resemble a used car dealership, four generations of family inside gathering for the blessing, a birthday song, a grand feast, and a long drink of the love that has seen us through countless celebrations and heartaches, for all of our lives.
It seems no time at all, really, since I was part of the youngest generation, doted on by my Aunt Lillie, who kept me often and fed me popcorn in bowls the size of a wash basin with a huge glass of Doctor Pepper with ice to wash it down while we watched "The Price Is Right" and "Dialing for Dollars." She worked for years at Hanes, often sending me home with brown paper bags filled with new T shirts and underwear. I found it strangely satisfying to take home my bag of shorts and T shirts and put them away in my chest of drawers, knowing they were a gift from her, that she may have had a hand in making them.
These days, she doesn't see too well and she has had a few nasty falls, but she abides with gratitude and with grace.
"I've had a good life," she says. "The Lord has been awful good to me."
Kids swarm the room, except for Roman, my great nephew, born just a few weeks ago. My sister holds him, and will not give him up, even to eat, not yet. His older brother, Vincent, now 3-years-old, holds a tiny plastic dinosaur in each hand. He can, and does, name just about every dinosaur there ever was, lifting the Spinosaurus over his head.
"Can he fly, Vincent?" I ask him.
"Yes, he can," Vincent says, grinning, and for the moment, everything seems possible.
(Chris Cox is a writer and teacher. This email address is being protected from spambots. You need JavaScript enabled to view it.)