Archived Arts & Entertainment
This must be the place: Often I have thoughts and dreams, lying silent on my tongue
Wednesday, November 27, 2019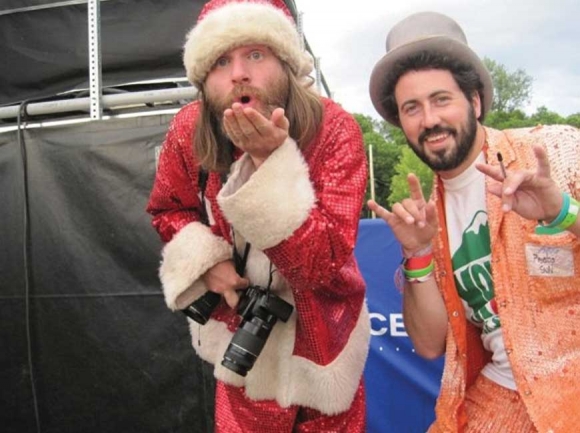 Andrew Wyatt and Garret.
With the recent "10-year challenge" on Facebook — where folks compare photos of themselves from 2009, as a way to celebrate the end of this decade next month — I was curious and tracked down what I was up way back when.
The photo I came across is the main image in this column. That was me in 2009. I remember when the photo was taken, too. It was during a music festival in Burlington, Vermont.
The dude next to me is my cosmic soul brother, Andrew Wyatt. We traveled the entire United States over the course of three years, covering music festivals from Maine to California, Wyoming to Arkansas.
I was 24 years old in that photo. Two years out of college, one year since I had left my first journalism gig at a small newspaper on the backside of the Grand Tetons in Eastern Idaho. Andrew lived right over the Teton Pass in Jackson, Wyoming. We became fast friends over cold beers and similar dreams of being professional journalists.
Well, coming into 2009, I had returned to my native North Country (Upstate New York). Andrew was still back in Jackson. The economy had tanked and we both were scraping by to survive. He worked at an elementary school. I was substitute teaching in my old high school.
At that point, for me, it seemed impossible to find financial stability in the field of writing and journalism. But, I was young and ambitious, too stubborn to ever walk away from my true love and calling that is wandering and writing (especially about live music).
I remember $45 a day to substitute teach, and some $40 per freelance article for the local paper: both gigs were sporadic in nature, and as to when I would finally get the paychecks in the mail. It was a hard pill to swallow, to go far away to college, graduate, run around the country, have all those wild adventures, and then to find yourself seemingly back at the starting line of your hometown.
And yet, quitting was never an option, not even when I was sleeping in the back of my old truck on the side of the road in the middle-of-nowhere, eating Spaghetti-Os cold out of the can. It was a case of lukewarm cheap beer and just enough gas to get to the next music festival, next possible opportunity to make the connections that would lend itself to a career in this industry.
That year (2009) was really a line in the sand for me. I had, in that time and place, decided I was going to pursue the written word, come hell or high water. I found myself living in a large storage closet in my parent's farmhouse in Plattsburgh, New York.
Sure, there were guest rooms in the farmhouse, but I wanted to disappear into my cozy nook filled with music and books, my thoughts put down on paper underneath Christmas lights strewn along the ceiling of the closet.
By that late spring of 2009, Andrew had found his way to Plattsburgh by chance. He ran out of money and options, and my parents opened their home to him, offering him a guest room until he could get back on his feet (as we then roamed America soon again).
That year also brought an incredible woman into my life, an old friend from back in my high school days, who would become the love of my life. It was the only time I ever was completely sold on the idea of marriage, of spending my entire life with another human being.
After traveling around America and covering festivals with Andrew from late May through October 2009, I circled back to the Adirondack Mountains and we began dating. It was one of the happiest periods of my existence.
A year later, she was gone, heading in her own direction, while I took my broken heart and hit the road again, shooting out into destinations unknown in search of love and compassion, all while seeking out the written word wherever I could tap into the inspiration to jot down honest emotions and sentiments to share with the rest of society, to radiate into the ether.
A decade ago? Seems just like yesterday looking at that photo. Where has all that time gone? Myself in 2009 would never believe where I ended up, personally and professionally, these many years later.
My old self would tell me I was lying about finally getting a dream job in the mountains of Western North Carolina, of being able to survive financially with my work, of interviewing my musical heroes, and finally writing for Rolling Stone — my ultimate goal.
I think of all the changes — the good, the bad, and the ugly — of the last decade, and I don't regret a single thing. Lots of mistakes, of course. Lots of triumphs, too. But, I somehow managed to hold steady, to push through to the other side, whatever and wherever that may be.
Onward to the next decade, the pursuit of bigger hopes and lifelong dreams, of drinks held high and in unison with loved ones, laughter and smiles all around.
Life is beautiful, grasp for it, y'all.
Hot picks
1 The second annual "Bluegrass Boogie" will be held at 7:30 p.m. Wednesday, Dec. 4, in The Gem downstairs taproom at Boojum Brewing in Waynesville.
2 The 32th annual "Hard Candy Christmas" arts and crafts show will be held from 10 a.m. to 5 p.m. Nov. 29-30 inside the Ramsey Center at Western Carolina University.
3 The annual "Stecoah Arts & Crafts Drive About Tour" will be from 10 a.m. to 5 p.m. Nov. 29-30 in Bryson City, Stecoah and Robbinsville.
4 The annual "Christmas On the Green" will be held from 2 to 6 p.m. Friday, Nov. 29, at the Village Green in Cashiers.
5 Cowee School (Franklin) will present The Balsam Bee (live dulcimer music) from 4 to 6 p.m. Dec. 3 and 5.