Archived News
Haywood jail reaches capacity
Wednesday, November 27, 2019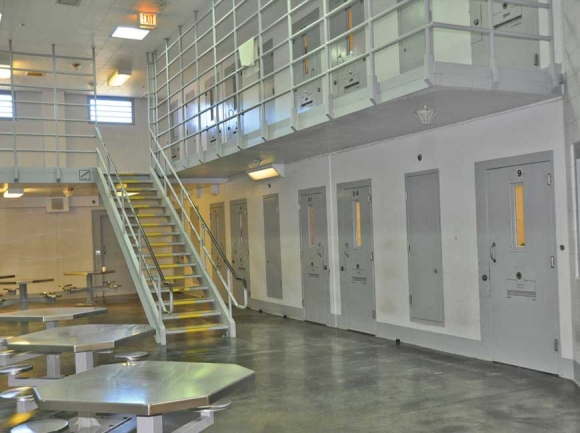 The Haywood County Detention Center has a maximum capacity of 149, and Sheriff Greg Christopher recently told commissioners an expansion will be needed in the near future. File photo
Haywood County commissioners may have to start seriously considering expanding the detention center now that the average daily inmate population is close to — and sometimes over — capacity levels.
Sheriff Greg Christopher went before the board Nov. 18 to give an update on the jail and the programs that have been implemented to better manage the number of inmates coming in and out of the facility. While efforts to reduce recidivism rates have proven successful, the number of pre-trial detainees continue to rise, especially among the female population.
In March 2013, the average daily jail population was 109 inmates and as of Nov. 8, 2019, the average daily population was 112, according to Christopher.
"The male population is about the same, but the females are up from 22 in 2013 to 30 now," he said, which is a 36 percent hike. "This is not only becoming a problem in Haywood County but throughout the state of North Carolina."
Female jail populations are increasing around the region, according to sheriffs in Swain, Macon and Jackson counties. When most of the jails were built — between 10 to 20 years ago — they were only designed with one female pod because the female detainee population was minuscule. Since male and female inmates have to be segregated, the jails haven't accommodated the female inmate growth. Several detention centers in Western North Carolina have had to transport female inmates to other counties due to the overflow, but it costs more money to house inmates out of the county.
The maximum capacity at the Haywood detention center is 149 — 109 in the main jail facility and only 31 of the beds are in the female pod. The jail annex building can house 40 inmates, but it's a dorm style facility and doesn't meet the same security measures as the main jail. It is currently used to house low level male offenders — those who defaulted on child support or have a bond of $5,000 or less and considered to be a low flight risk.
"We can't put females in that (annex) pod because we can't separate them according to their charges. We have women with serious felonies including murder and some are in there for trespassing. We have to keep them segregated from each other," Christopher said.
Another factor contributing to the jail's overflow is the number of inmates serving out their prison sentences in the local jail. Christopher said it wasn't an issue when he was first elected in 2013, but now the Department of Corrections is also dealing with maximum capacities.
"Now there's a backlog of people who have already been sentenced and ready to go to the Department of Corrections but there's no place for them so we have to hold on to people sentenced in the court system until DOC calls us or sends a bus to pick them up," he said. "We had 12 as of today."
The cost to house an inmate is about $80 a day, but the state only pays counties $40 a day to house a state inmate.
At the first of the month, Christopher said he reached out to 12 other sheriff's offices to check on their housing situation. Eleven said they are sending inmates to other county facilities, which is costing them $60 to $120 a day.
"I get a phone call every day from detention centers asking if we have room to keep their inmates," he said. "And we found out of the 12, three are housing more females than what capacity allows. Unfortunately our female capacity today was 30 so we're teetering on that line."
Jail programs
Christopher said the daily jail population numbers would likely have increased more than it has if it weren't for all the programs that have been put in place to curtail the growth. He's been a major supporter of having a jail ministry program to allow volunteers from different denominations come into the jail to minister and provide assistance.
"Over 600 volunteers from varied denominations have been trained in safe practices, detention center policy and procedure," Christopher said. "Our churches are phenomenal. We have 60 churches that work with us and not only while they're inmates but when they get out and begin the process to get better. Everybody in addiction needs accountability and this is what our churches are doing for us."
Indeed, more than 95 percent of the people in jail awaiting a court date are suffering from some form of addiction and/or a mental illness or a combination of both. Christopher said many of the women in jail were caught up in a situation where they were found holding drugs for their male partner.
Seeing these trends and high rates of recidivism is what led Christopher to look for a way to help people transition back into society after being released from jail. Around the same time he took office in 2013, the county was in the process of acquiring the former state prison that sits next door to the detention center.
County Commission Chairman Kevin Ensley said the original idea was to use the former prison to expand beds at the jail, but as it turned out, it couldn't be used for that because county jails and state prisons have different sets of standards and regulations. Then the county was faced with an increase in homelessness, which is how the idea of the Haywood Pathways Center was born. The county turned over the former prison to the newly formed nonprofit, and with the help of local churches, community organizations and a $50,000 grant, the facility was renovated into a shelter for the homeless, people fighting addiction and people needing help after being released from jail.
"We hear a lot of bad things about things in the community, but there's a reason we have Pathways," Ensley said. "We hear about the bad apples, but we don't realize how many people and families have been helped to get them through homelessness. I believe in faith-based programs because they work. We're not perfect and sometimes we need a second chance and sometimes we need a third or fourth chance and our communities and churches have made it happen. It's saved taxpayers thousands if not millions of dollars."
Thanks to a grant obtained by Pathways, two peer support specialists have been embedded in the detention center for the last 18 months to help inmates work toward recovery and to come up with a transition plan for when they're released. Some transition to Pathways, some transition to a rehab facility and others are sentenced and transition to a state prison — but wherever they go, they have more skills, resources and coping mechanisms than they did when they were first incarcerated.
Christopher said the peer support specialists have worked with more than 244 inmates so far and have saved taxpayers about $80,000 a year since their salaries are covered by grants.
"The ability to offer hope, support, guidance, transitional housing and employment, while allowing people to re-enter our communities as employed and contributing members benefits both the former inmate and many times, their families," he said.
Other programs inside the jail include Alcoholics Anonymous and Narcotics Anonymous meetings and Lifeworks classes for skill building. There's also an Overdose Prevention Group with an education facilitator that works 20 hours per week inside the jail thanks to a grant through the N.C. Harm Reduction Coalition.
Haywood County is also the recipient of a state grant through VAYA Health to start a Medically Assisted Treatment Program (MAT). Christopher said they are in the process of reviewing best practices and talking with other detention centers that are already working a MAT program.
Future expansion
Even with all the measures being put in place to reduce the jail population, Christopher said it may be time for the county commissioners to seriously begin thinking about adding an additional pod to the jail.
"It's wonderful to see the numbers haven't increased any more than they have — and that's because of the community groups and churches — but I'm afraid eventually we'll have to talk about adding a pod," he said.
Commissioners agreed that an expansion has been put off for long enough and it is probably time to begin coming up with a plan for the future. The detention center was constructed in 2005 for about $12 million with room to add on another pod.
"Some people would look at these numbers and think it's bad, but it's not considering the population growth … given that to have these numbers is great. It shows the effectiveness of those ministries," said Commissioner Kirk Kirkpatrick. "That being said, I think it's going as good as it can, but eventually I think we will need another pod. It was built to be able to build on a new pod."
Other counties
Macon County is also discussing the need for a new detention center to make more room for inmates. The current 75-bed jail — built 20 years ago — is not big enough to meet the demand in Macon County. The detention center is regularly at capacity, and the county is shelling out more than $500,000 a year to house its inmates in other county jails.
In 2013-14, the jail had an average daily population of 52.5 inmates — 10.6 of whom were female. In 2016-17, the average daily population has increased to 98.25 inmates — with 22.3 of those being female. Since 2013, the Macon County Detention Center budget has nearly doubled as a result of a higher inmate population, unpredictable medical expenses and the cost of transporting inmates to be housed in other counties. Macon commissioners approved a $2.6 million budget for the jail for 2018-19, which has gradually increased each year from $1.8 million in 2013-14.
Swain County has a 109-bed facility that was completed in 2008, but today Sheriff Curtis Cochran said the jail is occasionally close to or over capacity. Last year the average jail population was 75 to 80 inmates a day and the occasional overflow is usually due to more females. The detention center can house only 25 female inmates, and that's if they utilize cells that are intended to isolate inmates who are sick.
In Jackson County, the average inmate population has increased from 58 in 2013-14 to 64 in 2017-18, and the jail budget has also crept up from $1.4 million in 2013-14 to $2.1 million in 2017-18. The overall average population hasn't overwhelmed Jackson's 72-bed facility yet, but the exploding female inmate population has forced the jail to house females in other counties since it only has eight beds for female inmates.