Archived News
Opportunity knocks: Western takes on 'Bama
Wednesday, November 27, 2019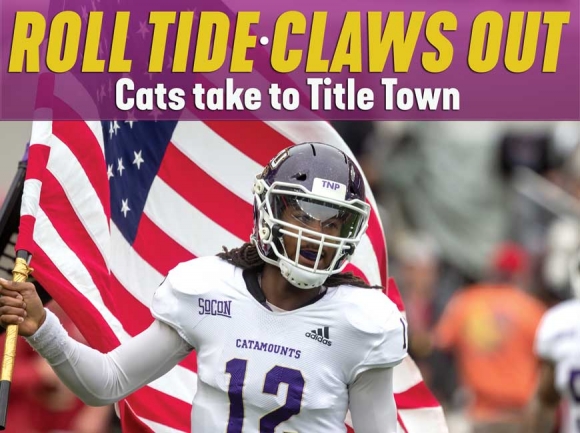 For nearly all of its 128-year history, the University of Alabama's football program has been synonymous with gridiron excellence. Thousands of young men have gone there to play the game they love, and played it to win.
Boasting a 73 percent winning percentage over almost 1,300 games, Alabama has laid claim to 14 division titles, 31 conference titles and 17 national championships while producing legendary NFL stars like Joe Namath, Ozzie Newsome, Cornelius Bennett and Derrick Thomas, along with at least one legendary coach — Paul "Bear" Bryant.
Nick Saban has been chasing Bryant's legacy since becoming the Crimson Tide's head coach in 2007 after a long college coaching career and stints with the NFL's Cleveland Browns and Miami Dolphins. At Alabama he sports a 151-22 record, six Southeastern Conference championships and five national championships. Since his second year, all of Saban's squads have spent at least part of the season ranked at No. 1.
The school itself — overshadowed by its athletic accolades for more than a century — reports an enrollment of almost 40,000 students and an endowment of $885 million. Tuscaloosa's Bryant-Denny Stadium holds 101,821 people.
There aren't even 101,821 people within the seven-county region home to Western Carolina University in tiny Cullowhee, North Carolina, population 6,228.
Founded as Cullowhee Academy in 1889, Western Carolina became a teachers college in the 1920s and a university in 1968. Enrollment hovers around 12,000 students who benefit from the growing school's $66 million endowment.
The football team, nicknamed the Catamounts in honor of a purportedly-extinct wildcat still rumored to roam the rugged mountain hollers of Southern Appalachia, plays at Bob Waters Field at A.J. Whitmire Stadium, capacity 13,742. Since 1931 the Cats have posted an all-time record of 307-435.
Mark Speir, in his eighth year as WCU's head coach, has guided the Catamounts to three seven-win seasons but has a career record of 32-51. This year, his team has just three victories and a host of tough losses to Mercer, N.C. State, Chattanooga, Gardner-Webb, Citadel, Wofford and Furman.
Saban has thus far put together yet another double-digit win season, with just one defeat to date — on Nov. 9, the Tide got rolled in an important SEC West matchup by the Tigers of Louisiana State University, who handed them their first home loss in their last 32 games.
Smarting, Alabama hit the road to beat up on Mississippi State the next week but lost star junior QB Tua Tagovailoa for the season to a hip injury.
Dejected, perhaps — but not defeated — the Tide headed back to Title Town, on the playoff bubble and eager to avenge that rare home loss in a matchup against Western Carolina expected to be so lopsided that Vegas oddsmakers wouldn't even post a line.
David versus Goliath? Sure, but there's a reason they actually play the games instead of just ranking all the teams during the preseason and awarding the national championship to the one with the most votes.
"You walk in that stadium on Saturday, and it's a big stadium," said Speir. "There's a lot more concrete, but it's still 100 yards plus 10 in each end zone, and the same lines as our field back home."
The field dimensions are about where the similarities end. Every season, players from small schools step onto some of the biggest stages of their athletic careers when they travel to face the most storied college football programs in the nation.
"We had all the confidence that we were going to go play well, that we would go in there and compete," said Speir, who's not talking about leading the Cats against No. 5 Alabama — he's talking about his role in one of the greatest sports upsets of all time.
On Sept. 1, 2007, Speir was the defensive line coach for Appalachian State University when his Mountaineers walked into Michigan Stadium in Ann Arbor and shocked the world by knocking off No. 5 Michigan in front of 109,000 rabid Wolverines fans and millions more watching television.
John Holt, associate head coach at WCU, happened to be Appalachian State's starting right guard that warm, sunny fall afternoon.
"It was a great experience," said Holt. "I mean, we had a really good team playing a really good team. We had a good day that day. It was an exciting time for our program."
Nobody expected App State to win that game.
"Except us," Holt said.
Coach Speir's duties placed him in the press box, but he clearly recalls how subdued the Michigan crowd was when the clock ran down on his team's unlikely 34-32 victory that came after App blocked a last-second field goal attempt that would have won the day for Michigan.
"They had a police car that at halftime would take us around to our locker room and I wasn't waiting on that police car after the game, I was getting to that field as quick as possible," he laughed. "So I literally went through the stands. I had a unique perspective because I went through the stands and nobody left that stadium. You had 110,000 fans in dead silence watching about 70 guys down there going crazy. I just remember how silent and awestruck they were."
That's why David shows up, sling in hand, but because of what happened to Goliath Michigan that day is a rare outcome there's another reason why teams like App State and Western Carolina play teams like Michigan and Alabama.
"I think this year's contract is $525,000," said Randy Eaton, WCU's athletic director.
WCU as a whole operates on a yearly budget of roughly $220 million. Of that, about $13 million is spent on athletics and of that the largest chunk, about $2 million, is spent on football. As such, WCU's appearance at Alabama represents more than a quarter of the program's annual revenue.
"We'll fund about 30 players who get to go to school here at Western Carolina because of the paycheck that we get from that ball game," said Speir.
In the Southern Conference, of which WCU is a member, home teams basically keep all the revenue they generate on game day during the 12-game season. In addition to ticket sales, they get a percentage of concession sales, but on a yearly basis, they also collect significant revenue from corporate sponsorships and fundraising by the school's boosters, the Catamount Club.
"Our corporate sponsorship generates a little north of $400,000 a year," Eaton said. "Our Catamount Club, that's really tied more to parking and tickets and those kinds of amenities that fans want, so we're up at about $1.6 million a year that we generate from the annual fund. For concessions, our share may be $30,000 a year, and for ticket revenue, we're probably looking in the neighborhood of $80,000 average per game in a good year."
Of course, game day revenues are hugely dependent on how the team's been performing of late.
"We've been fortunate that our fan base has followed us over the last couple of years," he said. "Last year, I think we led the conference in attendance. For me, it was very gratifying. We had a three win season and still led the conference in attendance."
Even during a successful season, there's another variable that can affect the program's bottom line.
"It's been tough this year," said Eaton. "Weather plays a big role. It's a big factor for us. We had one game where we had a three-and-a-half hour lightning delay and we had another game where it was — if you remember Forrest Gump when he said sometimes it was raining upwards — it was one of those days."
Indeed, two of WCU's last three homecoming games have been held in weather fit for neither man nor beast — cold, gusty and rainy.
"This year, we really took it on the chin. As far as ticket sales, we still sold a lot of tickets but a lot of our returning fans, fraternities and sororities decided to stay at their tailgate. So there were probably 4,000 or 5,000 people still out in the parking lots when the game kicked off," he said. "I would say somewhere in the neighborhood of probably 70 to 75 percent of our revenue is generated on game day by single-game sales, not season tickets, so the weather plays a huge role in our attendance, especially when the team's in a little bit of a slump competitively."
Whether it's due to wins or weather, the unpredictability of game day revenue makes guaranteed games like Bama that much more important for small schools like WCU.
"I got here in December of 2011 and in February, I met with then-Chancellor [David] Belcher who gave me my welcome basket and said, 'Oh by the way, Randy, here's $1.7 million I'm spending every year on athletics, and I'm not going to do it anymore. Figure it out,'" Eaton recalls. "So for Speir, I think it was his second year, we played three money games that year. We were at Auburn, at Virginia Tech and at Middle Tennessee State. That probably generated about $1.4 or $1.5 million, off of those three games."
Those games certainly boosted the program's bottom line — as they do with basketball as well — but that strategy is a double-edged sword that hurts programs as much as it helps.
"As you try to build a competitive program, you can't do that any longer," he said. "You want to be able to play regional opponents that help drive fan interest, but also games that are winnable. If we were sitting here talking right now and we only had three losses versus only having three wins, we would be in the hunt for that at-large [playoff] berth if not the automatic bid in the Southern Conference."
These big games are also becoming less and less necessary, financially, according to Eaton.
"As our Catamount club and our fundraising efforts increased, I was able to bring down those money games to place those teams in a position where they can be more competitive," he said. "This year we've got two guaranteed games [including a 41-7 drubbing at the hands of the N.C. State Wolfpack on Sept. 9] but after this year, through 2025, we've only got one guaranteed game a year."
Photo Gallery: Western Carolina University at University of Alabama
The Catamounts of Western Carolina University played No. 5 University of Alabama in Tuscaloosa on Nov. 23, 2019, and SMN photographer Bill Killillay was there. Check out Killillay's cool shots from the game, and find more of his work at www.Killillay.com, on Facebook at www.facebook.com/killillayphotography or on Instagram at www.instagram.com/killillay.
Becoming more competitive isn't just about titles and trophies; the effect of having a well-known program translates directly to a school's enrollment, even among students who will never shoot a free throw or strap on a helmet and shoulder pads.
"Back in 2011, 2012 when I got here, this was still very much a suitcase college," said Eaton. "When you came on this campus on a Saturday afternoon, half the student parking lots — if not a little more than that — they were empty because kids were going home to Greensboro or Raleigh or Charlotte or wherever, every weekend."
Building a game day experience has been a priority for Eaton, and is especially important when impressionable first-year students, fresh out of high school, arrive each fall.
"We try to get our freshman involved and now they don't go home as much," he said. "They learn staying on campus can be enjoyable. And what has that translated to? Now, when you look on a Saturday, even a non-football Saturday, we've got 90 percent of the cars still in the lots. That's affected our retention rate, which is the number of freshmen that come back. So just that one year we went from about 70 to 80 percent, a huge differential which has helped the institution grow by keeping those kids here and our graduation rates jumped because of that."
Money aside, there are a number of other good reasons small schools like WCU and App State end up taking punishment from the best of the best, year in and year out.
"We don't call it a money game, we call it an opportunity game," Speir said. "Whenever anybody says, 'Who's your money game?' I always say, 'Well, our opportunity game this year is Alabama, because it's a great opportunity for us to go up there. It's an opportunity for our program to be in the national spotlight.' When you play a Michigan, or in our case an Alabama, everybody in the country wants to know who Alabama's playing that week."
Eaton sees these games as an opportunity of another sort.
"It is a huge learning opportunity for those young people," he said. "Our women's basketball team was in New York last year and the coach built it into her budget to stay an extra day so they could do the Statue of Liberty and Times Square and some things that a lot of our young people, if it weren't for this opportunity, may never get to experience."
This year's Alabama trip is Speir's third with WCU against Saban's vaunted program.
"In 2015, we go down there at the end of the year, just like we are this year, and we were the only school to that point that scored on the opening drive. It was eight, nine minutes into the second quarter and it's a 17-14 game," he said. "That did a lot for our school, a lot for our alumni and a lot for the confidence of our program. For a half, we went in there and played with the best team in the country."
An image of that moment has been seared into Randy Eaton's brain, a grainy memory of a Title Town scoreboard that for just a few minutes in time read WCU 7, Alabama 0.
"There were hundreds of pictures by our fans of that scoreboard and somebody put it on Twitter and for about 45 minutes, we were the number one trending tweet, worldwide," he said. "People that don't understand social media are like, ehhh, no big deal. Yeah — that is a big deal, when you've got more people for 45 minutes looking at Western Carolina University for whatever reason. As long as it's a good reason, it's positive exposure for the institution and for a school our size and in our location, that is exposure. You can't pay for it. You can't afford to pay for something like that."
That visibility helps spread national, even international awareness among those who don't even realize WCU exists, much less that it fields scholarship football players.
"We put as much into this ballgame as we do our first one, or any Southern Conference game," Speir said. "These players, you know, they want to go win their battles on national TV because everybody in the United States of America will see some clips of Alabama playing Western so these guys say, 'Hey, I might be on that clip and I want to be doing my job.'"
Doing one's job against some of the nation's top college football players can be a tall order for players at smaller schools, but Speir breaks the game down to a series of one-on-one matchups.
"For me, it's about you winning your individual battles," he said. "You're going to have maybe 60 to 70 plays. You know you're not going to go in there against a five-star recruit from Alabama and win 40 plays out of 60. But if you can go in there and win 20 to 25 of your 60 plays, that gives a young man a lot of confidence. They say, 'I went against the best that this country has to offer, and I won my share of battles.'"
Coach Holt shares Speir's mentality, at least in part because it's what got him through that warm, sunny fall afternoon in Ann Arbor 12 years ago.
"The biggest thing," said Holt, "is just to play the next play. Make it simple. Don't make it about a big game. Just make it about the next play. Don't think about your opponent. You're playing yourself every game, every practice, every play. Focus on what you're going to do right now, whether it's at some practice, or it's the first play of the game."
And as with most battles, the end result has a lot to do with how much preparation — especially mental preparation — has taken place before the battle even begins. In the locker room, nobody's thinking about money or freshman retention rates.
"I think any football player can agree with me on this, that once you get the first play in, once you get that first hit in, then it's game time," said Caleb Ferguson, a redshirt sophomore running back. "You're nervous up until that first hit, and then when that's over, then you're fully locked into the game. You're not worried about the extra stuff."
Ferguson is just one of several players on the small college team's roster who in turn came from a small Western North Carolina high school — Tuscola High School, in Haywood County.
Ferg, as he's called, is joined by other small-school WNC alums like Micah Nelson, a freshman DB from Murphy; Joaquin Layno, a freshman DL from Cherokee County; Dillon Luther, a freshman OL from Asheville's Erwin High School; Caleb Woodard, a senior TE from Bryson City; and Terran Brown, a freshman DL who played for Haywood County's Pisgah High School against Ferguson in one of the country's greatest high school football rivalries.
"I think it's really important, actually," Brown said. "It's probably really crucial because not a lot of people even know that we are here, kind of like the whole App State-Michigan thing, and I think this can really launch us into that next level, that next mode of professionalism."
The opportunity even includes some of WCU's cheerleaders like Liz Liner, herself a Pisgah grad.
"It's a great experience because we're being surrounded by a bigger stadium, a bigger crowd," said Liner. "It'll be great to show off our stunts and our cheers on our sidelines because there will be a bigger audience and maybe it'll put our name on the map and get us ready for [the national cheer competition in] Daytona."
That opportunity would also normally extend to WCU's marching band, but they wouldn't be making the trip to Tuscaloosa for the Nov. 23 game because they were already in New York City, preparing for yet another national appearance at the Nov. 28 Macy's Thanksgiving Day Parade.
When game day dawned in Title Town the only thing clear was that it would be nothing like that warm, sunny fall afternoon in Ann Arbor 12 years ago.
Driving rain had ceased just a few hours before kickoff, and beneath thick grey clouds temperatures dropped as winds picked up steadily throughout the game, which was as Vegas oddsmakers predicted an utter blowout.
Alabama racked up 231 yards on the ground and 310 in the air en route to a 66-3 trouncing of Western Carolina University. Western managed just 179 total yards of total offense along with five turnovers.
Four of those were interceptions thrown by Catamounts quarterback Tyrie Adams, who faced intense pressure all day and was sacked four times.
"We showed at times that we can move the ball," said Adams from the locker room after the game. "We put together some really good drives. We just weren't able to finish unfortunately, due to turnovers and just being careless with the ball at times. That can get you in trouble when you play a school like this."
Alabama capitalized on two of those interceptions in the first quarter and shot out to a 17-0 lead, but widened that to 38-0 by the half on the strength of three TD passes by the injured quarterback Tua Tagovailoa's backup, sophomore Mac Jones.
The second half saw the Cats, playing their last game of the season, finally get on the board with a 38-yard field goal by Julian Pietz. Other than that it was all Alabama, who added four more scores including a career-first touchdown toss by Tua Tagovailoa's younger brother Taulia.
WCU's Caleb Ferguson didn't see any snaps at running back, but was on the receiving end of almost every one of Alabama's kickoffs after scores.
"We could have performed better coming out of the first quarter," said Ferguson. "We had too many turnovers to begin with, but I'd say overall we did the best we could. We kept fighting throughout the fourth quarter and we played for our seniors today, so we just gave our all for them."
Adams, in his last game as a Catamount, thinks it was an important learning opportunity for his teammates who will return next year.
"The biggest thing I think that I'd be able to transfer to the people that's coming up is that they never quit, that they never stop fighting no matter what," he said. "I think you've seen that late in the season with this team, we kept fighting, got some late wins even though nothing was going our way. That's a characteristic that you can teach and it's contagious. I wish the best of luck to the upcoming classes in Western Carolina University."
Ferg will likely be one of those guys, and already seems to have benefitted from the advice of Speir, Holt and Adams.
"I would say that we need to prepare for each game like we're going to play Alabama," he said. "If we do that, then I don't see why we couldn't beat anybody that we have scheduled next year."
Newly-minted WCU Chancellor Kelli Brown took in the game along with a less-than-capacity crowd that was still probably larger than WCU would see at every home game in Cullowhee combined. Uninterested in the unseasonable weather, the lackluster opponent, the backup quarterback and the unusually uncertain playoff picture, maybe 40,000 people stayed home, or stayed at their tailgates.
"It's great for our young men to be able to play a team like the University of Alabama. It brings great exposure to not only Western Carolina University, but also our fans get to experience something like this," said Brown, from a Bryant-Denny skybox right next to the WCU radio crew. "We've got fans here from all over. They've driven in from Nashville, Tennessee, from Georgia, from North Carolina, to be able to be here to see our Catamounts play."
After the game, the Cats' busses received a police escort eastbound onto Interstate 20 for the five-hour ride back to Cullowhee with that great big check and all those experiences, all those memories made earlier that day in Title Town.
No matter how valuable all those things may be to some, they don't mean quite as much to the young men who have spent their lives playing a game they love, a game they play to win.
"It's not going to be a lot of playing on the bus," Adams said. "I don't think it'll be too uptight, but it's still not going to be a lot of playing around and everything because we still lost a football game, no matter who we played. We still lost a football game at the end of the day."