Archived Opinion
A winding plot to a published children's book
Wednesday, November 20, 2019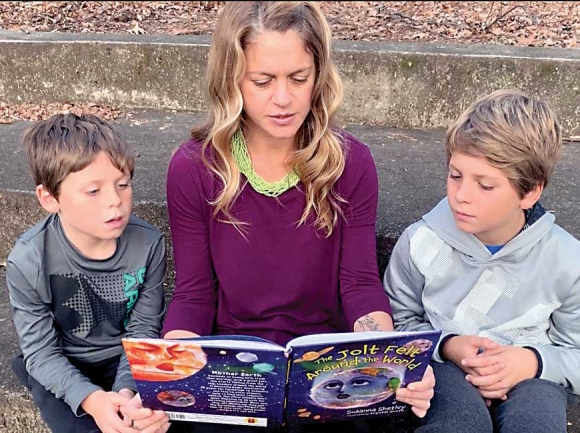 Tattoos often follow times of darkness or transition. When my mom's cancer got to a point of no return, I realized how brief and fleeting life could be. Why was this happening to us? She was too young. I was too young. Woven into my grief and anger was an epiphany, a heightened sense of what it means to fully live. Around this time, I had "One Life, One Story" tattooed on the inside of my left forearm. It's a constant reminder. We're offered a single chance to craft the narrative of our lives, and we're not always in control of the ending.
As a young girl, I fantasized about being a writer when I grew up. I didn't know what kind of writer I wanted to be; I just knew I loved putting pen to paper. My parents' friends owned a diner in Asheville. I remember writing poems on the white place setting napkins as I waited for the adults to finish cleaning and chatting. My essays frequently won contests in elementary school, and as a secondary student, I never shied away from complicated writing assignments.
Yet, in college and graduate school, I majored in education and psychology, as opposed to journalism or creative writing. Perhaps it's my interest in the human mind and heart that emboldens my writing ability. After two careers, first as a school psychologist then as a middle school language arts teacher, I felt empty and restless. I went back to school to obtain an add-on degree in journalism studies.
While taking classes, I emailed Katie Wadington, editor at Asheville-Citizen Times and WNC Parent. I had no bylines or published work other than a few blog posts on my fledgling mom blog. Maybe she's a risk taker or maybe she could hear the determination in my voice. Either way, Katie hired me to write for WNC Parent. Her guidance and knowledge was paramount in the early days of my writing career.
A couple years later, Vicki Hyatt at the Mountaineer took me on as a family columnist. Topics included birthday party planning, holiday crafting and fostering early literacy skills. When I started to feel my marriage struggling, I pulled out of that column. It felt hypocritical to write singsong articles when my real life was rocky.
Soon thereafter I ran into Scott McLeod, owner and editor of The Smoky Mountain News. Over a beer at the Frog's Leap bar, we talked about me writing for him. He'd been looking for a female columnist but as he put it, he didn't want any of that "recipe or crafting crap." He wanted someone who could be real and honest. And so ensued a relationship with this newspaper and its sister magazine, Smoky Mountain Living. Scott, Jessi Stone and Jonathan Austin have further nurtured my writing skills.
If these amazing, talented people had never taken a chance on me, I wouldn't have had the confidence to write and publish my recent children's book.
God offered a whisper one morning while sitting in car line at my boys' elementary school. We'd just listened to an NPR piece on the Paris Climate Agreement when my youngest son said, "If the earth gets too heavy with trash, could she fall from the sky?" The three of us sat there in the quiet thinking about that possibility.
It made me realize even the youngest among us are worried about the future of our planet. That day, I went home and wrote the initial draft of The Jolt Felt Around the World. It's a story about Mother Earth being sick and dirty. She's so laden with trash she starts falling from the sky and has to rely on the rest of the galaxy to save her and all earthlings. But with the desire for rescue comes fear, misunderstanding and ultimately, forgiveness. I want this book to serve as a conversation starter between adults and children. It should be a collective goal to raise future generations who are kind toward our planet and one another.
I'm fervent about being a good person. All the angst, cynicism and deceit get us nowhere. Where's the compassion, tolerance and altruism?
My life story hasn't been a straight plot line from A to B, but it's mine and I own it. Though I may not have control over every twist or turn, I can do my best to create a story that makes my boys and me proud. And through my writing, whether it is a column, book or otherwise, I hope to inspire others to do the same.
More information about The Jolt Felt Around the World can be found at www.susannashetleyauthor.com. The book can be purchased through Susanna's website, at local bookstores or Amazon. An author meet and greet event will be held at Blue Ridge Books at 3 p.m. on Sat., Dec. 14.