Archived News
Western North Carolina's children are increasingly poor and hungry
Wednesday, November 20, 2019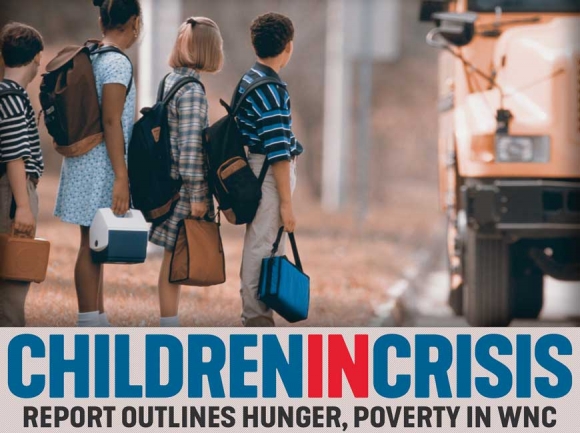 For most, childhood is a time of growth, learning and stability nurtured by fertile environmental and economic conditions that ultimately prepare young people to become the leaders of tomorrow.
In much of North Carolina, the future's not nearly that bright.
An eye-opening report recently issued by the N.C. Department of Health and Human Services shows that thousands of children in Western North Carolina are living in poverty, in unstable housing situations and without enough to eat.
"We have this group called Great by Eight that is in its beginning stages," said Patrick Johnson, Haywood County's public health director. "We've only had a few meetings so far and we have school people, mental health people, early childhood people and health people on this committee that are looking at the action plan as a whole. We're looking at the whole and we're using this as our guide to try to look at a child from birth through age 8."
The report, called the Early Childhood Action Plan, seeks to improve outcomes for children by tracking more than 50 measurable stats across 10 goals, including childhood poverty rates, food security and housing security.
Deficiencies in those areas can hamper childhood development, but the consequences last a lifetime and present significant challenges to public health officials.
And according to demographic trends presented in the report, it's only going to get worse.
Poverty
The United States Census Bureau uses a set of income benchmarks to delineate whom, exactly, is considered to be in poverty. The benchmarks are the same across the country and are updated for inflation each year, but only consider money income, not capital gains, entitlements, public housing, Medicaid or supplemental nutrition assistance.
The Census Bureau counts all related family members who live together, adding up their incomes. If that family unit falls below the threshold, all are considered to be living in poverty — even children, who add to household expenses but don't generally produce any income of their own.
In 2019, the poverty level for a family of four is $25,750 in pre-tax earnings. For families larger than four, add $4,420 for each related family member to determine the family poverty threshold. For families smaller than four, subtract $4,420 per person.
As an example, the dividing line for a couple with three children is a yearly gross income of $30,170. Those under it are considered to be in poverty. Those above it are not.
The federal minimum wage, which has not increased since 2009, is $7.25 an hour. At that rate, if both parents worked 40 hours a week, every week of the year without missing a single day, together they'd gross $30,160.
Although child poverty was much higher in the early 1960s — upwards of 27 percent — the National Conference of State Legislatures reports that the national childhood poverty rate declined steadily until beginning a slow, steady climb from about 19 percent in 1989 to almost 21 percent in 1990. From there, it climbed each year until peaking at 22.7 percent in 1994.
Over the next five years, the rate declined to a low of 16.2 percent in 2000, and remained below 18 percent until the Great Recession took hold in 2008. That year, the national childhood poverty rate rose to nearly 19 percent. The next year, 2009, it rose again to nearly 21 percent, and North Carolina saw a jump from 19.5 percent in pre-recession 2007 to 22.5 percent in 2009.
The national rate peaked at 23.7 percent with the recession in 2013, but then declined through 2018 to 17.2 percent.
A 2018 report from the N.C. Justice Center says that North Carolina's statewide childhood poverty rate lagged behind that at 21.2 percent, but some North Carolina counties would be envious of a "mere" 21 percent childhood poverty rate.
The worst counties in the state for childhood poverty are gathered into two geographic regions — the northeast, up near the Virginia line, and the south, down near the South Carolina line.
The northeastern region is home to Halifax, Northampton and Washington counties, all with rates above 40 percent, but surrounding counties also show rates in the upper 30s. The southern region is home to the highest rate in the state — Robeson County's 44.4 percent.
Although Western North Carolina has fared far better than those regions, most area counties are above current state and national rates. Buncombe and Henderson counties aren't — they both show rates around 17.5 percent, per the DHHS report. The rest, like Madison, Haywood, Transylvania, Jackson and Swain are all in the low- to mid-20s.
"The challenges for parents in poverty are extreme," Johnson said.
Those challenges involve everything from finding work to finding dental care for children, but also include essential accessories that can be difficult to afford.
"If a parent doesn't have a pack and play for their child, we give them one, no questions asked. If a pregnant mom on Medicaid goes to her obstetrician eight times during her pregnancy, she qualifies for a car seat," said Johnson. "We can help them if they come to us."
Cherokee County, at the far western tip of the state, reports a 28.8 percent rate, trailed closely by Graham County's 28 percent. Clay County is slightly lower at 27.4 percent, and Macon County is just below that, at 26.5 percent.
Food Insecurity
Poverty is closely related to food insecurity, which is defined by the U.S. Department of Agriculture as "a lack of consistent access to enough food for an active, healthy life."
The USDA also points out that there is a difference between "hunger" and "food insecurity." Hunger is a temporary personal feeling of discomfort, but food insecurity is a regular deficit of the financial resources needed to feed a household.
According to a 2018 USDA study, an estimated 1 in 9 Americans were food insecure, or about 37 million people.
North Carolina's DHHS says that here, that number is closer to 1 in 5, or about 21 percent, nearly double the national average, for children under the age of 18.
"They can have dental problems, and all sorts of other problems," Johnson said.
The report's goal is to get that number down from 20.9 percent to 17.5 percent by 2025, but a DHHS map shows there's a long, long way to go.
Similar to the childhood poverty map, the worst areas for food insecurity are also in those two regions, northeast along the coast and in the south along the S.C. border. The map singles out the usual suspects, Halifax, Northampton, Washington and Roberson counties, where a quarter to a third of all children aren't getting enough to eat.
Along those same lines, the only two far western counties that outperform the state average are Buncombe and Henderson, but in travelling west from there, the problem only gets worse.
Madison County is within one point of the state average. Clay, Haywood and Transylvania counties are within two points, Cherokee, Graham, Jackson and Macon counties are within four points, and Swain County is highest, at 27.6 percent.
"If a parent is having food insecurity, and 23 percent of children in Haywood County have food insecurity problems, we want them to come through WIC [Special Supplemental Nutrition Program for Women, Infants and Children]," Johnson said.
Johnson's also gathered information on available food resources in Haywood County and put that into a spreadsheet that's been distilled into an easy-to-follow handout.
Housing Insecurity
Poverty is also closely tied to housing insecurity, but poverty is not the only factor at play when it comes to keeping a roof over one's head. The U.S. Department of Health and Human Services defines housing insecurity in part as the result of "high housing costs relative to income."
That definition in turn gives birth to another one, "housing cost burden." The U.S. Census Bureau defines it as spending more than 30 percent of a household's pre-tax income on housing costs. For renters, housing costs include utilities, but for homeowners, housing costs also include things like mortgage interest, taxes and maintenance.
Going back to that couple with three children and a yearly gross income of $30,160 — above the poverty line by $10 — if they're renting they should spend no more than $754 a month on rent and utilities combined.
Although the Fair Housing Act generally protects families with children from discrimination in housing, the U.S. Department of Housing and Urban Development's current policy is that landlords can generally exclude families seeking to cram more than two persons in each bedroom, so this particular family should occupy a three-bedroom.
Conservatively estimating electric and water service at $150 a month, that means that couple would need to find a three- to five-bedroom home for less than $600 a month in rent.
According to a search performed on ApartmentGuide.com on Nov. 16, if they live in Haywood County, the only thing even close to that $600 target is a one-bedroom in Waynesville for $695. A similar search performed on Apartments.com showed not a single unit available for less than $800. Another search on Trulia.com shows a rustic one-bedroom cabin available at $700 per month.
At least 32 percent of children under age 9 in North Carolina are part of a family that is currently experiencing housing cost burden, according to the DHHS report.
In 2015, more than 26,000 North Carolina children under 6 had experienced homelessness at some point. Almost 10,000 public school students in kindergarten through third grade experienced homelessness at some point last year.
"The more we've learned about ACEs [adverse childhood experiences], if a child is moving around frequently, it's probably going to have an impact on that person long term," Johnson said. "Say a child moves every six months or year or so. It's gotta be because of economic reasons, and then what type of a home are they moving from place to place to place?"
County-by-county numbers aren't available in the DHHS report, but the region's well-documented affordable housing crisis — in addition to its poverty levels — suggests that Western North Carolina's problem with housing insecurity is probably worse than in much of the state.
A Nov. 19 press release from Canopy MLS said that within the Asheville metro area, the median home sales price in October rose to $267,500, a gain of 4.9 percent year-over-year, and the average sales price of $329,340 represents a gain of 4.1 percent over October 2018.
The stated goal of the report is to reduce the number of children under 6 experiencing homelessness from 26,198 to 23,578 and the number of K-3 homeless from 9,970 to 8,973, all by 2025.
Demographics
All told, the report paints a bleak picture for the next generation of Western North Carolina natives.
On average, if you see 10 children in a school bus, or on a playground, or at a Wal-Mart anywhere west of Asheville, at least two of them don't know when they'll eat again. At least two of them are in poverty. At least three of them don't know where they'll be living next week, or next month.
Sometimes those are all different children, but often they're not.
Even if the DHHS can report in 2025 that it has achieved all of its goals, there will still be more than 23,000 children under age 6 and almost 9,000 K-3 students experiencing homelessness in North Carolina, and more than 17.5 percent of children under 18 experiencing food insecurity.
Meeting those goals could be far more difficult due to a demographic trend suggesting that over the next 30 years, vulnerable populations will become larger, and harder to serve.
In 2018, there were 1.1 million children under the age of 9 in North Carolina. DHHS says that number has declined since 2009, but in Western North Carolina, it's risen dramatically — double-digit percentage increases in the number of children under 9 in WNC Counties are the norm from 1990 through 2017.
The largest increase over that period was noted in Henderson County. In 1990, there were 7,200 children under 9; today, there are more than 10,000, good for a 45 percent increase. Right behind Henderson is Jackson County, at 43.8 percent growth.
Macon County's not far off at 38 percent, but other counties reported growth on the order of 10 to 25 percent. Only Graham County (1 percent growth) and Transylvania County (-4.4 percent) saw flat or negative growth.
At the same time these populations are booming across WNC, they're becoming increasingly diverse, racially.
That matters in the context of poverty, because non-white populations suffer disparate impact when seeking out or utilizing social service resources, for a variety of reasons. A 2017 report from the National Center for Education Statistics says that white children experienced far less poverty than children of every other race.
Asians were a close second to whites, but still worse off; African Americans, Hispanics, Pacific Islanders, Native Americans and mixed race children were far worse — often experiencing poverty at least double and sometimes triple the rate of white children.
North Carolina's African American population has been relatively stable for some time now, and is relatively small in WNC, but the percentage of children under the age of 9 who are Hispanic is rising rapidly across the state and across western counties.
In 1990, just 1.8 percent of North Carolinians identified themselves as Hispanic. Today, that's up to 17.6 percent. Henderson County has the largest share in WNC, with 21.3 percent, followed by Macon, Buncombe and Jackson counties.
The Hispanic community often faces a number of obstacles in identifying and accessing services, including language barriers, social stigma and concerns that their citizenship status might lead to arrest or deportation.
"For one, we have a full time translator. There's no barrier for us," said Johnson. "We want as many customers as we can get in our dental clinic, in any clinic, from a public health standpoint. We want to help as many people as we can get."