Archived News
Waynesville waste treatment vote postponed
Wednesday, November 20, 2019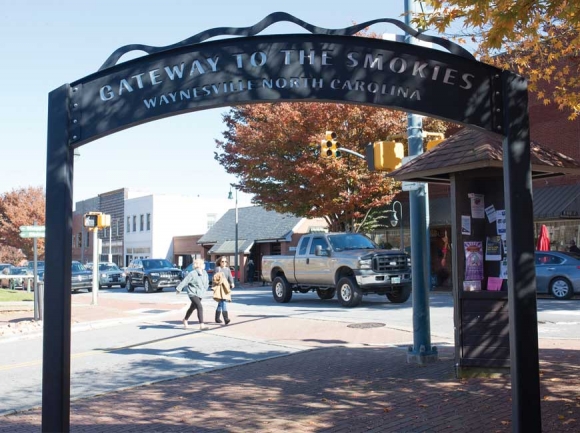 Waynesville's new mayor and aldermen haven't even been sworn in yet, but based on how the board's most recent regular meeting transpired, a new dynamic in how town government will operate in the future appears to be taking shape.
On Nov. 5, voters overwhelmingly chose Alderman Gary Caldwell over incumbent Gavin Brown to be the town's next mayor; they also ushered Planning Board Vice Chairman Anthony Sutton and local attorney Chuck Dickson into aldermanic seats.
At the Nov. 12 board meeting — the first since the election — the current board consisting of Mayor Brown, Aldermen Caldwell, Julia Freeman and Jon Feichter along with soon-to-depart Alderman LeRoy Roberson, progressed through the town's agenda with little fanfare.
Near the end of the meeting, though, the board was to consider approving the contract for design, permitting, bidding and construction of the long-awaited waste treatment plant. The board had shepherded the town through the process for more than a year, with the contract approval seemingly a formality.
Before the contract was considered, Brown said that he'd heard from incoming Alderman-elect Sutton, who wanted to postpone the vote until the new board could consider it. The new board is due to be sworn in Dec. 10, and the town's second meeting in December falls on Christmas Eve, so it'll be cancelled and town business likely won't be conducted until January.
"I'm going to turn this over to Gary to lead the discussion, mainly because I'm opposed to [postponement]," said Brown. "Rather than putting my heavy hand on it, I'm going to let Mr. Caldwell see how the board feels about this."
Caldwell said that there was no reason the issue should pass over to the new board, and opined that there were some time-sensitive deadlines that necessitated action.
"I think this board right here should make that call," he said.
Keith Webb, project manager from McGill and Associates, was on hand to tell the board that there really weren't any timeline issues.
"From the overall schedule, we would like to have [the contract] awarded," Webb said, "but if you all decide it's in the town's best interest to wait until January, we can certainly do that."
Roberson said he didn't really mind either way, as did Feichter, but after hearing from Webb, Feichter said he'd be fine postponing the vote.
"In the grand scheme, we're talking about two months," said Feichter.
Freeman, who will have the most seniority among aldermen once the new board is constituted, made her view clear.
"My comment would be, you just mentioned the date of 2023. You've got two new board members coming on the board and they're going to be faced with dealing with this for the next four years, so whatever decision we make here tonight will affect two new board members that have just been elected by the citizens of Waynesville," she said. "Their input to me, moving forward, is important. Our legacy is that we've been dealing with this for some time, so as Jon said, it's a double-edged sword. We can go both ways, but the new board members are going to have to deal with this in the future and they're going to have to answer to the citizens, however this process falls out over the next four years."
Despite his opposition to postponing the vote, Brown asked for a motion to table the matter. Freeman moved to table it, Feichter seconded her motion, and Caldwell was the only vote against tabling.
Brown, who as mayor votes only in case of a tie, asked that the record reflect his opposition as well.