Archived Outdoors
The Naturalist's Corner: Louisiana solitude
Wednesday, November 13, 2019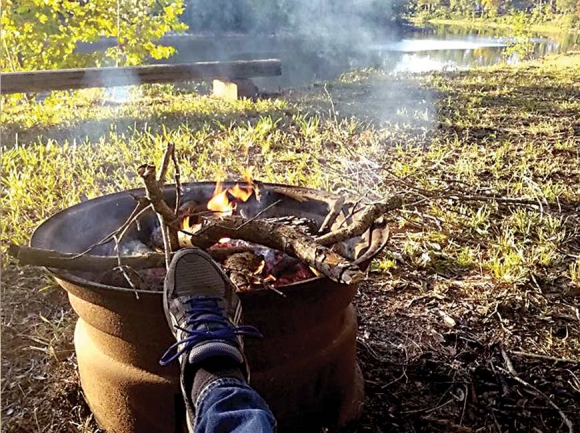 Solitude on the river. Don Hendershot photo
I recently made a semi-regular sojourn to the northeast Louisiana Delta, a stone's throw from where I grew up. Friends get together twice a year (spring and fall) for a cookout at a beautiful spot along the Ouachita River. It is hard for me to tear away in the spring so I usually shoot for fall. I don't make all of them, but I make as many as I can. It's so good to see old friends and make new ones in such a relaxed atmosphere. This trip provided an extra bonus as I got to share a reading from A Year from the Naturalist's Corner Volume I at Black Bayou Lake National Wildlife Refuge's visitor center. Thanks to Friends of Black Bayou and BBLNWR staff for making that happen.
This year also provided another bonus — I got to stay and extra day. The usual scenario is drive all day (10-11 hours) Friday to get there, visit Friday evening and Saturday then drive all day Sunday home. But the extra day gave me a chance to exhale. I didn't schedule any more visits, instead I carved out time for a little solitude.
When I arrived at the camp — camp is a bit of a stretch for the one-room shack that sits on the property — my old Mer Rouge friend Gil White was there doing final preparations. Gil is one of the hosts of the cookouts. We visited a while and Gil headed home leaving me and the river. I added some more wood to the fire pit and pulled up a camp chair. I was content, taking in the sights and sounds when I got the feeling someone was watching me. I turned slightly in my chair and about 20 yards away, along the river a curious chaoui (shaow-wee, Cajun name for raccoon) was standing on its hind legs peering over a log at me. I hit the sack pretty early Friday, tired from the drive and preparing for a full Saturday. I don't know if Friday night was especially quiet or if was especially sleepy, but nothing roused me till morning light started to hit the river.
And while Saturday was going to be full and busy, Saturday morning was time for more Louisiana solitude. Now, in nature, solitude doesn't mean you have to be all alone. White-throated sparrows began softly singing bits and pieces of song as the sun rose higher over the levee. Another Louisiana winter resident, a yellow-bellied sapsucker, began making soft mewing calls as it looked for the perfect place to drill for sap. Other birds like chickadees, titmice, cardinals and towhees began to join the morning chorus. The sky was full of chattering grackles leaving the roost, striking out for a day of foraging and the occasional squealer (wood duck) would squeal from along the river. Solitude is good.
By mid-morning I had traded in my solitude hat and was in the throes of helping prepare for the cookout and preparing for my book signing. I had the pleasure of sharing anecdotes and reading from the book with old friends and family from Mer Rouge plus finally meeting Facebook friends in the flesh that afternoon, then heading back to the river and joining the celebration of friendship around the fire pit. Bedtime came a bit later that night but that was OK because I was still awake when the coyotes began to yip and howl. They were soon joined by a pair of barred owls having an engaging conversation. Solitude is good.
Sunday morning I took a turn around BBLNWR, once again bathed in solitude. I neither heard nor saw anything rare or out of the ordinary, but hearing the pied-billed grebes on the water; the golden-crowned kinglets in the trees; and the two-syllable call from a small flock of speckle-bellies (greater white-fronted geese for those non native Loosiana speakers) passing overhead, made the morning both full and quiet. I made a pot of red beans and rice back at the camp and had lunch with another old friend, Bill Meade. We ate, caught up and watched the river. Later that evening I visited, with Mike and Beth Nelson, old friends Melvyn and Dianne McCoy at their beautiful spot where Bayou Desiard empties into the Ouachita River. Then returned to Mike and Beth's for dinner and headed back to the camp for my last night.
On the drive back to the river I found myself longing to be serenaded once again; and I wasn't disappointed. Barred owls and coyotes were back for another performance and I lay in bed in the inky black — me and the river and the owls and the coyotes. Solitude is good.
(Don Hendershot is a writer and naturalist. His book, A Year From the Naturalist's Corner, Vol. 1, is available at regional bookstores or by contacting Don at This email address is being protected from spambots. You need JavaScript enabled to view it.)